This Is How Much People Still Spend on Christmas Cards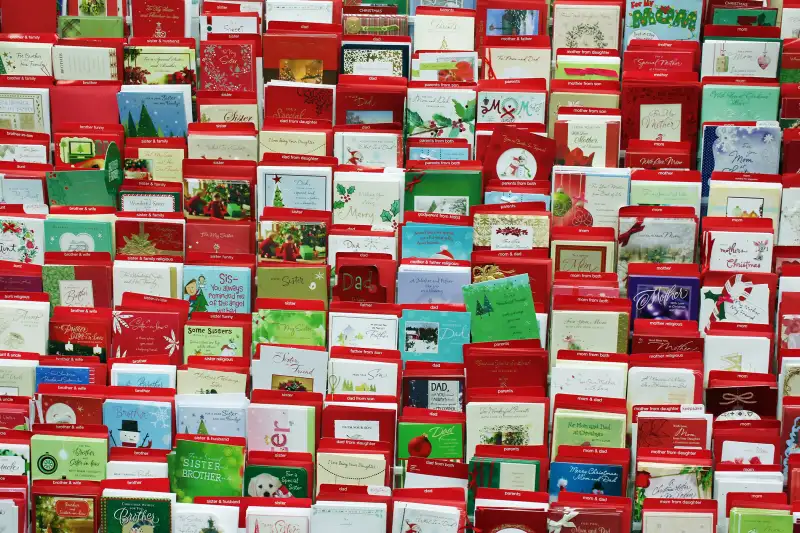 It's 2015. Gmail is 11 years old, everyone has Internet on their phone, boarding passes are only sometimes paper, and Hallmark is celebrating its 100th birthday.
For the greeting card giant, the holiday season is the biggest time of year, and according to the USPS, today is the busiest day of all. Despite the world's digital tilt, the card industry is still alive and kicking, since sending a holiday email doesn't quite carry the same emotional weight. An IBISWorld analyst told NPR earlier this year that the industry is declining at about 5% per year, but that card sales have held steady despite the profits that have diminished due to less-lucrative digital versions.
Still, the amount we spend on holiday cards is pretty staggering. It's about 25% of the total annual greeting card sales, or about 1.6 billion cards according to the Greeting Card Association's numbers. That's around $2 billion this year (given $8 billion in yearly sales and 6.5 million sold, the average card is worth around $1.20), assuming the sales numbers continue to hold steady.
The holiday season is leaps and bounds ahead of the number two holiday—Valentine's Day—which only yields around 145 million units, a full power of ten less. Interestingly, each Valentine's Day card seem to be worth a little more—the Association says a full $1 billion was spent this year for lovers.