Chuck E. Cheese Plans to Win Over Young Moms with More Beer & Wine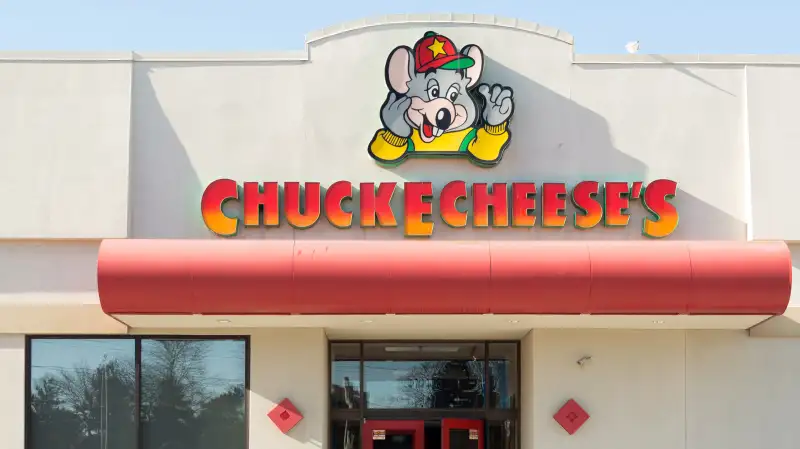 Roberto Machado Noa—LightRocket via Getty Images
Like pretty much every other chain restaurant under the sun, Chuck E. Cheese, the strip-mall staple where kids can binge on sugary drinks, skeeball, and an overall atmosphere of sensory overload that some have likened to a casino for children, is now focused on winning over the all-important consumer demographic: millennials.
In particular, Chuck E. Cheese hopes to gain favor with millennial moms, who more often than not are the ones deciding where children hang out and host birthday parties, the chain's bread and butter. Pleasing hip, fast-casual-loving foodie millennial moms seems to be the goal of an ongoing revamp of Chuck E. Cheese, which includes the addition of gluten-free pizza a couple years ago and continues this autumn with new thin-crust pizzas, experiments with coffee, latte, and cappuccino on the menu, and plans to expand beer and wine options.
"Her kids know it's a fun place to go, but millennial moms want to provide that great experience without sacrificing for themselves," Greg Casale, the head chef at CEC Entertainment, Chuck E. Cheese's parent company, said in an interview with Bloomberg. "Before she was a mom, she was going to places like Panera and those concepts. She wants something that fits into her millennial lifestyle."
The new menu at Chuck E. Cheese includes a limited-time Mac Cheesy Pizza—with macaroni and cheese on top—as well as wraps, churros, and boneless chicken wings. Chuck E. Cheese has been quick to point out that in a recent blind taste-off of thin-crust pepperoni pizzas, more than half of those surveyed preferred Chuck E. Cheese over Pizza Hut.
While no specific announcements have been made concerning new additions to the beer and wine menu, almost any changes would represent an improvement. For now, in Chuck E. Cheeses that offer alcohol—not all do—the options are generally limited to a couple of beers (typically Miller Lite and Miller Genuine Draft, priced at $2.99 for Regular and $3.99 for Large) and either Blush or Chablis ($4.99). All are poured out of taps into plastic cups, and there's a two-drink limit.
Read next: These Are the States With the Craziest Liquor Laws