Why the Republican Convention Is a Risky Bet for Cleveland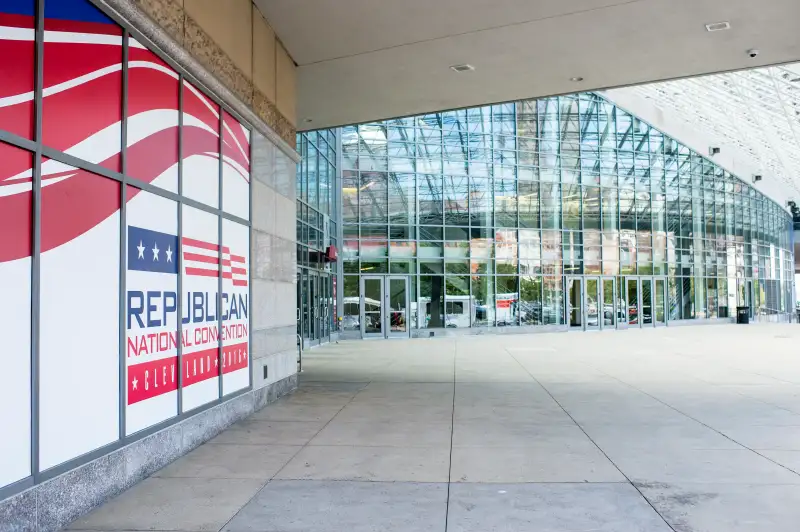 Angelo Merendino—Getty Images
To get to her job as a paralegal, it typically takes Cleveland resident Heather Jakubowski 30 minutes to get to the county prosecutor's office. But with the justice center just one block from one of the Republican National Convention's main venues, Jakubowski's commute is changing dramatically this week. "We know where the security zones are going to be, but that doesn't mean that when we get to work, we know what it will be like" she said last week.
She's not the only Cleveland resident who's been bracing for upheaval. The Midwest city has been preparing for the past 24 months for over 50,000 attendees to descend on the city this week for the Republican National Convention. "Just the disruption of regular, day-to-day life is huge," says Victor Matheson, professor of economics at the College of Holy Cross, who has studied the economic impact of mega events on host cities. (That's true even without fears driven by recent terror events in Nice, France, and Orlando, Fla., as well as violence at civil rights protests in Dallas.)
When the Republican National Committee announced Cleveland would host the 2016 convention, city leaders hailed the choice as an economic boon and further proof of the city's revival. But the efforts to secure a city for such a supersized event can make it very difficult to go about everyday life -- it's not at all clear whether the efforts will in fact deliver a long-term economic payoff.
Looking for a Payoff
The previous two Republican nominating conventions reportedly directed hundreds of millions in spending into the host cities' economies.The 2008 convention created nearly $154 million in direct spending for the St. Paul, Minn., economy, organizers say. And the 2012 convention directly infused $214 million into Tampa Bay and the surrounding area, an analysis by the University of Tampa found -- with Tampa spending about $677,000 on convention-related expenses, while the private sector spent $291.5 million on infrastructure improvements.
Cleveland is already paying. As part of the $64 million fundraising campaign to finance the convention, the city of Cleveland pledged a $2.5 million cash donation, while Cuyahoga County—in which the city is situated—pledged $2.5 million, and the state contributed $10 million through its JobsOhio program.
Hotels are likely to be the clearest winners. Academic research shows political conventions bring in up to tens of millions in hotel revenues, Matheson says. But while that boosts Cleveland's overall tax revenues, City Councilman Jeff Johnson has estimated that Cleveland will only get about a quarter of the money spent at the convention, while private businesses will get the rest.
Pain Points and Missing Profits
But not all businesses will benefit from the convention spending. Several downtown restaurants and catering businesses, including popular taco spot Barrio, say they haven't seen the uptick in demand they expected.
And for those left out of the party, operating at normal levels may prove challenging. A survey of over 500 Northeast Ohio residents in May revealed over half (53%) are planning to spend less time downtown as a result of the Convention.
"You'll get the convention attendees going to the bars, but if all your regulars aren't there, that's business you lose that you're probably not getting back," Matheson says. He notes that when New York City held the Democratic National Convention in 2004, attendance at Broadway shows was down 20% that week.
Company operating costs will be higher, too. Medical Mutual of Ohio, whose headquarters are a block from Quicken Loans Arena, plans to keep its offices open during the convention -- but it is shuttling over 100 non-essential employees to secondary locations for the week, according to company spokesman Don Olson. And for employees who need to be in the downtown office this week, Medical Mutual is encouraging them to use public transportation -- and covering their fares.
Future Gains Hazy -- at Best
Matheson says his research suggests long-term gains could be elusive. Tourism is unlikely to get a bump, since that gets driven by word-of-mouth -- yet visitors to conventions and special events tend to be focused on the high-profile activities, rather than the city itself.
And Cleveland's turn in the national spotlight could be problematic if planned protests and other activities turn ugly. If the lasting image of the Cleveland convention is of police officers in riot gear arresting a non-resisting protestor, that's not going to give people a positive image of the city.
"You could just as easily have Cleveland walking away with a black eye," Matheson says.