Pick Your Coachella Digs: A $25,000 Yurt or a $110,000 Mansion?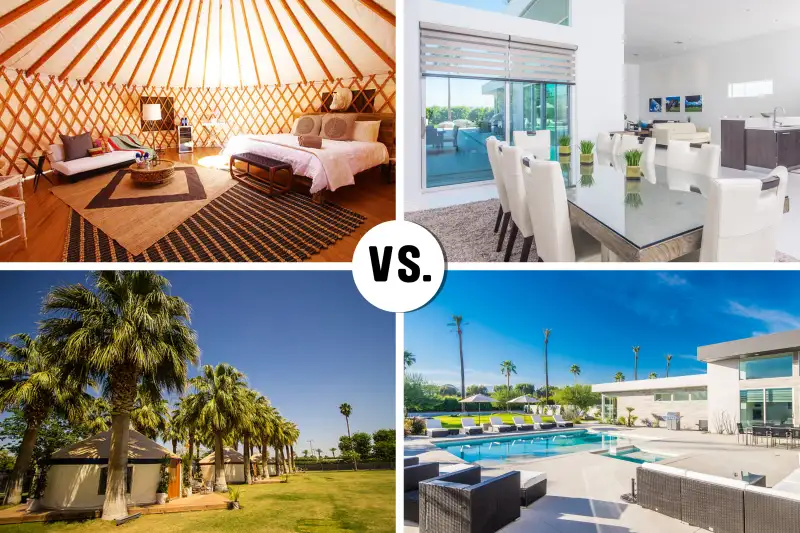 courtesy of CID Entertainment/Valley Music Travel
If camping out next to your car and standing in line for communal bathrooms isn't your style, there is a more luxurious side to Coachella…if you're willing to pay.
In addition to the $7,500 safari tent package, Coachella actually offers two other lodging options that cater to the wealthier crowd. One gives you an all-access pass to Coachella and a sumptuous tent in which to rest up to party the weekend away in style. The other, located across the street from the Coachella compound, gives you a VIP experience while allowing you to take a break from the action without having to walk miles back to your lodging.
Here's how the two options stack up.
Courtesy of Valley Music Travel
Cost: $25,000
What You Get: The ultimate on-site lodging is available at the Resort at Coachella. For up to five nights, two people can stay in a fully furnished (and air conditioned) yurt. Your yurt includes daily maid service, a chilled bottle of champagne upon arrival, morning yoga, a personal driver and tickets to the four-course, "Outstanding in the Field" dinner for each night of the festival.
Crazy Cool Perks: You get two artist passes to Coachella, giving you pretty much unlimited access and the chance to rub shoulders with your favorite celebrities. And don't worry about food. Your day starts with breakfast served in your yurt and then access to artist catering for gourmet lunches and dinners.
Cost: $110,000
What You Get: Arguably, this is a cheaper alternative, despite the initial sticker-shock over the total cost. The house allows up to 10 people for a six-night stay. That's less than $2,000 a night! With this package, you get access to all the VIP areas of Coachella, as well as round-tip transportation to and from the festival (these estates are actually located off-site).
Crazy Cool Perks: The company behind this experience will stock the kitchen with your choice of favorite food and beverages before you arrive, so you can start the long weekend off right. And don't worry about using your feet: Golf cart shuttles to and from stages are included. For after-hours fun, there's a jacuzzi and a fire pit, and should you feel sore from the day's activities, a masseuse is available to rub you down.
So the question is: Would you Yurt or Mansion?