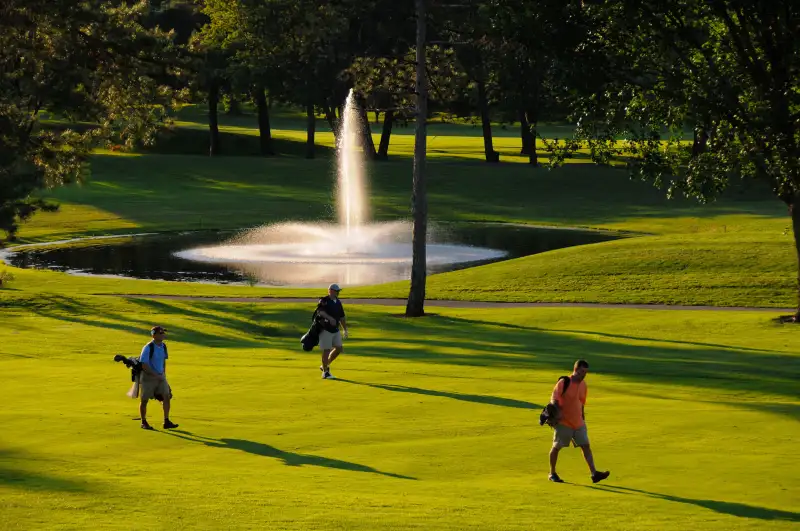 Courtesy of the Town of West Hartford
| | |
| --- | --- |
| AT A GLANCE | |
| Population | 63,608 |
| Median Home Price | $295,000 |
| Property Tax | $8,180 |
| Unemployment rate | 6.3% |
| Commute time | 19 minutes |
With two public golf courses, a skating rink, multiple pools, and America's oldest public rose garden, there's something for every family member to do in West Hartford, Conn.
It's easy to feel at home here, where neighborhoods are filled with charming Colonial houses, the schools are outstanding, and multiple shopping and eating districts bring community members together. Blue Back Square, named for famed resident Noah Webster's blue-backed dictionary, is the newest addition to the town: It boasts restaurants and bars, boutique shopping, a public library, and, soon, West Hartford's first hotel.
But it's the Playhouse on Park that's the crowning jewel of the community, turning it from a good place to live into a destination for arts lovers.
The theater opened 7 years ago and has flourished under the leadership of Tracy Flater, co-founder and executive director. Actors come from across the country to perform (community members house them for the duration of the play), and with avid support from the community—a local photographer provides free press and cast photos; the theater has been the recipient of proceeds from the Mayor's Charity Ball six years running—Playhouse on Park has grown into a regionally, if not nationally, acclaimed institution.
"It's an opportunity for people who don't have a lot of money to come in and see theater," says Flater. "The West Hartford residents are really invested, and they see the benefits of this in their community. They value us as much as we value all that they do for us."
Affordable hosing projects are in the works, as is a $100 million private apartment development, to attract younger families. In April, the town sent a team of middle-school baseball players to Cuba, where they donated 600 pounds of equipment to local teams. In July, the Cuban team returned the visit.
With Hartford's insurance scene and big employers like ESPN and Lego all nearby, many families move here for the easy commute.