College Prices Hit New Record Highs in 2016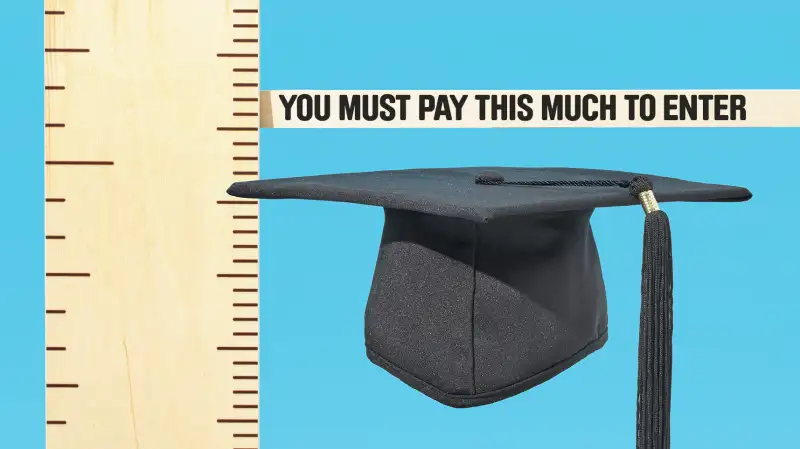 The cost of attending four-year colleges hit another record high in 2016, as boosts in tuition, room, and board yet again outpaced overall inflation as well as increases in financial aid.
The total published or "sticker" price for attending an in-state public university averaged $24,610 a year in the fall of 2016, the College Board said today in its definitive annual report. That cost, which includes tuition, fees, room, board, books, travel, and miscellaneous costs, is up $527, or more than 2%, from last year.
Of course, fewer than half of students at public colleges pay those sticker prices. Most students get grants and scholarships to bring their net costs down. But the overall value of financial aid and education tax breaks remained flat this year, at an average of $5,900 per public college student. So the average net price paid by the typical student at an in-state public college was about $18,700, up roughly 3% from last fall.
The real cost of attending a university has been rising faster than inflation for 33 out of the last 35 years, making college affordability one of the biggest worries for students, parents, counselors, and anyone concerned about the nation's economic future.
Even at today's high prices, however, a good college is still a winning investment for the vast majority of Americans, since a degree is a key qualification for many good-paying jobs with benefits, notes Beth Akers, a senior fellow at the Manhattan Institute. But, she added, "increases in college prices that make college less accessible to the lowest income households perpetuate income inequality and reduce the possibility for economic mobility."
The rising cost also has a profound impact on individual families, says Phil Trout, a counselor, at Minnetonka (Minn.) High School and former president of the National Association for College Admission Counseling. In the last decade, he says, he's seen a growing number of families take on risky debts to pay tuition, and students' career options have been limited by college costs and debts."It is a big deal," he says. "I worry about it."
Related: How to find a college you can truly afford
The price increases have been dramatic: Since 1990, average in-state tuition at public colleges has more than quintupled, from $1,908 a year to $9,650, the College Board reports. And the cost of living on campus—a typical dorm and cafeteria contract—has more than tripled, from $3,166 to $10,140. In comparison, the CPI has risen about 80%, and household incomes have risen about 90%, in that time.
Making matters worse: While tuition, fees, room, and board at public universities have risen by almost $15,000 since 1990, the average amount of grants or scholarships awarded to undergraduates from all sources—including the federal and state governments, colleges, foundations, and through the GI Bill—has risen only about $5,000. That essentially puts an extra $10,000-a-year cost burden on the typical college family.
Sandy Baum, a co-author of the College Board report, said one main reason for the cost increase is a reduction in tax support for higher education. The average taxpayer paid $5.28 in state and local taxes per $1,000 in personal income to higher education in 2014-15, the last year for which data are available, she said. In 1990, that rate was $7.16.
The pricing news was mixed for students at other kinds of colleges.
The 20% of full-time undergraduates who attend private colleges typically faced higher bills. The published price for a year at a private college hit $49,320, up $1,540 or more than 3%. But only about 20% of students at private colleges pay those high prices. The rest get aid that reduces their net cost. Still, the typical net price that private college students are paying this fall is about $30,000, which is up more than 5% from last year.
Related: 50 most affordable private colleges
Community colleges, which educate about 25% of full-time undergraduates, remain much more affordable, however. The College Board found that the average community college is charging $3,520 in tuition and fees this fall, up $80, or 2.3%, from last year. Better yet, it found that most students at community college receive grants, and many can take advantage of the American Opportunity Tax Credit of up to $2,500. The total value of scholarships and tax benefits averages $4,020, enough to cover tuition and about half of the annual textbook bill for the typical community college student, the College Board found.
That doesn't mean it's a free ride. Even if students live at home and don't have to pay for room or board, they face other additional costs, such as transportation, which generally runs to more than $4,000 a year, the College Board estimates. Those costs have to be covered, typically by student earnings or loans, or with help from their parents.
Public two-year
in-district *
Public four-year in-state
Private nonprofit
Tuition and fees
2016-17
$3,520
$9,650
$33,480
2015-16
$3,440
$9,420
$32,330
$ change
$80
$230
$1,150
% change
2.3%
2.4%
3.6%
Room and board
2016-17
-
$10,440
$11,890
2015-16
-
$10,150
$11,540
$ change
-
$290
$350
% change
-
2.9%
3.0%
Total cost of attendance (including books, transportation, and misc. expenses)
2016-17
$8,940
$24,610
$49,320
2015-16
$8,835
$24,083
$47,780
$ change
$105
$527
$1,540
% change
1.2%
2.2%
3.2%
Est. average total grant, scholarship, and tax aid
$4,020
$5,880
$19,290
Est. avg. net cost 2016
$4,920
$18,730
$30,030
Est. avg. net cost 2015
$4,815
$18,203
$28,490
$ change
$105
$527
$1,540
% change
2.2%
2.9%
5.4%
*Assumes living at home with parents.