Save Big Bucks on College Dorm Shopping This Year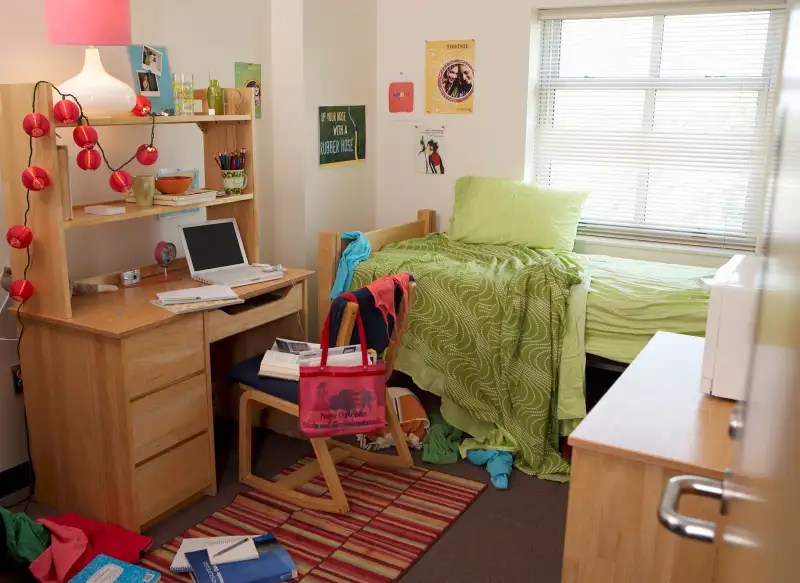 James Woodson—Getty Images
Dorm shopping is the mother of all back-to-school shopping trips: The National Retail Federation estimates that families spend almost $900 each year equipping their kids for college. Fortunately there are many ways to save both money and time.
Some colleges provide helpful shopping lists, and many national retailers have them in store and online. But would be a very expensive mistake to assume that these lists are like the back-to-school lists that third grade teachers once sent home. These are suggested items, nothing more than food for thought.
Start with the stuff you DON'T need
Don't assume that almost anything beyond bedding and towels is an absolute necessity. We bought a fan for a kid whose room turned out to be air-conditioned and bed risers for another who ended up in a bunk bed. His roommate would have been squashed like a pancake against the ceiling if he had used them.
Before your credit card ever leaves your wallet, ask your teen to go online to the college's website in the housing or residence life section (sometimes this requires a password your accepted student should be given) to find out the dorm room dimensions and the items provided by the school. Some schools provide desk chairs, lamps, waste baskets, and printers (shared in public places), while others do not.
Also find out what items are prohibited. For example, dorms will sometimes ban toasters, extension cords, halogen lamps, coffee makers, electric kettles, and more.
The retailer Bed, Bath and Beyond has a very extensive list of colleges with what each provides and prohibits.
Have your student coordinate with his or her roommates. No room or suite needs three coffeemakers and four gaming consoles. Let the new roommates work out who will bring things like televisions, refrigerators, water coolers, fans, microwave ovens, and rugs.
Many colleges offer rentals on items like microwaves, water coolers, or mini fridges. The advantage of renting is that your student will not need to move or store these large items and, at the end of the term, they won't have to be sold or lugged home. It's worth checking your school's rental prices before you shop.
Look for items that can do double duty. Small ottomans will double as storage space. Look for surge protectors that have both outlets and USB ports.
Bear in mind, too, that door sizes and bed heights are not standard; so don't make any assumptions about what over-the-door devices or under bed storages systems will fit.
Look for sales and freebies
Most of the national retailers selling dorm supplies online or in stores offer some price reductions over the spring and summer. "Deals and promotions are carefully timed to meet the needs of our guests, and we refresh these throughout the back-to-college shopping season," explains Lee Henderson of Target. Bed, Bath and Beyond and other retailers have in-store college shopping events (with dates listed) and special offers sent via email and/or text message, once students sign up. Many stores offer college student discounts with the use of a college ID, email address, or accepted student letter.
When buying an item, consider both price and quality. Dorm and apartment living is hard on students' belongings. Most students don't need as many things as they think they do, but they do need items that are durable and will last four years.
Graduating students often sell their belongings, particularly large items like futons, couches, and mini fridges, at heavily discounted prices to avoid the cost of shipping them home. Have your student explore any sites where students share this information to pick up some great deals.
Before heading out on your dorm shopping trip, first look around at home to see if you have spare pillows, towels, comforters (regular twin size will work), or laundry bags that would work in the dorm.
Remember: This isn't the '80s
When we piled our parents' cars high and drove off to college, we filled them with everything we needed or could not get at the campus bookstore. Not only can our kids order anything they need online and have it delivered to their dorm rooms but, in most cases, with free shipping and easy returns. Tip: College students can get a version of Amazon Prime, called Amazon Student, free for six months. Have them sign up so that the six month trial period coincides with moving to school in order to get free shipping on items they need or may have forgotten.
Our very strong suggestion is to buy ONLY what you know your kid will absolutely use. Everything else can be purchased later if it turns out they need it. Items that are standard on many lists but which many students won't need, include:
Alarm clock—They probably use their phones.
Traditional school supplies—A lot of coursework is completed and submitted on computers.
Printer—These are often provided by the university, networked, and available for common use.
Desk lamp, trashcan, desk chairs—They might also be provided.
Small electrical appliances—Again, check the banned list before you buy.
Rolls of quarters—Some colleges have switched to card systems for laundry machines.
Luggage—There probably isn't any place to store it, so use cheaper duffle bags instead.
Bed risers—Many college beds can be set at different heights or are already elevated.
Cleaning supplies and equipment—We wish our students would clean their rooms, but alas...
One thing worth buying, even if freshmen say they don't need it, is a personalized first aid/medicine kit. The first time your kid needs a headache remedy or cold medicine it will be 3 a.m. and they will thank you. Packing this up is a great chance to discuss the use of OTC and prescription medications with your teen who may not be clear on their proper use, dosage, and active ingredients. You can also save money by buying generic products you know will work just as well.
Ship strategically
Some of the what, when, and how you buy will depend on your teen's living situation and geography. If you are driving to campus, buying items near home and throwing them into your car is easy. But if your child's college dorm is a flight away, more strategy is involved to avoid expensive shipping and storing costs. Parents can save money in a number of ways:
Dorm items can be bulky, but look for free shipping offers and have items sent straight to campus.
Shop online at home but pick up the purchased items at a store near campus if your student is able to do this through one of the national retailers. For example at Bed, Bath and Beyond, the Pack and Hold program lets parents and students walk around their local store with a hand-held device and scan all the things they want to add to a virtual cart. Everything in the cart will be shipped, free of charge, to the store closest to campus, and available on move-in day. Once families arrive, they can add to or remove things from the cart before making the final purchase.

NEWSLETTER: COLLEGE_PLANNERSign up for COLLEGE_PLANNER and more View Sample
If your family is flying to campus, find out if the airline has a free luggage allowance and then use it fully for each family member making the trip. If the checked luggage incurs a $25 fee, that may still be cheaper than shipping heavy boxes of clothing and personal items. Parents can return home with the empty suitcases.
Another expense when flying to college is the car rentals once you land. Minivans have the greatest capacity but may book up early in college towns during move-in days, so comparison shop at the different car rental agencies to get the best deal and make arrangements as soon as you pick your flight.
If your student is coming back home for fall break, wait until then to move bulky winter items like coats, heavy sweaters, and boots to campus. Again, use your student's checked luggage allowance and save on shipping costs.
Mary Dell Harrington and Lisa Heffernan are co-authors of Grown and Flown, where they write about all aspects of parenting kids 15-25 years old. Heffernan is also the author of three books, including the New York Times best seller Goldman Sachs: The Culture of Success (Simon and Schuster, 2000).