27 Great Graduation Gift Ideas for College-Bound High Schoolers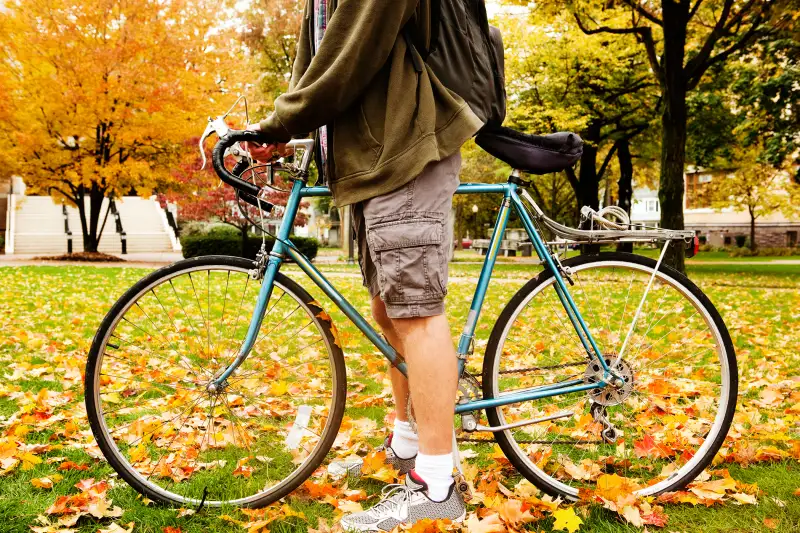 David Aaron Troy—Getty Images
Searching for a great, personal, useful and affordable gift for a new high school graduate? Look no further. Here are gift ideas that were hits for many readers of Grown and Flown, a popular site for parents of teens, college students and recent college grads.
1 College backpack
It's time to get rid of that disgusting, dirty, crumb-infested backpack that your teen has been carrying for four years. Great options from standard-bearers like Jansport or North Face start at $30, while trendier brands like Herschel or FjallRaven can run north of $150. Just remember that whatever you buy will be disgusting, dirty, and crumb-infested four years from now.
2 Duffle bags
Luggage may seem like a great graduation gift, but it has real drawbacks for the college-bound. Teeny dorm rooms generally don't have any place to store empty suitcases. Solution: A set of duffle bags that can be combined, compressed and stuffed under a bed when not in use. Students typically need at least one large bag for packing linens, towels and winter clothes, and a smaller one for weekend trips back home. Sturdy L.L. Bean, and Patagonia duffels start at less than $40. If you want to go high-end, stylish Filson bags start at $150.
Astrid Stawiarz—Getty Images
3 Laptops
Laptops are one of the most popular and useful gifts for graduating teens. Some college bookstores have deals that come with tech support but, before you make a final decision, see what student discounts you can get from Apple, Microsoft, and Best Buy. When shopping for laptops, or other items from national retailers, parents should be aware that they can generally use college student discounts even if their student does not yet have a college ID card. Retailers often ask for a college email address that many schools issue over the summer, and some will give discounts with a college acceptance letter. Consumer Reports recommends the Acer Spin 1 which retails for about $250. MacBooks with enough memory and computing power for undergraduates start at about $1,100.
Bill O'Leary—The Washington Post/Getty Images
4 Monogrammed Towels
Every student goes off to college with towels. But few return with them. Solution: A set of towels with your student's monogram is a personalized gift likely to survive the college years. Bed Bath & Beyond offers personalized bath towels for less than $25.
5 Tiny toolbox
For students moving into a dorm or an apartment, a small tool kit for minor repairs or assembling flat-boxed furniture is a sought-after resource on the hall or in the apartment complex. Hardware stores sell tool kits starting at less than $30.
6 Bed shelf
If your kid's bed is on the top bunk, where will he or she store glasses or a phone? Solution: Attachable, portable shelves. Dormco sells plastic ones for just $13 apiece.
7 Personal safety device
The top concern for parents sending their kids to college is personal safety. A number of new portable safety devices can help with those worries. Robocopp ($10) for example, is described by the company as a sound grenade. It is a small handheld device that is set off by pulling a plug, releasing a 130-decibel alarm, comparable to an ambulance siren. For a higher price, and small monthly fee, they offer a model that can contact 911. Revolar ($60) is one of a new breed of devices where users can "Check-in" with 1-click, ask for back-up with the 2-clicks (Yellow Alert), and signal an emergency with the 3-clicks (Red Alert). Revolar also has a "Ring Me" feature, which lets wearers call their own phones to provide an excuse to exit a situation.
8 Coffee machine
Single serving coffee makers allow students to make a cup of coffee easily in a dorm room. Real Simple recommends the Mr. Coffee Single Serve for $72. This gift will save money if students skip expensive take-out coffee every morning. Important: check your student's college website first to see if the appliance is allowed in their room.
Diane Macdonald—Getty Images
9 Gift card to a big-box retailer
The K-12 back-to-school shop may have seemed expensive, but the dorm room shop is the one that breaks the bank. The National Retail Federation estimates that families spend almost $900 a year outfitting their students for college. For high school graduates moving into a dorm or an apartment, a gift certificate to Bed Bath & Beyond, Target, or other national retailers will help them to outfit their room. Remind them to look for special in-store college evenings and deep discount coupons before they buy.
10 First-aid/medicine kit
Here's a gift that students will appreciate the first time they are sick at 2 a.m. Put together a kit that includes first aid supplies and over-the-counter medications that your teen is likely to need. Steer away from prepackaged kits; no one knows what your kid needs better than you. Consider: cough drops, cold remedies, eye drops, thermometer, hydrocortisone, antacids, analgesics, antibacterial creams, and other things your college kid will need.
11 External battery
With days filled with classes, activities, socializing, and more, students may not have time to recharge their phones. A Mophie charging case starts at $20. And an external battery from Jackery (as little as $15) can extend the life of a cell phone battery by several hours.
12 Noise (or roommate) canceling headphones
Life in dorms can be noisy. Solution: A pair of over-the-ear noise-cancelling headphones will do double duty by allowing your college student to enjoy music or study in peace no matter what the circumstance. PC Magazine and CNET both recommend the $200 AKG N60 NC for overall value and quality.
Jody Kivort 917-6760365 courtes
13 Fitness tracker
Once the daily PE classes or high school sports teams wind down, it becomes all too easy for college students to lower their level of physical activity. Sometimes it takes a bribe, in the form of a tech gadget they covet, to get them moving again. Some gift options include, a fitness tracker (Fitbits start at $100) Bluetooth earbuds (The Wirecutter recommends the $100 Jlab Epic 2), insulated water bottles like S'ip by S'Well ($25 each) or a new gym bag.
courtesy Smathers and Branson
14 College-logo pillow, belt, or key fob
Many useful items can be needlepointed with college logos or class year. Key fobs start at less than $30, and are a personalized, moderately priced gift for friends' kids or your kid's friends.
Marianna Massey—Getty Images
15 Gift card to an off-campus eatery
Cafeteria meals wear thin very quickly. Most kids will be thrilled with the chance to splurge at a local restaurant.
David Aaron Troy—Getty Images
16 New bike
Biking is the best way to get around many college campuses. The gift of this cheap, healthy form of transportation should be much appreciated over all four years. Before splurging, however, check first if the campus has a bike-sharing program.
courtesy The Republic of Tea
17 You-name-it of the month club
What's more fun than finding a gift in your real-life mailbox every month? For kids going off to college, consider sock-of-the-month clubs like Soul Sock ($12/month) Harry's shave plan (starting at $3/month) Mixcups (for that new coffee maker, starting at $13 a month), BustedTees monthly (3 months for $50), or hundreds of others.
Courtesy of Lividini & Co.
18 Jewelry
Whether it's a family heirloom or a new gift, a piece of jewelry can be deeply personal, with meaning for both the recipient and the giver. Alex and Ani have a 2017 graduation charm bracelet ($28) and Monica Rich Kosann has beautiful necklaces with personal messages ($130 for sterling silver). Two ideas with a bit of home are jewelry personalized with the latitude and longitude of a special place, like Lat and Lo, and Dogeared for necklaces with a home state-shaped charm.
Craig Warga—Bloomberg via Getty Images
19 Gift card to college store
On many campuses, the college bookstore is the go-to spot for far more than books. Whether buying gear to rep their new school or snacks for their dorm room, it is nice to start the year with a gift card to use on campus.
Lynne Cameron—PA Wire/Press Association Images
20 Watch
This is the classic gift, but you can make it trendy with the purchase of a Timex (starting at about $30) Shinola (starting at $550), or Apple ($370).
21 Digital Assistant
There is no more up-to-date gift than a digital assistant. This year Google came out with Google Home ($100) and Amazon with The Dot ($50). Both devices can give the weather report, offer calendar reminders, etc. Beware, though: these machines can also answer math questions. It's probably just a matter of time before they can write essays too.
22 T-shirt blanket
Saying goodbye to the teams, schools, and activities they loved is part of going away to college. But parents can take the stack of T-shirts kids earned over the years and have a quilt made for their new dorm. It is a way for kids to take a bit of home with them to college. One company that does this is Project Repat (starting at $75).
23 The ABCs of Adulthood
Literary and sentimental, this book is both. Author Deborah Copaken (with artist Randy Polumbo) wrote this volume as a missive to her son and daughter as she sent them off to college. It includes everything she wishes she had been told when she headed to college herself. ($9.19 at Amazon.)
DO YOUR LAUNDRY OR YOU'LL DIE ALONE
24 Do Your Laundry or You'll Die Alone
You want your kids to heed wise parental advice, but you're not there to nag them about cleaning their clothes. Solution: a copy of "Do Your Laundry Or You'll Die Alone." This beautiful, clever little book by Becky Blades includes 270 wise, wry gems of parental advice, like "You can tell a lot about a man by the way he treats the server at Applebees." (The newer hardback version is available for $9.29 on Amazon.)
25 The Girl's Guide: Getting the Hang of Your Whole Complicated, Unpredictable, and Impossibly Amazing Life
While author Melissa Kirsch aims her clever and comprehensive book of advice at women entering the real world, any female undergrad will find insight, understanding, and reassurance among these pages. ($8 at Amazon.)
26 The Naked Roommate
Author Harlan Cohen, a familiar face on the Money College Planner website, has been in the college advice business since his own undergraduate days and has released six editions of this classic how-to and what-if guide to college. This is a reliable, practical, and up-to-date resource for both college women and men. ($9.26 at Amazon.)
George Diebold—Getty Images
27 And everybody's favorite: Money
One of the most popular graduation gifts is simply money. Here are varied ways to give the gift of funds: rolls of quarters inside a laundry bag, a deposit in the college account that is linked to a student's ID card, a check for $20.17, a check or cash slipped between the pages of a meaningful book. Lastly, a deposit in the student's 529 Plan account works too.
Mary Dell Harrington and Lisa Heffernan are co-authors of Grown and Flown, where they write about all aspects of parenting kids 15-25 years old. Heffernan is also the author of three books, including the New York Times best seller Goldman Sachs: The Culture of Success (Simon and Schuster, 2000).
We've included affiliate links in this article. Click here to learn what those are.