10 Amazing Things You Didn't Know About College Football Ticket Prices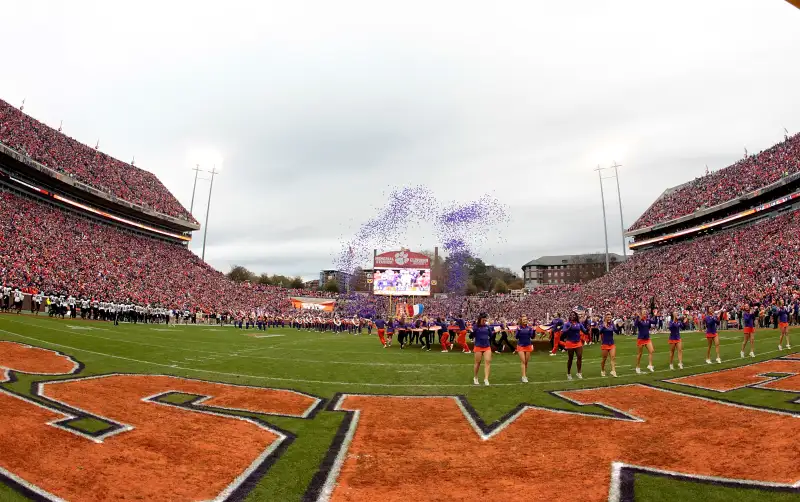 The first official game of the NCAA football season took place last weekend, but it's easy to see how many fans didn't notice. The game, featuring Cal-Berkeley vs. the University of Hawaii, took place in Australia. It was a gimmick to give the sport more international publicity, and perhaps it worked: Some 61,000 fans showed up for the game in Sydney, and 70,000 cups of beer were sold in the stadium (Aussies!).
For most college football fans, though, Thursday, September 1, will feel like the real season kickoff. That's when the first in-country college game takes place, with Vanderbilt hosting South Carolina and all the action being broadcast on ESPN. A packed schedule of games follows this weekend, including marquee matchups like Notre Dame-Texas on Saturday night and Florida State-Ole Miss on Labor Day.
To get you pumped for the season, here are some of the more astonishing facts related to college football tickets—and ticket prices.
150,000 People
That's about how many fans could attend an upcoming game pitting Virginia Tech versus the University of Tennessee on Saturday, September 10. How can a football stadium accommodate so many fans? Well, it can't. But the game isn't being played at a football stadium. Instead, it's the first college game ever being held at a NASCAR racetrack—specifically, Bristol Motor Speedway in Tennessee. Attendance is expected to beat the current record for most ever fans at a college football game, which was 115,109 at a 2013 University of Michigan home game against Notre Dame. Tickets to the game at Bristol are being listed on resale sites starting at $125 to $150.
96% Price Increase

When Notre Dame comes to town, fans can expect to pay almost double the usual asking price for tickets. According to the ticket resale site SeatGeek, Notre Dame has the biggest impact on ticket prices of any top 25 team in the country, resulting in an average price increase of 96% when the Fighting Irish are the visiting team. The University of Michigan and Ohio State are next highest among top teams, with ticket prices increasing 68% and 65%, respectively, when they go on the road. Data from another secondary market seller, Vivid Seats, also demonstrates the power of Notre Dame: The overall median price for the team's games this season is $240, the highest of any college in the country.
11% Price Decrease
Sometimes, tickets are cheap even when a high-ranking team is the visiting squad. The same SeatGeek study shows that when Washington, Oklahoma State, and Louisville are the visiting teams this year, there is an 11% decrease for ticket prices on the secondary market. This is so even though all three teams are ranked in the top 25 nationally.
54 Years

The University of Nebraska Cornhuskers boast the longest-running sellout streak in college football: Every home game has sold out for 54 years running. As Omaha.com pointed out, the last time a Nebraska home game failed to sell out, "John F. Kennedy was in the White House, a gallon of gas cost about 30 cents, and you could get a Nebraska football ticket for only a few bucks."
Read Next: How College Football Sacked the NBA and MLB
College football attendance has been declining for years, however, partly because tickets have gotten more expensive and students are less interested in the games—especially the lopsided matchups bound to be blowouts that pop up on every team's schedule. As the 2016 season opener draws nearer, however, tickets for some Nebraska games are still available, and many are wondering if this is the year that the streak ends.
5 Years

Overall college football attendance has dropped for five consecutive years. Last year, major football games drew an average of 42,631 fans, the lowest since 2000. It appears as if attendance peaked in 2008, when the average big-time game attracted 46,456 ticket-buying customers.
Minus $76

One obvious way college football programs could boost attendance is simply lowering ticket prices, especially for students. That's what the University of Colorado appears to be doing. A pass valid for student attendance at seven home games costs $99 this season, or $76 cheaper than the price of a similar pass a few years ago. Interest in the Colorado Buffaloes has been waning for years largely due to mediocre teams, the Denver Post reported in 2014, when attendance was the lowest it had been in decades.
90,000 Season Tickets

Not every program is suffering a decline in fan interest. The University of Michigan has sold an astounding 90,000 season ticket packages for the 2016 season, including 18,000 to students. Last year, Michigan was the top team in the nation for home game attendance, averaging 110,168 fans.
$195

This is the cheapest ticket price available, before taxes and fees are even added in, for the September 4 game matching up Notre Dame against Texas. It's the most expensive game during the season opening weekend. Asking prices for prime seats go over $1,000 on secondary market sites.
Read Next: Guess Who Is to Blame for Fewer Fans Watching Sports on TV
$342

The most expensive game this season (thus far anyway) is the September 17 matchup of Ohio State at Oklahoma. The lowest get-in price has been about $342 at sites like StubHub.
$0

For months, it looked inevitable that Clemson University students would have to start paying for football tickets for the 2016 season. Students have never paid for them in the past, but the athletic department proposed that for the upcoming season, student ticket fees for reserving seats in the lower section for home games would cost $225; upper deck tickets would remain free. Angry students launched online petitions to stop the move, while pointing out that nearly half of Clemson students graduate with over $30,000 in student debt. The university eventually relented, and all student tickets remain free this year. Clemson is the only college with a big-time football program that continues to not charge students for football tickets or add a fee that automatically covers sports tickets.