New College Grads Could Be Looking at the Highest Starting Salaries Ever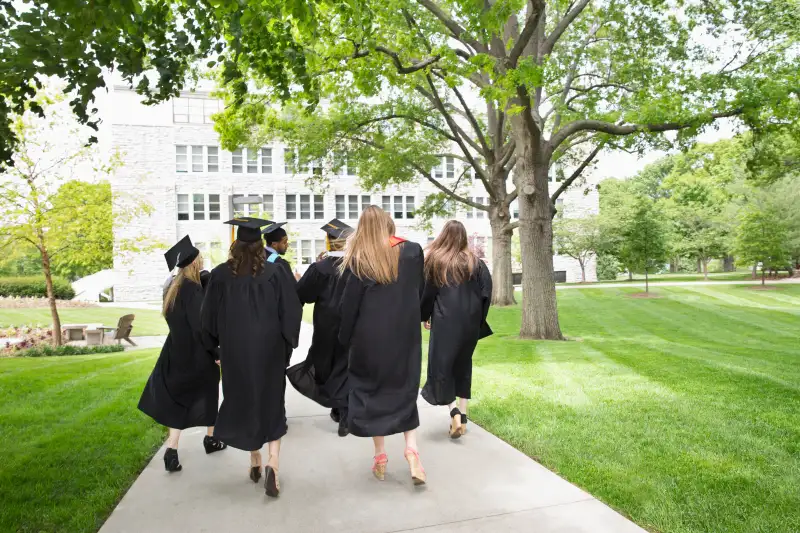 Camille Tokerud—Getty Images
Congratulations class of 2017! You just might have a prayer of paying off your student loans!
A study released this week by the Hay Group division of the executive search firm Korn Ferry reports that average starting pay for new college grads has never been higher than it is right now.
The average starting salary for a 2017 college grad is just a smidge under $50,000 ($49,785, to be exact), the study indicates. That's up 3% from last year. After adjusting for inflation, the average pay for new college grads is 14% higher than it was for the graduating class of 2007—before the Great Recession decimated earnings for many categories of workers. While there are different ways of measuring pay, Korn Ferry stated that "average salaries for 2017 grads are at an all-time high."
Researchers gathered the data by analyzing the entry-level salaries of 145,000 positions from 700 companies and organizations around the country. Not all career fields are represented, however—the study is instead presented as a "snapshot report of 25 jobs."
As you'd imagine, jobs in the STEM (science, tech, engineering, math) fields have starting salaries that are well above average. The job in Korn Ferry's study with the highest average pay for new grads is software developer ($65,232), followed by engineer ($63,036) and actuary ($59,212). Down at the low end of the study's pay spectrum are customer service representatives ($35,848) and assistants ($35,592).
But are 2017's salaries for new grads really at an all-time high? Maybe not. The study appears to only include 10 years' worth of data, and the Wall Street Journal's coverage stated only that pay is at its "highest at least in a decade."
Last summer, the National Association of Colleges and Employers (NACE) released a more comprehensive study looking at new college grad pay from 1960 to 2015, and researchers adjusted the salaries for inflation to see when they were truly highest—and lowest.
Somewhat surprisingly, the "overall adjusted average salary hit its lowest point in 1995," NACE found, when the average new grad earned only $29,276, or $45,202 after adjusting for inflation. By contrast, in 1969, the adjusted average salary for new grads was measured at $59,169.
That's significantly higher than the 2017 new grad numbers cited by Korn Ferry, of course. Research from NACE indicates that new grad salaries hovered around $53,000, after adjusting for inflation, from 2008 to 2011, before dipping down into the $45Ks in 2012 and 2013, and then rebounding to $50,219 in 2015 and an estimated $50,556 in 2016.
So the data from different studies is obviously not consistent, and today's grads may not actually be earning the highest inflation-adjusted salaries ever. Still, one thing is quite clear, and it's good news for young college grads: Starting pay is trending up.