Cook Healthy, Tasty Meals on $4 a Day--Help the Poor Too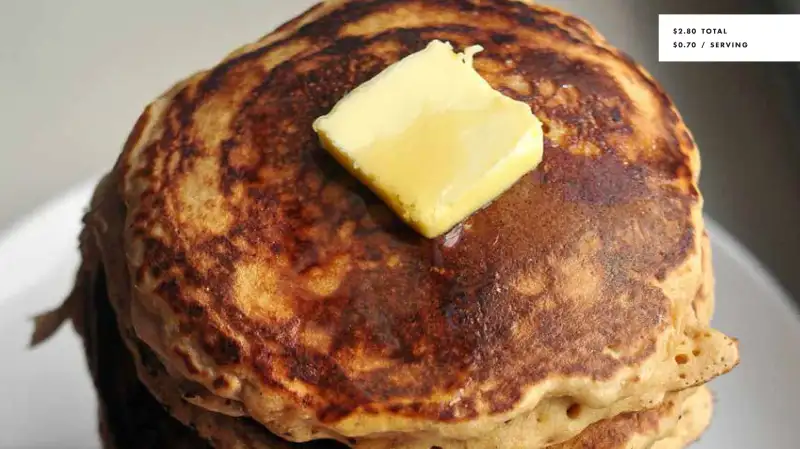 More than 4,000 people have contributed to a Kickstarter campaign created, of all reasons, to print a cookbook. The project's original goal, $10,000, has been left in the dust, with more than $110,000 raised as of Wednesday, and the campaign doesn't end until Sunday, July 13. (That total beats the viral potato salad recipe, at least so far.)
Most curious of all, the cookbook in question is one that can be downloaded for free. What gives?
The cookbook, Good and Cheap: Eat Well on $4/Day, serves up recipes that can be made, as the title indicates, on a bare-bones budget of just $4 daily. Author Leanne Brown designed the book while a graduate student at NYU as a resource for families on the Supplemental Nutrition Assistance Program (SNAP), also known as food stamps. (The average food stamp benefit per person per day is $4.) Brown posted Good and Cheap online as a free PDF in April, and there were 100,000 downloads in the first two weeks. The total has since topped 200,000 free downloads.
It's been a huge hit. "I was getting all these notes from people saying how useful it was to them," says Brown.
But something bothered her: not every family on food stamps has access to a computer and internet service.
So Brown turned her attention to a Kickstarter campaign based on a "buy one, give one" model, reminiscent of TOMS and Warby Parker. For $25, donors receive a hard copy of Good and Cheap, and an additional copy is donated to a low-income person who needs it. Heftier donations yield extra perks.
Donors readily opened their wallets, long ago surpassing the original goal of $10,000. "It seems to have really hit a chord," says Brown. "I think people are getting away from the purely consumerist model of the world. Buying a cookbook and making it possible for everyone to eat well is more exciting."
The free print books that thousands of Kickstarter backers are donating will be distributed by organizations that work with low-income families on food stamps. They have yet to be selected, but more than 240 organizations from all over the country have applied to become distributors, including food pantries, farmers' markets and nutritional education organizations.
Beyond families on food stamps, Good and Cheap has found fans of many different stripes. Brown's inbox has flooded with thank-yous from students, single parents, families saving to buy a home, and general foodies and chowhounds who appreciate that she's busting up the myth that eating healthfully entails spending a ton of money.
Many of the meals in Good and Cheap cost less than 75¢ cents per serving to make: the 132-page book features recipes for 65¢ vegetable jambalaya, 60¢ lentil soup, and 70¢ banana pancakes. You don't need Bobby Flay's kitchen prowess or an arsenal of fancy cooking utensils to prepare the recipes, either. Most require short lists of ingredients and minimal advance preparation, making the recipes feasible even for absolute rookies in the kitchen.
Brown became interested in the American food stamp program as she worked toward her master's degree in Food Studies at New York University. She comes from Canada, where food stamps are not used as a form of social assistance.
"Because we don't have a similar program I came at it with a different perspective," she says.
When it came time to write her thesis, Brown wanted to create something that would live on outside of academia. A free cookbook, she thought, could serve as a resource to America's 47 million SNAP recipients while meeting her thesis requirements. Thus her viral cookbook was born.
We in the Money.com test kitchen were curious about the recipes--for both journalistic and purely personal reasons--and took a stab at a couple from Good and Cheap. Our favorite was the sweet potato recipe featured on the book jacket, a dirt cheap, simple meal. The price for a sweet potato, a 16 oz. tub of sour cream, and a bunch of scallions came in at $4.30, just about lining up with the book's total estimated cost of $4.80 (though we bought one sweet potato, not four as the recipe outlined). We had four leftover servings of sour cream and scallions, leaving the total price per serving at just over a buck, in line with the book's estimated price tag of $1.20 per serving. The recipe doubles as a great way to use up leftovers: just pile on yesterday's chicken, beans, tomatoes or whatever else is in the fridge, Brown suggests.
We're not the only ones sharing our Good and Cheap cooking experiences online. Thrifty cooks around the web are posting photos of pierogi parties and blogging about learning to cook using the book.
"It feels like this has become this 'Good and Cheap' movement," Brown says. "Making things from scratch sounds intimidating, but really it's just mixing ingredients up. Cooking from scratch doesn't have to be difficult."
It obviously doesn't have to be expensive either.