Costco Just Introduced Its Own Version of Nutella and It's Way Cheaper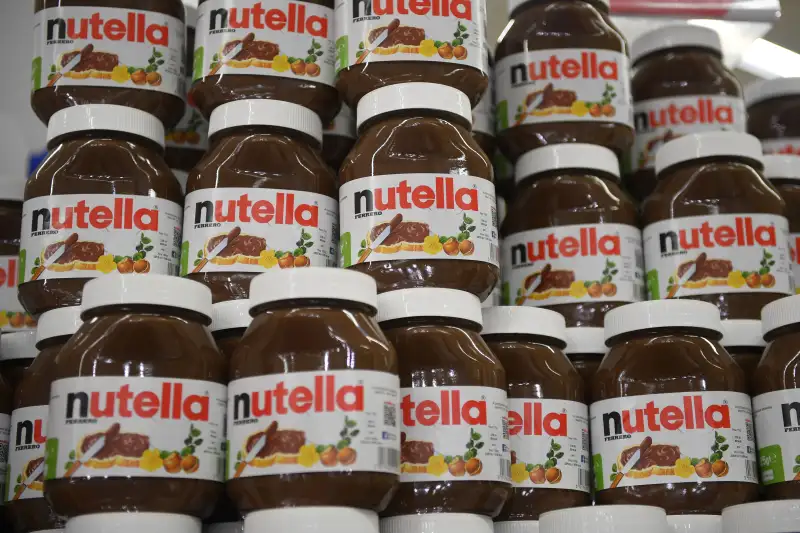 Damien Meyer—AFP/Getty Images
Attention Nutella lovers: Costco is now selling a house brand version of the beloved hazelnut spread, and it's much cheaper than the real deal Nutella.
Earlier this week, a Costco customer posted a photo on Reddit of a new hazelnut spread being sold under the Costco store brand Kirkland. It was priced at $7.99 for a package of two 35.2-ounce jars. On a unit price basis, that's just $0.11 per ounce, which is far cheaper than Nutella prices at Amazon, Walmart, or Costco itself.
Costco's online prices are slightly higher for its store-brand spread. The same two-pack of Kirkland Hazelnut Spread is listed at $9.99 at the Costco website. Still, that's cheap compared to Nutella itself, which is listed at the Costco website at $13.99 for two 33.5-ounce jars. On a unit price basis, the Costco hazelnut spread is $0.14 per ounce for online purchases, versus $0.21 per ounce for Nutella.
Costco prices for its store brand hazelnut spread are also much lower than what shoppers can expect to pay for Nutella at grocery stores and e-retailers such as Amazon. Walmart is charging $5.98 per 33.5-ounce jar of Nutella ($0.18 per ounce), while Amazon is asking $19.49 for a two-pack of 33.5-ounce Nutella. That breaks down to a steep $0.29 per ounce, or nearly three times the cost of Costco's Kirkland spread in the store. (Amazon Prime subscribers may be able to buy Nutella for less—a 26.5-ounce jar of Nutella was priced at $4.73, or $0.18 per ounce, for Prime Pantry orders, which incur a $5.99 delivery fee and are only available to members of the $99-per-year Prime program.)
Nutella is known for the cult-like devotion of its customers. Nutella nuts have been known to steal the hazelnut spread in large quantities, and there were even riots in France when a supermarket had Nutella on sale for 70% off.
Costco is likewise renowned for its share of obsessive loyal customers. While it's unclear how Costco's new hazelnut spread matches up to Nutella in terms of taste and texture, Costco customers rave about the high quality of many of the warehouse club's other Kirkland-brand products, including olive oil, eggs, bacon, vodka, and organic peanut butter.
We've included affiliate links into this article. Click here to learn what those are.