One Couple's Retirement Challenge: Agreeing on Where to Live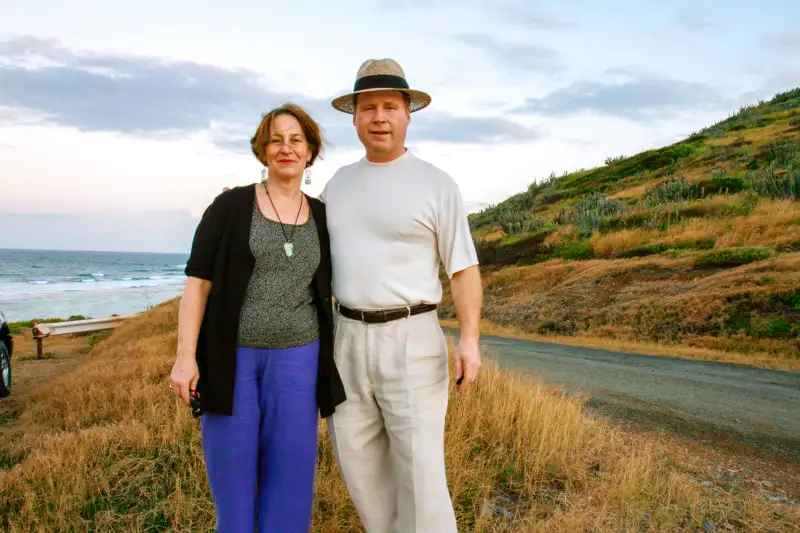 Molly Moynahan's vision for the next stage of life involves living in a condo near the beach with an indoor swimming pool and little upkeep, all within driving distance of a large university or city so she can continue her work as a writing consultant and academic coach. Her husband, Timothy Goodrich, shares her desire to leave their landlocked $700,000 Chicago condo for a coastline residence—but that's about all they agree on.
His ideal retirement spot, Delray Beach, Fla., lies more than 1,200 miles to the south of Molly's pick on the New Jersey shore. The 54-year-old ironworker pictures them in a house with a workshop for welding and woodworking, plenty of room for the grandkids to visit, and maybe a dock and a boat. As for vibrant city life within reach, he could easily go without.
"This is our biggest challenge with retirement planning," says Molly, 59. With only eight years till Timothy expects to leave full-time work, the couple, who have been married for 11 years, are feeling pressure to create a plan and find a spot they can agree on and afford.
A financial reality check
"Molly and Timothy are in pretty good shape for retirement," says Rapid City, S.D., financial planner Rick Kahler. The couple currently have a combined $381,000 across IRAs, a taxable account, and an annuity. That's on top of two pensions: $60,000 a year for Timothy and $20,000 for Molly.
Still, Kahler recommends the couple work part-time during the first decade of their retirement to add another $220,000 from pay to their reserves over that period. While Molly already has a flexible work schedule and intends to never truly retire, that plan will require Timothy to make good on his idea of doing some welding work or turn a profit from his favorite hobby: photography.
"We're not really interested in traditional retirement activities. We're not golf people," says Timothy. "We like the excitement of still doing work and being connected." The couple currently earn $125,000 and believe they could earn $60,000 a year (in today's dollars) from their part-time labors. Timothy is confident he'll find short-term ironworking gigs.
They'll get additional income from Molly's Social Security benefit and, later, Timothy's larger one. "The optimal strategy is for Molly to file at full retirement age and for Timothy to wait to file until age 70," says Jill Guericke, a financial planning associate of Kahler's. That timing will generate the most income over their two lifetimes, based on conservative mortality assumptions.
After income taxes, the advisers figure the couple will have about $95,000 in current dollars to spend annually in Florida or $92,500 in New Jersey, which Timothy and Molly say will be comfortable.
Next steps to take
How to decide where to live? "Visit in different times of the year so you can get a good sense of what it would be like to live there full-time," recommends Kahler. "If you can, take a year and spend a couple of months in each location."
"We're not really interested in traditional retirement activities." —Timothy Goodrich, Age 54
"This is a great plan," says Molly. "We don't want to leave Chicago too hastily. We want to be sure." The pair think they could do such a long-term test, taking on some work in each place.
Kahler also points out another possibility: splitting time between two locales in retirement. That could be a factor in weighing a house vs. a condo.
"For investment reasons we recommend a house," says Kahler. Condos tend to suffer more than houses in a real estate downturn, he explains. And owners of a house have more flexibility to rent it out for income, if Timothy and Molly want to do that at some point.
With Kahler on Timothy's side about a house, Molly's hesitations may be abating.
There were heavy charges for some work on their building in Chicago, and "renting was always an issue with the condo board," she says. "Having more options would be nice, so it may be better to look for a home."