3 No-Fail Ways to Handle a Coworker Who's Too Loud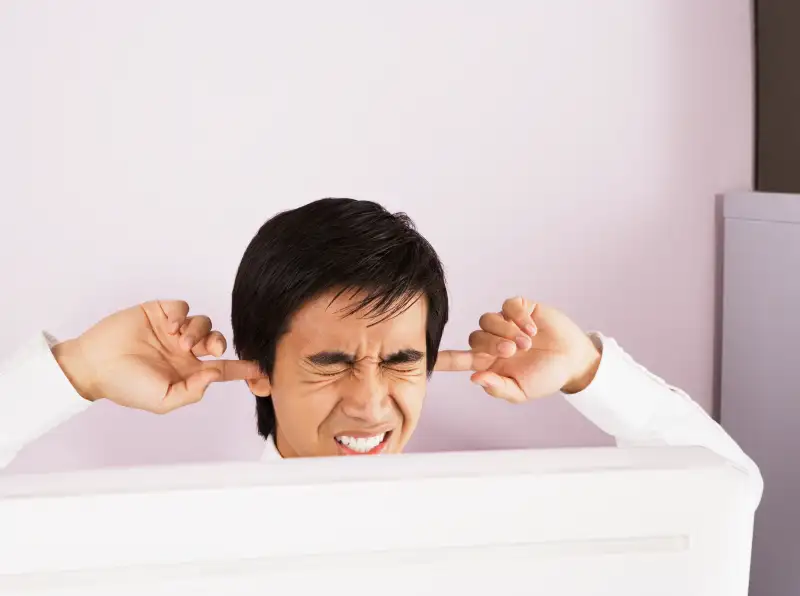 Q: My colleague makes loud personal phone calls all the time. I work in an open office and sit right next to him. How can I get him to be more quiet without creating an awkward situation?
A: Dealing with noisy neighbors is one of the many curses of working in an open office space. (You're also more likely to get sick and be less productive).
Nearly 70% of offices now have open layouts, according to the International Facility Management Association; plus the average square footage per person has dropped from 225 to 176 between 2010 and 2012—and is expected to fall to 100 by 2017, according to corporate real estate association Corenet. So some ambient noise is to be expected.
But being cozied up to your colleague doesn't mean you have to settle for an earful of his high-volume personal calls.
You've got a few options for how to resolve the issue.
Ideally, a professional and polite conversation with your co-worker will solve the problem. "Sometimes it's just an awareness issue," says Bill Driscoll of staffing agency Accountemps. "Your coworker may not realize that everyone can hear their personal business."
But if you don't want to say something directly, ask your manager to speak to him. Rather than ratting out your colleague for doing personal business on work time, says Driscoll, simply tell your boss that the loud talking is distracting you from doing your job. Your boss should be empathetic when you pitch it in terms of the impact on the results you are able to deliver.
A final option is to ask your manager if you can move your desk to a quieter place in the office, with no naming of names.
Whatever you try, keep this in mind: "We spend almost as much time at work as we do at home," says Driscoll. "This isn't something you should have to live with."