How to Watch the Democratic Debate Tonight Online for Free (Yes, There's Another One)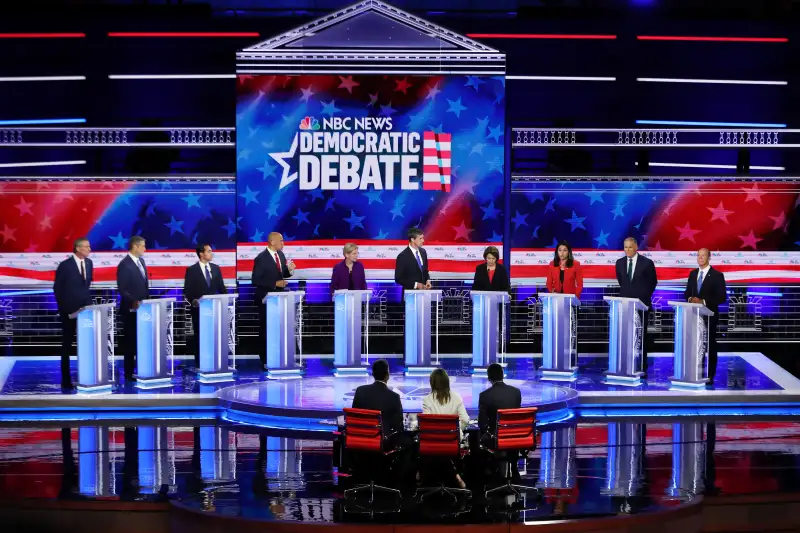 Ready or not, the 2020 election cycle is underway. The first Democratic debate kicked off Wednesday with a hot-mic disaster, several Spanish monologues and plenty of dodged questions, and it continues Thursday.
Night two's debate lineup includes Joe Biden, Pete Buttigieg, Bernie Sanders, Kirsten Gillibrand and Kamala Harris alongside lesser-known candidates like Michael Bennet, John Hickenlooper, Eric Swalwell, Marianne Williamson and Andrew Yang. If you want to keep up with political discourse and/or understand tomorrow's memes, you'll want to tune in.
Thursday's Democratic debate starts at 9 p.m. EDT in Miami and will last for two hours. Here's how to live stream it on your computer, TV, Roku and any other device you can think of.
How to Watch the Democratic Debate for Free
The first Democratic debate(s) are being hosted by NBC News, Telemundo and MSNBC, so you can pull up those channels on your TV or Roku in order to tune in. You can also head to NBCNews.com or MSNBC.com, as both will be live streaming the debate for free. Or download the NBC News app, which is available for iOS and Android.
According to Fast Company, no login will be required — you shouldn't need a cable subscription in order to watch the Democratic debate on any of those platforms.
NBC is also live streaming the debate on YouTube, Twitter and Facebook. (Similarly, Telemundo is showing the debate in Spanish on YouTube, Twitter and Facebook.)
Alternative Options for Live Streaming the Democratic Debate
If for some reason you can't get any of the above to work, the Democratic Party has a no-frills live stream on its website. And there's always Locast, a service that broadcasts local channels over the internet for free. Locast is available in cities like New York, Chicago and Los Angeles; it also offers Roku, Apple TV and Amazon Fire TV options.
If you're absolutely itching to pay, you can watch the debate using a live TV subscription — but know there was a major Hulu outage during Wednesday's debate, so you might want to stick to the free options.
Also, this isn't technically a broadcast of the event itself, but Vice reports that Sanders will be streaming on Twitch right before and right after the debate.
2019 Democratic Debate Schedule
Look at you, planning ahead. The second Democratic debate is another two-parter, scheduled for July 30 and July 31. CNN is hosting it in Detroit.
The third Democratic debate, hosted by ABC News and Univision, is set for Sept. 12 and Sept. 13. No location has been announced.
Wondering how many Democratic debates are there total? Six this year and six next year.
How to Keep Up With the Other Guys
Not all of the candidates qualify for the debate stage due to polling and fundraising requirements, but they still want to feel included.
Steve Bullock, for example, is holding a televised town hall in New Hampshire on Thursday night. WMUR News 9 is carrying it, as is Bullock's Facebook.
On the other end of the spectrum, the teens running Mike Gravel's campaign attended Wednesday's debate seemingly without Gravel. They live-tweeted from the venue, ate Biden's ice cream and took a video of them yelling at Beto O'Rourke.