Do You Think Teachers Are Underpaid? Your Answer Depends on One Key Factor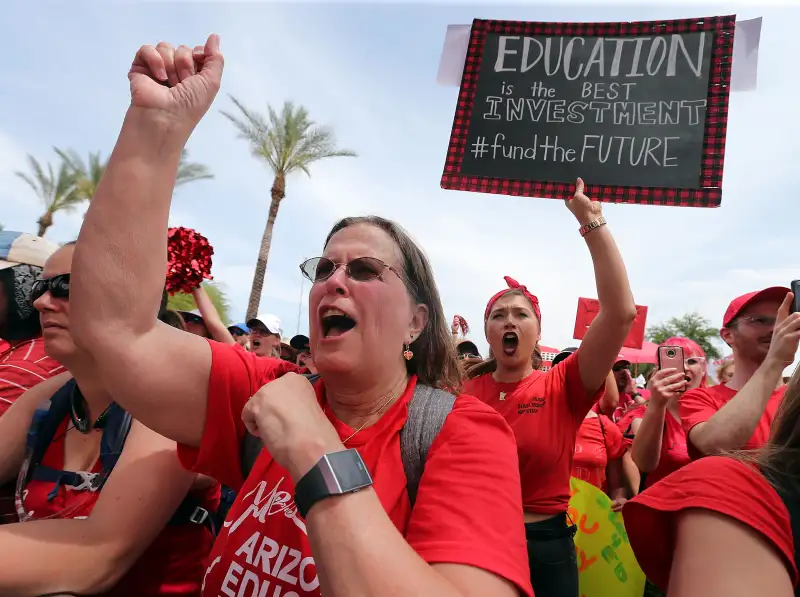 Like seemingly every other topic in 2018, teacher pay is now officially a politically divisive issue.
Results of a poll from education policy journal Education Next out Tuesday indicate that more left-leaning Americans support raising teacher salaries than right-leaning ones. When provided with the average annual salary of teachers in their states, 59% of Democratic respondents told pollsters they thought teacher pay should go up, while 38% of Republicans said the same.
(The report didn't speculate as to why the two sides were split on the issue, though the discrepancy could be linked to Republicans' reticence to pay higher taxes in order to fund the would-be raises.)
Even so, Martin West, the editor-in-chief of Education Next and the deputy director of the Harvard Kennedy School's Program on Education Policy and Governance, says there's hope for teachers' wallets. The survey found that, among the general public, support for increased salaries surged from 36% in 2017 to 49% this past May. And despite their political differences, both Democrats and Republicans appeared to be warming to the idea of raises.
"The increase in support for teacher pay that we saw this year was noteworthy both because of its size — a 13-percentage point jump is quite substantial in terms of a change in public opinion in a single year — as well as its breadth," West tells Money.
The average public school teacher salary for the 2017-2018 school year — the most recent for which data is available — was $60,483, according to the National Education Association.
On its face, that estimate may not seem too shabby, especially because it's up 11 percent from 2008-2009 and the U.S. Census Bureau says the median household income in 2016 was $59,039. But when inflation is taken into account, teacher pay has in fact fallen by 4 percent since the 2008-2009 academic year.
Another caveat: The NEA dollar figures included average gross salary only and did not take into account deductions for things like health insurance and retirement. Those can be expensive: Vox reported the amount teachers have to contribute to the premium cost for a family plan has risen 9 percent over the past decade. Teacher pensions have a reputation for being lucrative, but as the Brookings Institution pointed out in 2016, in most states they're lower than the $33,281 average pension for all workers who went to college.
Teacher salaries also fluctuate by state. Teachers in New York pulled in an average of $81,902 while their West Virginia counterparts made just $45,555, according to the NEA.
Widespread protests in some of those lower-salary states this past spring may be partially responsible for the bipartisan surge in support for better pay. Teachers in West Virginia, Oklahoma, Kentucky, North Carolina, Colorado and Arizona organized strikes and walkouts in March, April and May, making national headlines and forcing schools to cancel classes.
In states with strikes, the Education Next survey found that support for increasing teacher pay was 63%. It was 47% in other places, which West says shows the demonstrations "did not produce a backlash as some might have feared going in."
Economic prosperity may also be a factor contributing to the uptick in support. The unemployment rate hit an 18-year low in June, and the second quarter saw a 4.1% growth rate — its fastest since 2014.
West says not only did that give teachers the perfect opening to ask for raises but also made the public more receptive to them.
"If the economy continues to perform well, that should put teachers in a strong position to make the case that they should see some of those benefits," he adds.
The Education Next survey, which included responses from about 4,600 adults contacted between May 1 and May 22, was the 12th in a series. See the full data breakdown here.