Dollar Scholar: How Much Should I Spend on a Wedding Gift?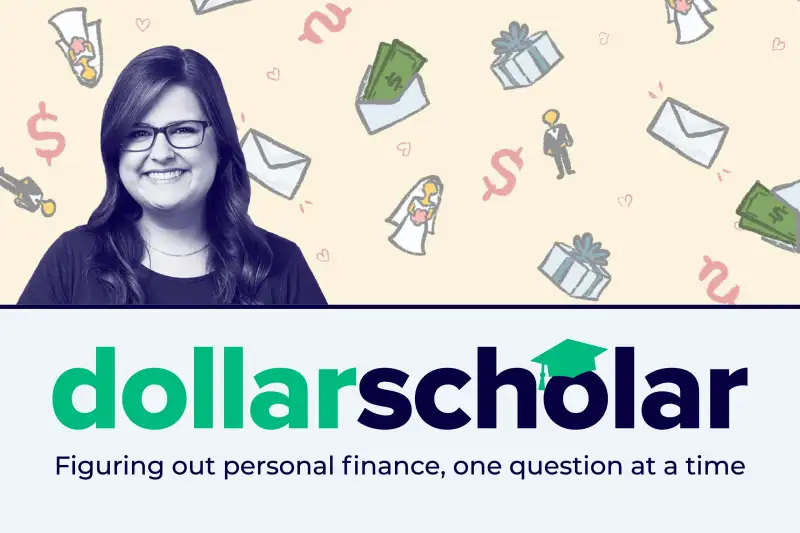 This is an excerpt from Dollar Scholar, the Money newsletter where news editor Julia Glum teaches you the modern money lessons you NEED to know. Don't miss the next issue! Sign up at money.com/subscribe and join our community of 160,000+ Scholars.
---
You know what I've been thinking a lot about lately? The Wedding Singer.
The movie is a classic for so many reasons — the always-impeccable Drew Barrymore/Adam Sandler pairing, the "Somebody Kill Me" performance, the perms — but it's also a relic. Much has changed since 1985 (when it's set). Most wedding dresses no longer have shoulder pads, Billy Idol probably no longer flies commercial, and inflation is significantly higher.
In 1985, inflation stayed under 4%. Now, it's hovering around 5%. Everything is more expensive in 2023, and because I've got matrimony on my mind, I'm curious whether that means the financial obligations around wedding gifts have shifted, too.
How much should I spend on a wedding gift?
Let's start with the basics. Etiquette expert Myka Meier says that historically, guests gave presents to newlyweds to help them outfit their new marital home. But it's common nowadays for couples to live together before getting formally married, so they often have everything they need.
"In modern etiquette, gifts are given for two main reasons — first, to celebrate the couple and show support as they embark into their marriage together, and second, to show gratitude for being invited," she says.
That partially explains the shift we've seen away from the kitchen appliance-heavy registries of the past towards cash. But there is still an expectation that, as a guest, I'll show up with something for the happy couple.
"Wedding gifting is certainly very much the common practice, although bringing a gift to the wedding itself is almost totally shunned at this point," says Sara Margulis, the CEO of Honeyfund, a honeymoon registry site.
Gift tables like I might have seen in background shots of The Wedding Singer are all but gone; in their place are card boxes. This puts even more of an emphasis on the amount given. It's a lot easier to notice a high (or low) number on a paper check tucked inside an envelope than it is to track down the value of a blender.
What that number should be is a tricky question to answer. Meier says the average wedding gift in North America is about $100. On Margulis' Honeyfund, the typical spend is about $125.
But these aren't hard-and-fast rules. Several factors dictate how much I should splash out on a wedding present. Margulis says the most important one is my budget — what I can comfortably afford to spend. Next, I should consider what my relationship is to the couple. If it's the wedding of my best friend or sibling, it's probably appropriate to spend a bit more than if it's a distant cousin or old coworker.
Meier points out that culture may also play a role. In Spain, for instance, it's not uncommon for couples to include their bank account info on wedding invitations so guests can transfer them cash directly. In Japan, the minimum gift considered polite is 30,000 yen (the equivalent of $220).
One thing that hasn't proven to be a major factor, though, is inflation.
Weddings themselves are getting more expensive — a survey from The Knot showed that a whopping 70% of vendors said they were raising prices last year — but the value of the typical gift "hasn't changed much over time," Margulis says.
To be clear: If I want to spend more than $125 on a gift and it fits in my budget, there's nothing wrong with splurging. Meier says that because so many weddings were delayed or canceled due to COVID-19, some folks have taken it upon themselves to spend extra. But expectations haven't drastically risen.
When it comes to inflation, Margulis cautions against viewing my present as a way to quote-unquote pay the couple back for my spot on the guest list. That can lead to an exchange-of-value perspective, "which is not the right frame of mind to have for a wedding gift," she adds.
There's nothing wrong with spending less than the average, either.
"You shouldn't spend more than you can afford," Meier says. "If you can't afford to buy a wedding gift, some of the most beautiful and memorable wedding gifts come from the heart or are even handmade."
For artists, that might mean painting a portrait of the couple; for the musically inclined, it might mean writing a song about their relationship. I could thrift a cool salad bowl for their dinner parties or offer free dog-sitting for their honeymoon.
"Purchasing a gift that you can afford is meaningful regardless of the price tag," says Emily Forrest, director of communications at Zola, an online wedding registry. "Some of the most memorable gifts that I received for my wedding were quite inexpensive, while the fine china is still sitting in a box."
The bottom line
Choosing how much to spend on a wedding gift is an individual decision based on my budget and my relationship with the couple — not inflationary trends. The average gift for a single guest is about $100 to $125, according to my experts, but I shouldn't feel pressured to keep up with the Joneses.
"The most important element behind giving a couple a gift is knowing that they can use it in their new life together and enjoy it," Forrest adds.
More from Money:
Dollar Scholar Asks: Is It Rude to Ask People to Venmo Me for My Birthday?
This Map Shows How Much Couples in Every State Spend on Weddings
To Have and to HODL: Welcome to Love in the Age of Cryptocurrency