Dollar Scholar Asks: How Does Depositing a Check Actually Work?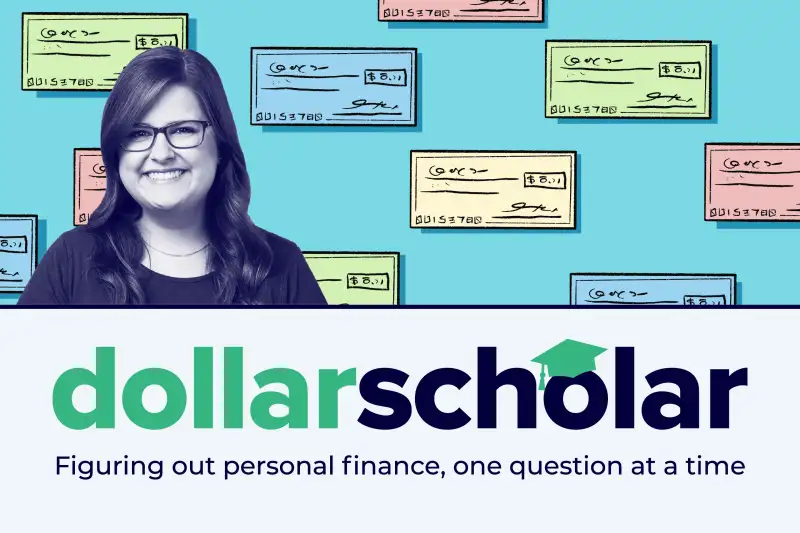 This is an excerpt from Dollar Scholar, the Money newsletter where news editor Julia Glum teaches you the modern money lessons you NEED to know. Don't miss the next issue! Sign up at money.com/subscribe and join our community of 160,000+ Scholars.
---
Like pretty much everyone — except, maybe, for Chip Skylark — I hate going to the dentist. I especially hate going to the dentist when, at the reception desk, they tell me I owe them $1,000 due to a billing issue.
Which is what happened recently.
Don't worry: After a couple dozen stern phone calls, my insurance company agreed to reimburse me… in a series of paper checks it has snail-mailed to my apartment one by one. I want to get that cash back in my account as fast as possible, which means I've been spending a bunch of time taking pictures of checks in my phone's banking app and waiting for my bank to decide they're legit.
I'll be honest, though — the mechanics of the whole thing mystify me. It's wild that I can show my bank a scribbled-on piece of paper and the financial gods will just... give me money for it.
What actually happens when I deposit a check?
Brad Kvederis, marketing and research manager at Digital Check, says the numbers at the bottom of a paper check tell it where it must quote-unquote "go." The first nine digits make up the routing number, which identifies my bank. The next 10 are my personal account number, followed by the check number.
"It contains all the information your bank needs to know: where is this money coming from, who wrote this check, how do I transfer the funds," Kvederis says.
The data is generally printed in magnetic ink, which is easy for automated machines to scan, read and record. There's a short waiting period, and voila. Transaction complete.
Behind the scenes, the details of the check deposit process vary slightly based on the type of check, the banks involved and the method by which I deposit it, says Ryan Bailey, head of retail banking at USAA.
Here's an example. If I'm a USAA customer and I walk into a USAA bank to deposit a paper check from another USAA customer, the funds typically become available immediately. These are referred to as "on-us" checks because they can be authenticated right away. The bank knows that money is in the check-writer's account; it can instantly take it out and move it to my account.
But if it's a check from a different bank, there's usually a brief delay while USAA verifies it isn't fraudulent.
Interestingly enough, Bailey says there was an entirely different process before 2004. Banks would literally fly checks across the country to process them. Not kidding.
When airplanes were temporarily grounded in the aftermath of 9/11, it exposed serious flaws in this setup.
"An incredible amount of money was just stuck. People didn't know when they were going to get paid, didn't know where their money was, didn't know how long it was going to be before it got unstuck," Kvederis says. "That was enough to make Congress take action."
Enter the Check Clearing for the 21st Century Act, a law that made it so banks could use images rather than paper to authenticate checks electronically. Some banks send these images to each other directly, while others use a clearinghouse as an intermediary in order to sort them.
Thanks to that law, nicknamed Check 21, most everything is virtual now — and assuming there are no problems, "the process happens a lot quicker," Kvederis adds.
That includes mobile deposits, which USAA actually claims to have invented as a way to help military families abroad. "As long as you have service, you can be on a hike or in the middle of a break and deposit at your convenience," Bailey says.
All I have to do is take a picture of a check in my bank app, and my bank will extract the data, using those numbers at the bottom to help direct the funds.
One hangup: Obviously my phone is just a camera; it can't read magnetic ink or anything. Luckily, banks have sophisticated software to verify the information. It's safe, but Kvederis says it can be a "nuisance that you have to keep taking pictures of the check because they don't have the magnetic signal to rely on."
Because my phone doesn't (yet) have a fancy magnetic ink reader, Bailey recommends not tearing up checks right after I snap my photos. He says to always keep the physical copy for 10 days in case the bank has questions about my deposit.
The bottom line
Though it may seem like magic, check deposits actually involve a lot of back-and-forth between financial institutions behind the scenes. Those communications — while a lot faster than they used to be — take time.
So I just need to be patient.
More from Money:
Hi, I'm an Adult Who Still Uses Personal Checks
Why Are People So Obsessed With Credit Unions?