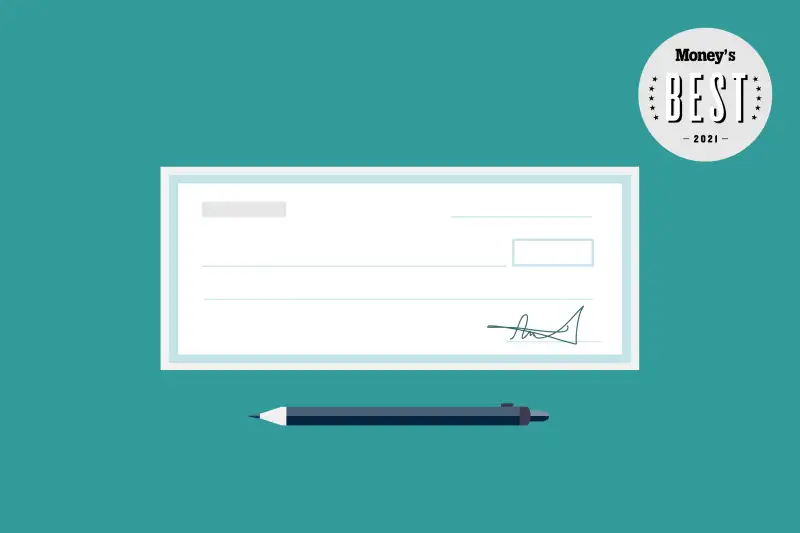 Checking accounts allow you to quickly deposit, transfer, and withdraw money, pay bills, and check balances. Explore our list of the 8 best checking accounts in the industry, see benefits, and learn more about opening a checking account today.
Our Top Picks for Best Checking Accounts of 2021
Best Checking Account Reviews
HIGHLIGHTS
Monthly Fee

$10, waived with a $500 balance
Balance to Open

$25
ATM Network

85,000
APY

0.15% - 0.35%, depending on balance
Highlights:
Open a checking account with just $25
0.15% APYs for balances under $20K
Over 85,000 fee-free ATMs across the US
Federally insured by NCUA
As of February 2021, PenFed's Access America Checking account has a 0.15% APY for balances under $20k and a 0.35% APY for balances between $20k and $50k. The account is also insured by the National Credit Union Share Insurance Fund (NCUSIF) for up to $250,000.
The checking account has a $10 monthly service fee, but you can avoid paying it by maintaining a daily balance of $500 or setting up a $500 monthly direct deposit.
There's a $1.50 fee for every ATM withdrawal outside their network, plus any other fees put forth by the owner of the teller machine.
HSBC: Best for Students
HIGHLIGHTS
Monthly Fee

$15, waived with a direct deposit or a balance of $1,500
Balance to Open

$0
ATM Network

ATMs available in 60 countries
APY

N/A
Highlights:
$100 welcome deposit for students
No required minimum balance
Sign up for overdraft protection and save $35
Resources for budgeting, saving, and credit score monitoring
HSBC offers a $100 welcome deposit to student accounts if they meet certain requisites, including debit card purchases of $100 for three consecutive months.
To qualify, account holders must list "student" as their occupation in their application form, be at least 18 years of age, and a U.S. or international student enrolled stateside.
The Choice Checking account requires a monthly maintenance fee of $15 that can be waived by setting a direct deposit or maintaining a balance of $1,500.
HIGHLIGHTS
Monthly Fee

$0
Balance to Open

$1
ATM Network

19,000
APY

0.10%
Highlights:
Cash account with an 0.10% APY
Automate your savings plan according to your financial goals with Self-Driving Money
Add a debit card and have access to 19,000 fee-free ATMs
Open an investment account and transfer funds in minutes
Mobile check deposits and ATM locator
Wealthfront's Cash Account is not a traditional checking account. Instead, it is a cash account held at a brokerage firm that offers 0.10% APY — higher than the national average for a savings account, which is currently at 0.6%.
Wealthfront recently launched Self-Driving Money, an "automated" savings and investment tool that fully automates your savings plan according to your financial goal by routing the right amount of money to the right investment accounts based on pre-set savings goals. Customers can organize their money into different savings buckets like a vacation fund, home down payment, or emergency fund. To access Self-Driving Money, anyone can open a Wealthfront Cash Account with $1.
PNC Bank: Best for Managing Finances
HIGHLIGHTS
Monthly Fee

Varies by market
Balance to Open

$0 if opened online
ATM Network

18,000 ATMs
APY

Varies by market
Highlights:
Money management features
Mobile banking app available
Debit card rewards program
Includes a Visa debit card
The PNC Virtual Wallet account combines an online checking account with a savings account.
You may choose to have a Virtual Wallet with a Spend account only, or Spend, Reserve, and Growth accounts. Spend functions like your typical checking account, Reserve, is an interest-bearing checking account, and Growth is a savings account.
If you use an ATM outside of the network, you'll be charged a $3 fee or $5 if you withdraw overseas.
Betterment: Best for ATM Fee Reimbursement
HIGHLIGHTS
Monthly Fee

$0
Balance to Open

$0
ATM Network

All ATM fees are reimbursed
APY

N/A
Highlights:
Mobile-first checking account
Features cashback rewards
Reimburses ATM and foreign transaction fees
Betterment's checking account stands out for its ATM fee reimbursement on stateside or foreign transaction fees, making it an excellent option for travelers.
Opening a checking account is easy, and it doesn't require a deposit or a minimum balance to maintain. There are also no overdraft fees, and it comes with a cashback rewards benefit.
Unfortunately, this rewards checking account does not pay interest.
SoFi: Best Hybrid Account
HIGHLIGHTS
Monthly Fee

$0
Balance to Open

$0
ATM Network

55,000
APY

0.25%
Highlights:
Deposit $500 per month to qualify for a higher APY
No monthly or overdraft fees
Reimburses many third-party ATM fees
SoFi Money is an online cash management account that merges checking and savings under one account. By maintaining monthly deposits of $500 or more, your balance will earn interest with a 0.25% APY (as of February 2021), comparable to traditional banks and their high-yield savings accounts.
Also, SoFi Money has no account fees or minimum balance requirements, and there are over 55,000 fee-free teller machines available within Allpoint's network.
Chase: Best Sign-Up Bonus
HIGHLIGHTS
Monthly Fee

$12
Balance to Open

$0
ATM Network

16,000
APY

N/A
Highlights:
Comes with a Chase debit card that features chip technology for maximum protection
Get $200 when you open an account and set up direct deposit
Open a Chase Bank Total Checking account and receive a $300 bonus when you make a direct deposit within 90 days of opening the account.
There is a $12 monthly fee, which you can waive by making direct deposits of $500 or more every month, keeping a $1,500 beginning-day balance, or keeping at least $5,000 across your Chase Bank accounts.
Finally, even if you don't have your card in hand when visiting one of the 16,000 ATMs, you can still use Chase's smartphone app to access your funds via their card-less ATM access feature.
Discover: Best for Cash Back
HIGHLIGHTS
Monthly Fee

$0
Balance to Open

$0
ATM Network

60,000
APY

N/A
Highlights:
1% cashback on your purchases, up to $3,000 per month
No monthly fees
Mobile app available
The Discover Cashback Debit Checking account offers 1% cashback on up to $3,000 per month, meaning that you can earn at least $30 monthly, or $360 a year.
Unfortunately, not all debit card transactions qualify. ATM transactions, peer-to-peer payments, and money order purchases don't count for cash back, so you have to plan to get the best out of this feature.
Discover has over 60,000 surcharge-free ATMs in the United States.
Other Checking Accounts We Considered
To determine our list of best checking accounts, we paid special attention to companies that provide convenience, ATM accessibility, and other perks such as a low minimum opening balance and surcharge rebates.
Although this eliminated many companies from making our limited cut — Axos, Chime, Radius, Alliant, Capital One, and Bank of America — there are still plenty that offer the best checking account to fit your needs.
Checking Accounts: What You Need to Know
Here is the information we'd encourage you to keep in mind before signing up for your new checking account.
APYs and Interest Rates for Checking Accounts
The annual percentage yield (APY) is how much money an account earns in one year, considering the interest rate.
Many financial institutions require customers to pay a fee to have an interest checking account. However, if the amount of money you'll maintain as your balance isn't high enough, the chances of making a return on your investment are slim at best.
If you're looking to make your money grow or become a high-yield investor, a high-yield savings account or brokerage account may be a better option.
Using a Checking Account to Pay Your Bills
Nowadays, you can pay most bills online or electronically. Still, some vendors prefer to be paid by check or cash for a variety of reasons. In this case, a checking account should be able to provide you with paper checks, paper statements, and a network of ATMs. If the provider has a small ATM network, consider the network ATM fees you'll be charged should you use an out-of-network teller machine.
"A lot of people want a local bank because they have a large ATM presence. Frankly, that's great, but these days most transactions are happening through either a debit card or a credit card, or electronically through Venmo or PayPal," said Howard Dvorkin, author, and personal finance expert.
Overdraft Protection
Overdraft fee protection is important if you want to eliminate the risk of a payment being declined. If you're not planning to keep a large sum in your checking account, you may want to consider a free account or one with waivable fees.
Consider also whether you should add another bill to your list of monthly expenses. "You may not think that $15 adds up, but unfortunately, it's about 200 bucks a year. If you can avoid it, do it. There's no sense in paying a fee if you don't have to," said Dvorkin.
Online Banking vs Traditional Banking
With online banks, it's become less of a necessity to set foot inside a physical branch. Gone are the days of standing in line just to deposit a paycheck or of face-to-face meetings with bank managers. And yet, there are those who'd prefer to visit brick-and-mortar banks, either because they've grown accustomed to them, or because they prefer a personal touch.
Also, due to the ongoing pandemic in 2021, mobile banking can present itself as the better option. "I would say, certainly right now with the coronavirus pandemic, the ability to bank online is very appealing," said Kate Dore, a freelance finance writer that's written for various websites, including Lifehacker and Credit Karma. "If you're nervous to go indoors or you're nervous to just go through a drive-thru to make a deposit, you may prefer banking online and be able to make deposits through a mobile app versus having to go in person.
Best Checking Accounts FAQ
What banks offer free checking accounts?
Online-only banks have the most offerings for fee-free, zero-balance checking accounts. Ally and Capital One are good examples. However, there are also various traditional banks, like BBVA, and Chase, which either have embraced online banking or have fee-free traditional checking accounts.
What is overdraft protection?
Overdraft protection links your checking account balance to another source of funds, whether it's a separate account or a credit line. Its purpose is to protect your account should you make a payment that exceeds your balance.
Should I have more than one checking account?
Whether or not you need more than one checking account will depend on your needs. For instance, some married couples have a joint checking account to handle mortgage payments and shared expenses.
What's the difference between a checking and a savings account?
The difference between checking accounts and savings accounts is that the former is typically used to pay recurring bills or common expenses, while savings accounts are used to keep emergency funds and earn interest on your savings over time. Most savings accounts have a monthly limit of six transactions. With checking accounts, there are rarely any limits in place.
Do checking accounts earn interest?
Not all checking accounts earn interest and the ones that do earn considerably low APY rates. If you're looking to make your money grow over time without assuming the potential risks of investing, a high-interest savings account is a better option.
Do I have to pay to have a checking account?
Some institutions can charge setup or initial fees, as well as monthly maintenance fees. While most of these fees are explicitly stated, others are hidden in the fine print, so you should always check your contract before signing it. That said, many of these fees can be waived if you meet certain criteria. For instance, some checking accounts will require you to maintain a particular monthly balance, while others charge for monthly wire transfers. If you fall short, you will have to pay the fee for that month. Currently, there are many zero or low fee options available.
Do checking accounts have balance requirements?
Some companies don't have a minimum balance requirement, while those that require it do so to incentivize you to grow funds in your checking or deposit account. Others charge monthly maintenance fees as low as $1, regardless of your balance. The best way to be completely aware of potential fees is to carefully read all the terms and conditions before signing up. Marketing practices tend to veer toward highlighting the best a company has to offer to close the deal. We encourage readers to always inquire about any possible charges and deductions to their accounts.
How are banks responding to the COVID-19 pandemic?
The pandemic has caused economic turmoil across the nation, which is why many banks are stepping up to help their customers out. If you have a bank account and are financially strained, many banks are offering Covid-19 relief packages, in hopes to help their customers cope with the economic struggles that exist in these trying times.
However, note that most banks are offering these reliefs on a case-by-case basis, so you have to contact them directly to check if you qualify.
How We Found the Best Checking Accounts
To offer you the best checking accounts in the US, we conducted over 200 hours of research, interviewed four experts, and vetted a total of 20 companies. The process included analyzing the number of complaints filed with the Consumer Financial Protection Bureau between 2017 and 2021. Additionally, all of the companies on our list are FDIC insured.
We discarded companies with complaint amounts above the average of 1,018, or with APYs that fell below the average of 0.16. We also looked at annual percentage yields and minimum balance requirements.
The 8 Best Checking Account Companies