Donald Trump's Manterruptions Continue Uninterrupted at Second Presidential Debate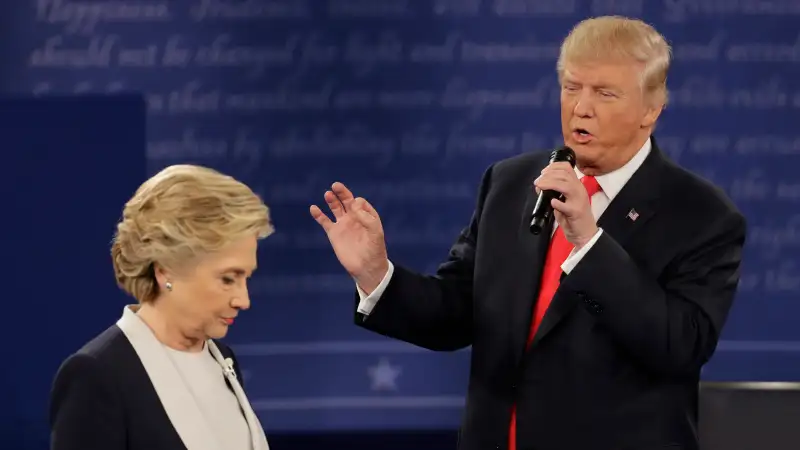 Republican presidential nominee Donald Trump interrupted Democratic nominee Hillary Clinton a conservative 14 times Sunday night at the second presidential debate, according to Money's count.
The debate comes two days after 11-year-old audio was leaked of Trump making lewd comments about women to then-Access Hollywood anchor Billy Bush. In the audio clip, Trump boasted of sexually harassing women he didn't know, saying "when you're a star, they let you do it."
Clinton interrupted Trump just once, by Money's count, in order to fact-check him.
At the first presidential debate, much was made of the Republican nominee interrupting Clinton upwards of 51 times. In this debate, a slightly more subdued Trump kept his interruptions to a minimum.
Read Next: How Not to Be Manterrupted in Meetings
But it's fair to say this could be too little too late for many female voters, who see in Trump every man who has interrupted them in a work meeting.
As Money has written in the past, "(s)tudy after study has shown that women are interrupted (by both genders) more than men...and that male execs who talk more than their peers are viewed to be more competent, while female execs are viewed as less competent."
So why didn't Clinton interrupt Trump more?
As you may expect, gender dynamics are at play. Women are more likely to be perceived negatively, as aggressive and pushy, if they interrupt men, "which means they may monitor their 'personalities' at work so as not to face negative repercussions," as Money has written previously.