7 Amazing Food & Drink Mashups Featuring Donuts, Beer, or Both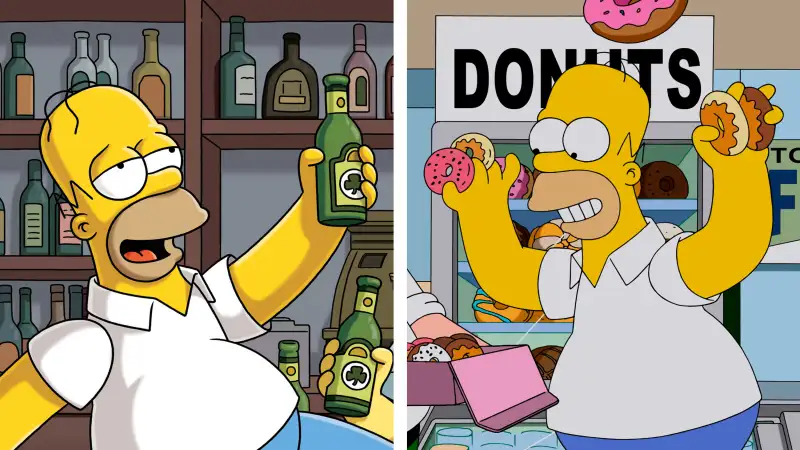 National Donut Day is Friday, June 3, when donut sellers across the land shower customers with free donuts and other special donut-themed deals.
In fact, the annual donut giveaway always takes place on a Friday—the first one of every June. And because Friday is arguably the best day of the week for beer, and because we've noticed a trend in which both of these indulgent, I-deserve-it products are being sold in all sorts of astonishing, gotta-try-it ways, we've decided to gather a bunch of mashups involving donuts, beer, or both.
Think of these products as part of a Homer Simpson foodie trend, heavy on sugar, alcohol, and … actually let's not think too deeply about this. After all, Homer wouldn't.
Anyway, here's some weird newish donut and beer products that you might find tempting on National Donut Day, or any day really.
Donut Ice Cream Cone
Not long after a bakery in Prague unveiled a cone made of cinnamon dough stuffed with ice cream to the grateful masses in early 2016, the concept was brought to America. Pizzi Farm in Waltham, Mass., introduced its own donut ice cream cone in April—and yes, the ice cream parlor is stocking up in preparation for National Donut Day on Friday.
Donut-Flavored Beer
Several craft brewers have tried their hands at what must be the most Homeric of products, combining donuts and beer in one magical, intoxicative bottle. Oregon's Rogue Ales has a Bacon Maple Ale that plays off the locally famous Voodoo Doughnuts concoction, while Rhode Island's Narragansett paired up with Allie's Donuts for a donut-tinged Double Chocolate Porter. Meanwhile, the Louisville brewer Against the Grain teamed up with Hi-Five Doughnuts and went directly after the Homer-minded consumer with the 2016 launch of a brew called Mmm… D'oh! Nuts.
Read Next: How to Get Free Donuts on Friday for National Donut Day 2016
Beeramisu
Earlier this year, Ramona Susan's Bake Shop in Philadelphia unleashed "Beeramisu" as a special menu item that tweaked the classic tiramisu dessert. It consisted of ladyfingers soaked in a creamy stout, layered with mascarpone mousse and served in a 16-ounce glass, for $10 a pint.
7-Eleven Slurpee Donut
Some mad (evil?) genius at 7-Eleven answered what has surely been pondered after midnight at many a convenience store: What would a Slurpee-flavored donut taste like? The chain answered this question with the March 2016 introduction of the Wild Cherry Slurpee donut, a limited-time item featuring red frosting caked in sugar crystals, priced at 99¢ a pop.
Ice Cream-Flavored Beer
In addition to ice cream sellers that have infused craft beer flavors to their (non-liquid) pints, Colorado's New Belgium Brewery paired up with Ben & Jerry's ice cream to produce Salted Caramel Brownie Brown Ale. It "scoops the lip-smacking fun of dessert from a bowl right into your pint glass," New Belgium proclaims.
Everything Doughnut
In February, New York City's experimental Doughnut Project introduced its latest oddball concoction—an Everything Doughnut, which was like an everything bagel only with all the salt and sesame and poppy seeds cooked atop a bagel-flavored doughnut.
Read Next: Big Beer's 5-Point Plan to Crush the Craft Beer Revolution
Cadbury Crème Egg Crodough
It was perhaps inevitable that the cronut (a croissant-donut hybrid) craze would cross the Atlantic. For the 2016 Easter season, it did so in a "really visual and gimmicky" way, according to the creator of the Cadbury "Crème Egg Crodough," a croissant-donut hybrid topped with the beloved chocolate treat sold in a London bakery.