New Doritos Fast Food Monstrosity Embarks on Free Sample Tour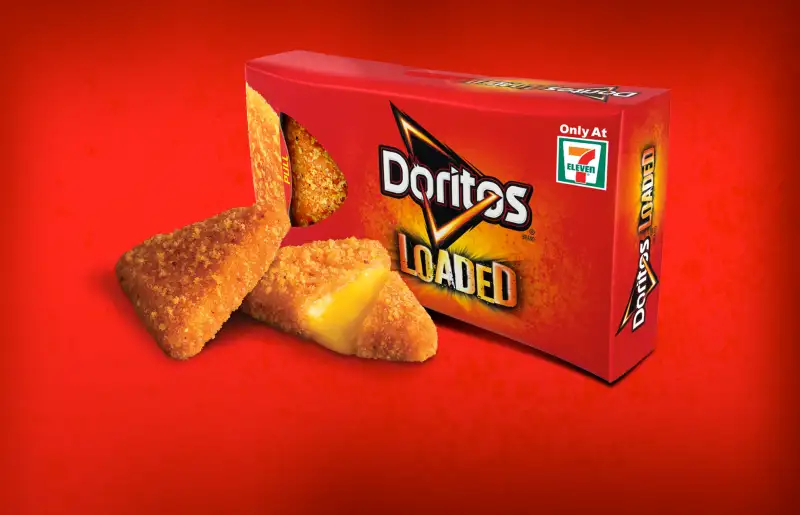 Doritos—courtesy 7-Eleven, Inc.
When Doritos Loaded was spotted at a 7-Eleven in Washington, D.C., this past February, it was reported with some disbelief, mixed with equal shares disgust and desire. The new product, as shown in photos that immediately went viral on social media, looks like a triangle-shaped chicken nugget—if a chicken nugget had fluorescent orange breading, the saltiness and spice of original nacho Doritos, and instead of "chicken" was filled with gooey melted orange-yellow cheese.
"I WANT THIS IN MY FACE," one Tweeter commented of the cheese-stick-like delicacy. Another blogger summed it up: The concept of Doritos Loaded sounds "awesome and disgusting" at the same time. After what was apparently a successful test run, Doritos Loaded will be available nationally at 7-Elevens starting in early July. A four-pack sells for $1.99 and has 350 calories.
In anticipation of the launch, a Doritos Loaded tour hits the road this week, kicking off in Dallas on Tuesday, June 17, with free samples being given out in two sessions (10 a.m. to 2 p.m., and 5 p.m. to 9 p.m.) at two area 7-Elevens. This is something of a magical mystery tour, as 7-Eleven isn't revealing a full schedule or list of locations, but the company did just announce that freebies would also be handed out at one or more 7-Elevens in Los Angeles on Friday, June 20.
Doritos Loaded is following in the footsteps of other diabolical, attention-grabbing fast food mashups, including the KFC Double Down, the Taco Bell's Waffle Taco, last summer's Pretzel Bacon Cheeseburger at Wendy's, Chicken Waffle tenders at Popeyes, and, of course, the Doritos Locos Taco at Taco Bell. The latter has been crowned as the "biggest launch in Taco Bell's history," and it spawned earlier Doritos-based delicacies, including the Cool Ranch Doritos Locos taco.
While 7-Eleven is selling the new hot nacho cheese sticks, it didn't create them. The snack was developed by the Plano, Texas-based research and development arm of PepsiCo, parent of Doritos maker Frito-Lay, the Dallas News explained.
As for the early reviews of Doritos Loaded, they've been a bit mixed. "They tasted like Nacho Cheese Doritos dipped in queso," one early sampler told Yahoo News in February. "The smell was awesome and distinctly Dorito-y."
On the other hand, the blogger who goes by the name Junk Food Guy was disappointed after his taste test. "The inconsistency of the amount of cheese inside was a concern, as some had lots of goo and some didn't," he wrote. "When there wasn't enough cheese, it was just a dry salty shell. At its best, it was sort of crispy on the outside, sort of saucy on the inside."
For potentially viral, over-the-top products such as these, however, taste is only one part of the equation. Arguably more important is the product's ability to grab the nation's attention in what's an incredibly noisy and competitive marketplace. Clearly, 7-Eleven is expecting big things. "Get Ready for the Biggest Product Launch in 7-Eleven History," 7-Eleven declared in its Doritos Loaded tour announcement.
How big of a hit will Doritos Loaded be? We'll have to wait and see. Regardless of its success, we probably haven't seen the last Doritos-infused treat to be launched at fast food restaurants and convenience stores. Given the spicy chip's history of hits and widespread appeal, new food product makers seem to understandably be of the opinion: When in doubt, just add Doritos.