Here's How Much It Costs for Elon Musk to Launch a SpaceX Rocket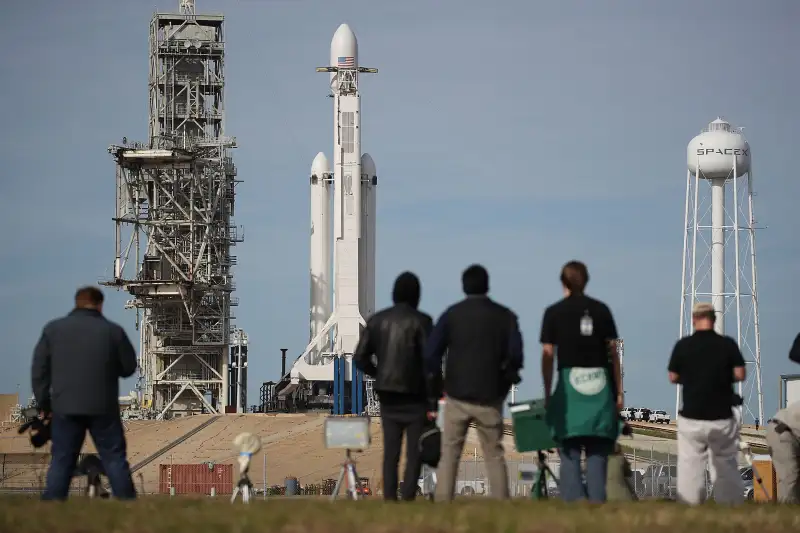 More than a decade after he founded SpaceX with a reported $100 million of his own fortune, Elon Musk is getting ready for the company's biggest rocket launch yet.
The billionaire entrepreneur is scheduled to blast his SpaceX Falcon Heavy rocket into space for the first time today, with launch time set for Tuesday afternoon between 2:50 pm Eastern and 4:00 pm. The rocket launch is important not only because the Falcon Heavy is the world's most powerful rocket, but also because the SpaceX rocket's cost structure is far cheaper than the competition. The Falcon Heavy could revolutionize space travel as a result—and perhaps one day fulfill Musk's dream of sending people to Mars.
Thanks partially to the fact that SpaceX can retrieve and reuse rocket boosters in multiple launches, the privately-funded company founded by Musk, who also owns Tesla, is able to keep its rocket costs relatively low. SpaceX says that it costs $62 million every time its Falcon 9 rocket is launched, while the more powerful Falcon Heavy costs an estimated $90 million per launch. (SpaceX even says customers can get cheaper rates if they buy in bulk: "Modest discounts are available, for contractually committed, multi-launch purchases.")
By contrast, the cost of launching rockets from SpaceX competitor United Launch Alliance will run $422 million per takeoff by 2020, according to one analysis of Air Force documents.
SpaceX was founded in 2002, after Musk made a fortune selling PayPal to eBay. Musk now has a net worth estimated at $20.9 billion, according to the Bloomberg Billionaires Index, largely due to the soaring stock price of Tesla, the electric-car company Musk founded in 2003. Since SpaceX's founding, it has raised hundreds of millions in funding, and now employs over 5,000 people. SpaceX has been valued recently at an estimated $21.5 billion.
Over the years, Musk has remained obsessed with lowering the costs of space travel. "Obviously the lowest cost you can make anything for is the spot value of the material constituents," Musk mused five years ago, according to Smithsonian's Air & Space magazine. "And that's if you had a magic wand and could rearrange the atoms. So there's just a question of how efficient you can be about getting the atoms from raw material state to rocket shape."
Put another way, Musk said he wanted to operate SpaceX in the simplest, most cost-effective and efficient way possible. After all, this approach seems to work very well in the car industry, Musk has noted: "Is a Ferrari more reliable than a Toyota Corolla or a Honda Civic?"
Musk and SpaceX have been forced to pay more than they'd like for one cost associated with rocket launches: insurance. In 2016, when a Falcon 9 rocket went up in flames on a Launchpad in Florida, it came to light that SpaceX probably didn't have insurance to recover its losses. Before a Falcon 9 rocket launch in early 2017, however, the FAA mandated that SpaceX have at least $63 million in liability insurance, up from a previous minimum of $13 million in coverage, the Wall Street Journal reported.
If space travel can cost (relatively) less and still be reliable and safe, then Musk is all the closer to realizing his long-term goal of sending humans to colonize Mars. On Monday, Musk Tweeted a computer-generated video of the SpaceX Falcon Heavy taking off from earth to send a car—naturally, a Tesla—to Mars. It's all set to David Bowie's "Life on Mars," of course.
On Tuesday, the Falcon Heavy rocket launch will indeed have a Tesla vehicle aboard. The test launch is supposed to demonstrate the power of the Falcon Heavy rocket, which has a liftoff thrust that's equivalent to 18 747 airplanes, according to SpaceX, making it the world's most powerful rocket.
There won't be any human beings on the Falcon Heavy rocket when it launches on Tuesday. Instead, the payload will consist of a cherry red Tesla roadster, which has a sticker price of roughly $200,000. The Falcon Heavy rocket should not have any trouble launching with the extra weight: It can reportedly handle payloads up to 140,000 pounds, and a Tesla roadster weighs only about 2,700 pounds.