Elon Musk's Net Worth Just Soared to an All-Time High After He Tweeted Tesla Could Go Private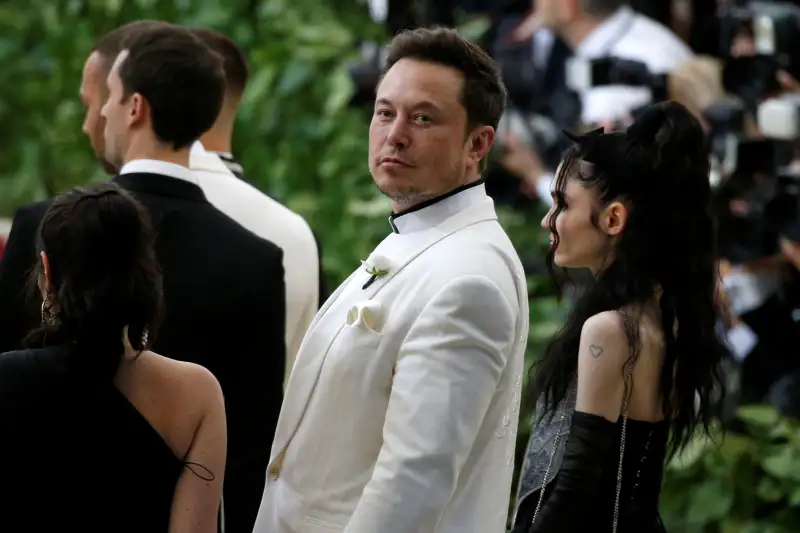 Tesla CEO Elon Musk made what was called the "most valuable apology of all time" recently, and he followed that up a few days later with the "most valuable tweet ever."
In the aftermath of both, Tesla stock has skyrocketed over the past week, with shares up as much as 30%. Elon Musk's personal net worth has soared as well.
Like many tech billionaires, Elon Musk's net worth fluctuates based on the stock price of the company he runs, Tesla Motors. Musk's fortune plummeted by $1 billion in May, in the aftermath of a conference call in when the tech entrepreneur insulted analysts and refused to answer their "boring, boneheaded" questions. During a conference call last Wednesday, however, Musk apologized to analysts, and Tesla stock has skyrocketed since — up nearly 20% over the course of a few days.
On Tuesday, Musk casually tweeted that he was "considering taking Tesla private at $420" per share. The message confused and astounded the Internet, including a large portion who thought Musk's tweet was some kind of "420" joke related to marijuana. But in an email to Tesla employees Musk confirmed that he was indeed mulling over the prospects of taking Tesla private, and investors scooped up shares.
Tesla stock shot from $339 to as high as $387 while the market was open on Tuesday, and CNBC's Robert Frank estimated that Elon Musk's net worth increased by upwards of $850 million in one day.
That actually underestimated how much Musk's net worth rose. Since the start of last week, Musk has added billions (on paper) to his personal fortune. According to the Bloomberg Billionaire Index, Elon Musk's net worth rose from roughly $21 billion last Monday to $24.6 billion as of the close of the stock market last Friday.
That had been the highest Musk's net worth has ever been measured. (Musk's previous peak net worth was $22.5 billion, which he reached last September.) On Tuesday, Elon Musk's net worth went even higher, hitting $25.8 billion by the time the stock market closed — up $1.43 billion during the day.
Tesla stock, as well as Elon Musk's net worth, has been prone to sharp ups and downs partly as a result of the quirky, sometimes prickly personality of its genius CEO.
It seems to be impossible for Elon Musk, who runs SpaceX rockets as well as Tesla, and dabbles in sales of high-tech flamethrowers and surfboards, to keep a low profile. In a matter of days recently, Elon Musk signed an agreement for Tesla to become the first foreign-owned automaker to build a factory in China; he sent a mini-submarine to rescue the soccer team stuck in a Thailand cave; and he promised to fund water filters for homes that need them in Flint, Michigan.
These are all in addition to Elon Musk's longstanding goals, which include colonizing Mars and revolutionizing the energy and transportation businesses right here on Earth. Even the 47-year-old Tesla CEO's pay package is bold. How much does Elon Musk make per year? He actually collects no salary and recently agreed to instead be compensated when the automaker reaches milestones in terms of valuation and production. For years, Elon Musk's net worth has been based largely on Tesla's stock price, and his wealth has been known to double or even triple in a single year's time.
How did Elon Musk become an engineering genius and billionaire tech entrepreneur who created several ground-breaking companies? His story began in South Africa.
Elon Musk Education and South African Upbringing
Elon Musk was born in Pretoria, South Africa. His mother, Maye, is a fashion model and dietician, while his father, Errol, is an engineer and "serial entrepreneur," according to Esquire.
Young Elon would sometimes accompany his father on business trips. The two ventured together to Zambia, for instance, to visit an emerald mine, and brought along chocolate bars to give to customs agents so they wouldn't be hassled at the borders. Musk and his father are no longer in contact; In a recent interview with Rolling Stone, Musk called his dad a "terrible human being."
Cyrus McCrimmon—Denver Post via Getty Images
Elon Musk's early education was plagued by bullying. One time, he was hospitalized after some kids threw him down a staircase.
"I was also the youngest kid in my grade, so I was quite small," Elon Musk said in a Q&A with TIME. "I was kind of a smart aleck. It was a recipe for disaster. I'd get called every name in the book and beaten up. That was my schooling experience."
Perhaps as a refuge, Musk read books constantly. "The heroes of the books I read, 'The Lord of the Rings' and the 'Foundation' series, always felt a duty to save the world," he told New Yorker.
He also became adept at using computers at a very early age. Musk reportedly taught himself to program at the age of 9 and earned $500 for creating a video game at 12.
After high school in South Africa, Musk moved to Canada to attend Queen's University in Ontario at the age of 17. "I left South Africa by myself, against my parents' wishes," Musk told the university's alumni magazine. "I came to North America because I felt this was where there was opportunity to do great things in technology."
Musk was always interested in the United States and transferred to the University of Pennsylvania where he earned degrees in business and physics. Among the other jobs Elon Musk had before joining the tech startup scene: He sold computer parts out of his dorm room in Canada and covered his rent in Philadelphia by converting the frat house where he lived into a nightclub.
Elon Musk Companies
Elon Musk earned his first millions from Internet startups during the late 1990s Dotcom craze. Alongside his brother Kimbal and another business partner, Greg Kouri, Musk founded a web version of the telephone directory called Zip2 in 1995. They sold it to the PC company Compaq in 1999 for $307 million, and Musk, then just 27, netted $22 million.
He then rolled over $12 million of his own money in 1999 to found X.com, an online banking service that evolved into PayPal. In 2002, eBay bought PayPal for $1.5 billion, and Musk walked away with $180 million after taxes.
Paul Sakuma;AP/REX/Shutterstock
Since then, Musk's three main business interests, as he summed up in a 2012 Economist interview, have been electric cars, solar energy, and space exploration. "They certainly were not picked because they had the highest return on investment," Musk said in the interview. "I could probably make a lot more money from, say, starting another Internet company."
Instead, Musk says he's pursued these interests because of their broad potential social benefits—addressing huge global problems that no one has yet solved.
Tesla Motors, the company Musk is most closely associated with, "builds not only all-electric vehicles but also infinitely scalable clean energy generation and storage products," the company website states. "Tesla believes the faster the world stops relying on fossil fuels and moves towards a zero-emission future, the better."
The origin story of Tesla is somewhat muddled, but Musk was not one of the founders when the company launched in 2003. Musk joined Tesla soon after its creation and became a core part of the team. In 2007, he reportedly orchestrated the ouster of co-founder and CEO Martin Eberhard, which resulted in years of lawsuits. Tesla also began delivery of its first production vehicle, the $109,000 Roadster, in 2007, when Inc. Magazine named Musk "Entrepreneur of the Year."
Musk earned the accolade not just for Tesla, but for his two other ventures at the time: SpaceX, the rocket company Musk created in 2002 with his PayPal money to pursue his lifelong obsession to put humans on Mars; and SolarCity, a solar panel roof firm Musk founded that's now a subsidiary of Tesla.
Tesla went public in 2010, making Musk a billionaire. The company now makes four different models of electric cars and is worth over $50 billion. SpaceX regularly launches rockets into space and has been valued recently at more than $21 billion.
Beyond electric cars, Musk has other ambitions to revolutionize travel on earth. He captured the attention of the world in 2013 with plans for the "Hyperloop," a series of tubes that could transport people in pods at a speed of 800 miles per hour. And in late 2016, after growing frustrated with the "soul-destroying" traffic in Los Angeles, Musk launched yet another venture, the Boring Company, to drill tunnels under cities to accommodate Hyperloop pods or perhaps flying cars.
Oh, and occasionally Musk dabbles in flamethrowers. Out of the blue in early 2018, he began selling $500 flamethrowers to help bankroll the Boring Company. Within four days, the Boring Company generated more than $10 million in flamethrower sales.
Elon Musk Home and Cars
Elon Musk says he often works 80, 90, and even 100 hours per week. In a Reddit AMA discussion, Musk said that he gets about six hours of sleep per night.
Lately, with Tesla under pressure to produce more vehicles, Musk told CBS News that he's been sleeping on the car factory floor. "I don't have time to go home and shower," he explained.
When Musk gets the rare opportunity to get some rest at home, he should theoretically be about as comfortable as anyone on earth. He has spent a total of $72 million on a string of five mansions and estates. They're all located in the same ritzy Bel Air neighborhood in the hills of Los Angeles.
The house where Musk reportedly lives most of the time is a 20,248-square-foot mansion that he paid $17 million for in 2013. It has seven bedrooms, a pool, tennis court, private screening room, and a view of the Bel Air Country Club.
Naturally, the owner of one of the most coveted auto brands in the world owns his share of cool cars too. Elon Musk's car collection truly kicked off with a McLaren F1—which sells for millions of dollars—in 1999, after Musk sold Zip2. He later recounted the crazy tale of how he wrecked the car, with famous tech investor Peter Thiel in the passenger seat, while the F1 was not even insured.
According to Business Insider, the list of cars owned by Elon Musk over the years also includes an E-Type Jaguar, Audi Q7 SUV, Porsche 911, and a Hamann BMW M5. Musk, who has been called the real-life inspiration for Tony Stark (a.k.a. Iron Man), even owns the car driven by another movie icon, James Bond. In 2013, Musk paid $866,000 for the Lotus Esprit that was used as an underwater vehicle in the 1977 Bond film The Spy Who Loved Me.
courtesy Everett Collection
Giving Pledge and Donations
In 2012, Elon Musk signed on to the Giving Pledge, the movement founded by Warren Buffett and Bill Gates, in which many of the world's richest people promise to give at least half of their wealth to philanthropic causes.
Even before then, he created the Musk Foundation, which offers grants for causes like renewable energy research and science and engineering education. The Musk Foundation is known in particular for providing aid, often in the form of solar power, in the wake of natural disasters. In 2011, for example, the Musk Foundation donated $250,000 to build a solar power system in Japan in an area devastated by a tsunami. Last fall, Tesla sent hundreds of battery systems to be paired with solar panels to Puerto Rico to help restore electricity in the aftermath of Hurricane Maria, and Elon Musk personally made a $250,000 donation to the relief effort.
Musk says that his philanthropic motivations stem partly from his upbringing in South Africa, where he witnessed plenty of poverty and struggle. "If I could do something to alleviate it, I wanted to do that," Musk said, according to Fortune. "There are problems not taken care by the government or the market. That's probably the best use of my assets."