Elon Musk Spent $72 Million on Bel Air Mansions. Here's What His Lavish Life Looks Like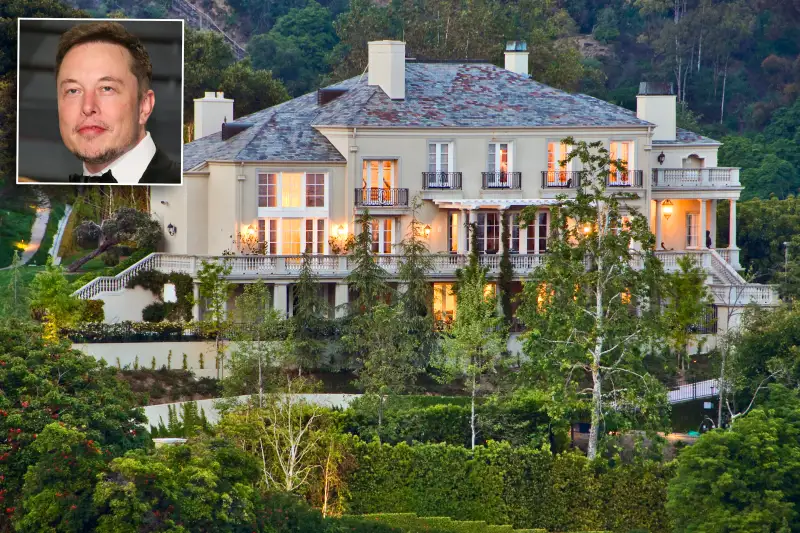 Tesla and SpaceX CEO Elon Musk is worth $20.7 billion, according to Forbes, and he sure lives like it.
In 2016, Musk paid $24.25 million to buy a new mansion in Los Angeles' exclusive Bel Air neighborhood according to Variety—and he has his sights on much more. Musk's most recent acquisition is actually his fifth home in the same neighborhood, and he's currently still building it. Combine that with the $48 million he spent on previous homes, and his total real-estate dent in the area is around $72 million.
All the homes are close to each other, giving the tech mogul his own massive compound in an already extremely pricy zip code in the foothills of the Santa Monica Mountains. These days, his main residence is a mansion he bought in 2012 after renting it. That pad, at 20,248 square feet, isn't lacking in space, but Musk, as in his business, has his eyes on expanding.
Here's a look at what his Bel Air life is like.
Musk has made his $17 million home (indicated with an arrow) his own since buying it in 2012. He scooped up a nearby property for $24.24 million in 2016 (shown in a circle), reportedly in an off-market deal. The latest home is a spec-built, ultra-contemporary house on a ridge overlooking Bel Air, and it's still being completed.
Musk's $17 million primary home is regal and has a classic look and is perched high enough to get a view of the Bel Air Country Club. It has expansive outdoor space, including a full tennis court and a pool.
Bloomberg got a televised tour of the home, which it called a "castle," with an up-close look at the interior decoration and all the amenities. Musk has his own home theater, where he says he likes to play video games to unwind. Bloomberg also made note of a "mink throw" in his living room.
There are seven bedrooms in the house, seven full bathrooms, and four half-baths. There's also a home gym. Musk has said he tries to work out twice a week.
Musk, who was born in South Africa, seems to be planting deep roots in California, surrounded by just about every luxury one could imagine. But he still wants a lot more: With SpaceX, he hopes to colonize Mars next.