A Totally Free EpiPen Alternative Will Soon Hit the Market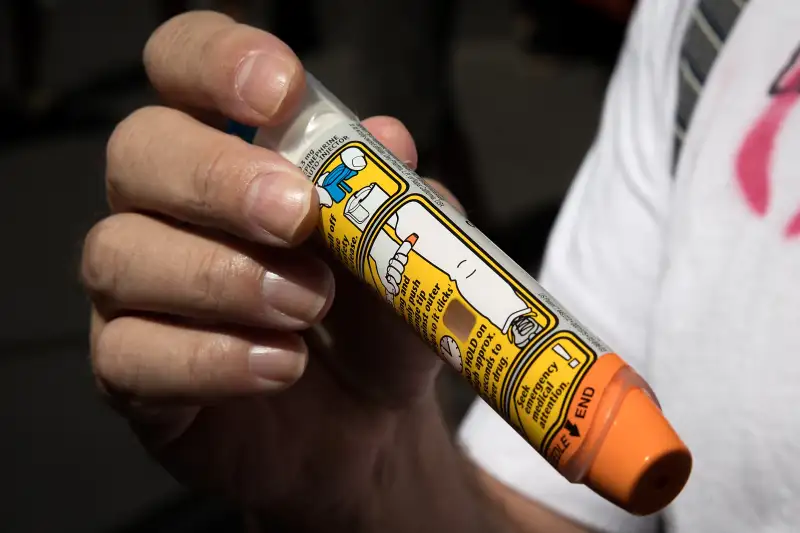 Drew Angerer—Getty Images
One week after CVS announced it is introducing an EpiPen alternative for $10, another competitor to the notoriously expensive allergy prescription is back—and will be totally free for most people.
Auvi-Q, an auto-adrenaline-injection system that's similar to EpiPen and was recalled last fall, safely returns to the market by February 14, according to manufacturer Kaleo Pharma. The regular price will be $360, but there will be two different ways to get Auvi-Q for free.
Anyone with health insurance—including those with high-deductible plans—will be provided with Auvi-Qs at no cost out of pocket. The product will also be free of charge to patients without insurance who live in households with annual income under $100,000. Considering that the vast majority of Americans have insurance, and those who don't are highly likely to be poor, it seems like these provisions would cover nearly everyone.
Spencer Williamson, president and CEO of Kaleo, told reporters on Thursday, "No epinephrine auto-injector, branded or even generic, will cost a commercially insured patient less out of pocket than Auvi-Q."
The new product release comes after months of bad publicity for Mylan, the maker of EpiPen, which came under fire last summer for gouging customers with $600+ retail prices for its lifesaving product, an auto-injection adrenaline system that wards off anaphylactic shock during a severe allergy attack. After being bashed by parents, politicians, and consumer watchdogs for jacking prices up 500% over a decade, Mylan has offered more generous coupons and introduced a generic EpiPen in recent months.
But Mylan may lose its near-monopoly on the allergy prescription market anyway, as a variety of alternatives hit the scene and undercut the company on pricing. CVS Health recently said that it will sell a generic version of an EpiPen alternative known as Adrenaclick at a list price of $110 for a two-pack. Once this coupon is factored in, $100 will be deducted from the price and most customers will pay only $10.
But once Kaleo's free EpiPen alternative is available, even paying $10 may seem like too much.