This Is (Probably) the Person Behind That Viral Fake Warren Buffett Account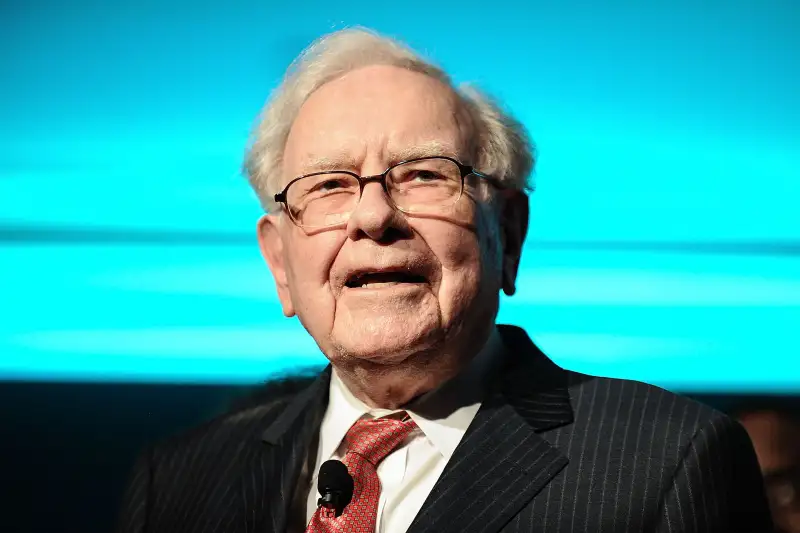 If you retweeted life advice from Warren Buffett this week, we've got some bad news: That wasn't Warren Buffett.
The 87-year-old billionaire is not behind @warrenbuffet99, the account that's been all over the internet recently. Don't feel too embarrassed if you fell for the impersonator — you're in good company. Both Kanye West and Mark Cuban retweeted @warrenbuffet99's posts, which racked up some 2 million likes and led the profile to 257,000 followers. It went mega-viral within a matter of days before being taken down Tuesday night.
The spelling of the Twitter handle probably should have tipped you off, given that Buffett actually has two Ts in his name. Or that Buffett already has a verified account. Or the fact that he's probably been just little too preoccupied with investing $360 million in an Indian startup to tweet out punctuation-less life advice.
But if it wasn't Buffett, then who was it? Money put on its trenchcoat and took on the case.
The Crime
If imitation is the sincerest form of flattery, Buffett — the real one — must be pretty flattered. For a man who didn't have an email account as of 2013, he's certainly inspired a lot of copycats online. The most popular Twitter imposter is @WarrenBuffettHQ, which clearly identifies itself as a parody account and has 439,000 followers. Then there's @itsWarrenBufett, which has just over 1,200 followers, and @realbuffett, with just 26.
Those profiles remain active, whereas @warrenbuffet99 has been suspended. Twitter didn't respond to Money's request for details on why, though Twitter writes on its website that "most of the accounts we suspend are suspended because they are spammy, or just plain fake, and they introduce security risks for Twitter and all of our users."
Aspirational advice from a wealthy old billionaire doesn't exactly scream "security risk" to me — and I'd say that Twitter has way bigger problems with, you know, Russia and harassment right now — but I digress.
The Suspects
On Tuesday night, hours after the account was shuttered, a financial analytics manager and blogger appeared to cop to having done it. Writing on his personal profile, Nick Maggiulli said that his "grand experiment" had ended because he and his pal Michael Batnick "forgot the password to the Fake Buffett account and were shut down when told to verify."
But when Money reached Batnick via email Wednesday morning, he said the confession was false — Maggiulli had just been joking.
Back to square one.
The Investigation
Perhaps there were clues in the text. Before its untimely demise, the account posted numbered lists with themes like "the smartest people I know" or "lessons from children" — content that often matched old tweets from another account called "Life Advice," as Inc.'s Justin Bariso discovered.
That account, handle @ozlifeadvice, has also been suspended, but a Scoopnest archive of its tweets confirms that the two used a similar writing style. It also displays a copy of the account's bio, which pointed people to http://www.jozlifesolutions.com for more information and read "Jo Oz: Life Advice / Health & Well Being / Happiness / Success & Personal Fulfillment. Speaker. Author. Yogi. Leadership Consultant."
Here's where things got interesting. Jozlifesolutions.com doesn't work anymore, but it is available on the WaybackMachine. If you navigate to April 2017, an old version of the webpage comes up with a dark gray background, two icons, three share buttons and a quote.
"'We're just here trying to inspire people and help people achieve the peak of their well-being.' — Jo Oz," it reads.
As Inc. points out, Jo Oz doesn't have much of a web presence aside from publishing a book (2016's Life Advice, which only has one review on Lulu: someone criticizing the cover art for looking too much like Cheez-Its). But if you Google a little more, you'll get a 2010 article from the Louisville Business First. You won't be able to read it without a subscription, but in the preview you can see that one of the people recognized as part of the Forty Under 40 awards program is "Joseph Osman, JOz Life Solutions."
Searching for "Joseph Osman" brings you to the Amazon author page for Joseph David Osman, who wrote a book called Surrender to Kindness, described on the publisher's website as "a beautifully written and designed memoir" about Osman's time in Afghanistan. ("Surrender to Kindness, or S2K, is not simply an adage that has been handed down from generation to generation. It is a way of life that Mr. Osman firmly believes in, practices every moment of his life, and shares with others wherever he goes," it adds.)
In Osman's Amazon bio, it tells people that "for more details," they should "check out his website at: www.josephosman.com." Guess what? That webpage has a dark gray background, two icons, three share buttons and a quote from Jo Oz.
The Answer (?)
Money contacted Jo Oz via email to ask if he was, indeed, behind @warrenbuffet99. When Oz responded, he did not confirm or deny his link to the account.
"Twitter took the account down it seems," Oz said. "Maybe you can write Twitter and have them bring it back as soon as possible..."
Buffett's secretary, Debbie Bosanek, did not reply an emailed request for comment about whether the billionaire had asked Twitter to take down @warrenbuffet99 or whether he thought the advice was good.
Unfortunately, this was where the trail ran cold. As a result, we may never know who authored @warrenbuffet99. But does it matter? The mystery was fun, and everyone can stand to be better with their money.
Incidentally, Maggiulli summarized it best, tweeting that "@warrenbuffet99 was everything we strived to be."
"He was you. He was me. He was he. He was she," Maggiulli wrote Tuesday. "He never asked. He only gave. Timeless advice. From cradle to grave."