A Couple Is Giving Away Their Gorgeous Farmhouse for $150 And a Phenomenal Essay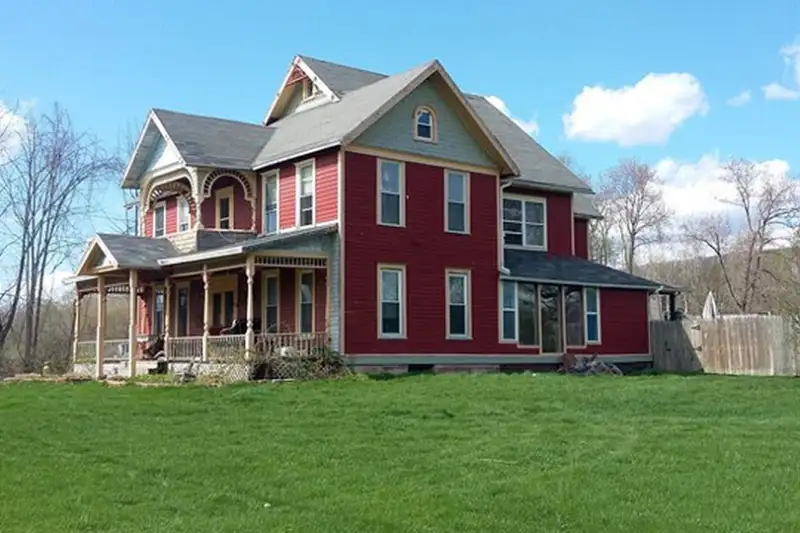 Tim and Maggie Lott have spend 18 years making their Victorian farmhouse feel like home. Now, for $150 and a five-paragraph essay, it could be yours.
"In a nutshell, it's growing pains," Maggie Lott says. It will be hard to leave the five-acre farm in Corning, N.Y., a town of about 11,000 an hour southwest of Ithaca, for a bigger plot of land for their growing farm, but "this home now is meant for someone else's dream," she says.
Exactly whose dream has yet to be determined. Those interested in owning the home must submit $150 and a five-paragraph essay explaining "what owning a five-acre farm property would mean to me, us and/or my family," according to the contest's rules.
The first-place winner, determined by a panel of judges, will receive the five-acre farm, which includes a roughly 150-year-old Victorian farmhouse. The 3,100-square-foot home, which the contest's website says is valued at $175,000, comes with five bedrooms, three bathrooms and mineral rights, according to a listing on CIRCA Old Houses. While much of the house has been remodeled — the Lotts just finished replacing the dining room floor, Maggie says — original details, like the home's oak banister, remain.
The Lotts hope the "Summerland Farm Essay Contest" garners at least 2,500 essays by July 1, 2019, for a grand total of $375,000 in submission fees. Lott says the sum will ideally allow them to pay off their current mortgage, as well as to buy a new farm and relocate their animals.
"That's the fresh start for us when we give a fresh start to someone else," Lott says.
Submission fees will also pay out the contest's top three prizes: the house (plus $10,000 for taxes and other expenses) to the first-place winner, $1,000 to the first runner-up and $500 to the second runner-up. Should the contest not reach 2,500 entries, the $150 entry fee -- less $25 to cover costs -- will be returned to entrants, the contest's rules say. The contest's submission fees will be held in escrow by a real estate attorney, according to the rules.
Thinking of entering? You have lots of time to read the rules thoroughly and draft your perfect essay. Entries must be received by July 1 to be considered, so Lott suggests mailing your submission by June 24. So far, the contest has garnered about a dozen submissions since it was launched Feb. 1, Lott says.