5 Fast Food Mashup Monstrosities You Know You Want to Try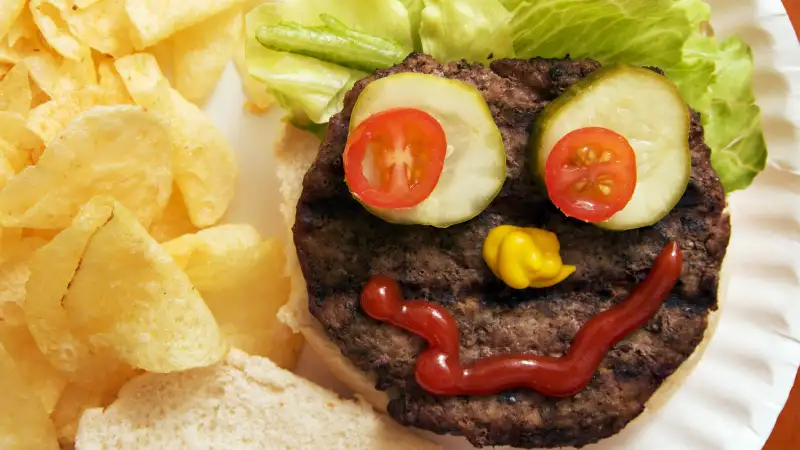 Fast food's mad scientists have been busy. The tastemakers behind the scenes at chain restaurants appear to be working on the premise that if you're going to make food that's bad for people, don't be wishy-washy about it. Make food that's childishly, diabolically bad. So indulgently bad that it can't be ignored. Bad in the way that'll seem devilishly, impossibly tempting on a wild summer night.
On the one hand, there's a huge trend toward consumers demanding healthier, more natural foods. We hear about this all the time, and it's what has caused major food sellers like Kraft, Pepsi, Taco Bell, and KFC to launch broad initiatives replacing artificial flavors and antibiotics with healthier—or at least seemingly healthier—ingredients.
Undeniably, though, there's a counterbalancing trend of restaurants rolling out treats that are tempting because they are unabashedly unhealthy. And there's no easier way to lace a menu item with a heaping dose of giddy guilty pleasure than by combining two or more guilty pleasures together.
The most notorious example of such a Frankensteinian mashup is probably the KFC Double Down, which subbed in fried chicken for bread sandwiched around bacon and melted cheese. Many other Frankenfood creations have followed. Some seemed brilliant and inspired, or at least daringly indulgent, like the glazed donut breakfast sandwich from Dunkin Donuts circa 2013, with a donut serving as the bread in a bacon-and-egg concoction. Other times, though, the combos come off as a bit lazy and slapdash: The Burger King Fry Burger was just a burger with fries stuffed on top, which every kid has probably made on his own in three seconds.
The summer of 2015 is shaping up as a particularly hot season for chain restaurant mashups. Here are five new items that might sound good—mainly because they're so bad.
Carl's Jr. Ding Dong Ice Cream Sandwich
You probably get the gist of what this is from the name: It's a Ding Dong, the iconic Hostess chocolate cake with cream inside, sliced in half with vanilla ice cream in the middle. They'll sell for $1.49 apiece this summer. Brad Haley, chief marketing officer of Carl's Jr., says that after a thorough review of the options that must have included some awesome taste-testing sessions, it was determined that the Ding Dong was hands-down "the most delicious 'carrier' for our latest ice cream sandwich."
Olive Garden Breadstick Sandwich
Olive Garden's breadsticks have been the subject of much debate—activist investors complained the chain gave too many away with its unlimited breadstick offers—but one thing is certain: Customers love them. So it was just a matter of time before the light bulb went off and Olive Garden began using its soft, warm, freshly baked breadsticks where bread is most commonly found, in sandwiches. This week, Olive Garden officially added two Signature Breadstick Bun Sandwiches to the menu (Chicken Parmigiana, Italian Meatball). A lunch special deal starting at $6.99 includes a breadstick sandwich and choice of unlimited soup or salad, plus (yep) unlimited breadsticks on the side. Probably not the best option for those trying to cut carbs.
Baskin-Robbins Dunkin Donuts Coffee 'n Donut Ice Cream
There is surely a sizeable portion of the population that loves coffee, donuts, and ice cream. But who has the time and energy to consume each separately? The June flavor of the month from Baskin-Robbins offers a solution to this conundrum, with all three tastes mashed together in the cup, cone, shake, or sundae of your choice. In honor of this Friday's celebration of National Donut Day, Baskin-Robbins has introduced Dunkin Donuts Coffee 'n Donut, a coffee-and-donut-flavored ice cream with chunks of Munchkin donuts and slivers of chocolate icing.
Sonic Popping Candy Slush
Last summer, Sonic Drive-In added Nerds candy to its list of ingredients in Slushes, to the excitement of sugar-high-seeking customers everywhere. How would the chain follow that up? Naturally, with more candy. This spring, Sonic introduced several new Slush concoctions, including two Nerds-flavored drinks named for NBA great Kevin Durant (who at least wears nerdy-cool glasses), a Jolly Rancher Slush, and a Popping Candy Slush.
Carl's Jr. Most American Thickburger
The half-pound American Thickburger with cheese—American, of course—comes with two toppings you might otherwise expect on the side, or in an entirely separate order. The health nuts at Carl's Jr., known for previous crazy combos like pepperoni pizza fries, decided that for good measure what this burger needs is both kettle cooked potato chips and a split hot dog on top. God bless America!