9 Ways to Find the Best College for You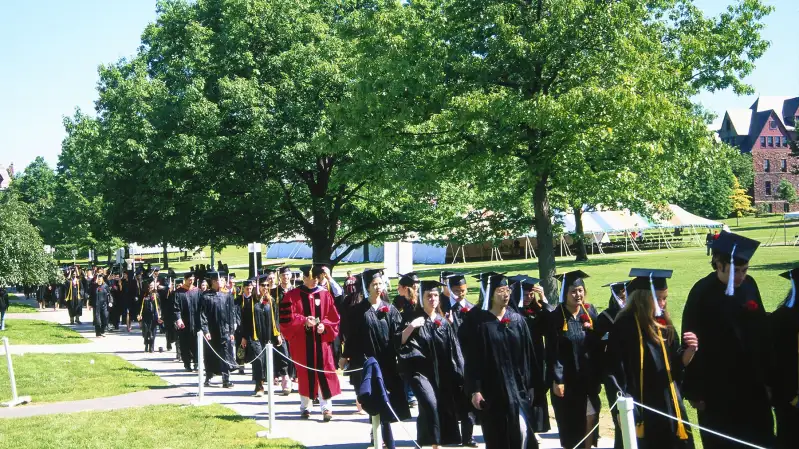 Barry Winiker—Getty Images
Lots of magazines and websites publish lists of the "best colleges." But those general purpose rankings may not put enough emphasis on the factors that are most important for you.
Finding a college that will be the best value for you is a little like choosing the best-value car. It won't necessarily be the cheapest. It's the one that will take you where you want to go in life at the most reasonable price.
Money's annual Best Colleges list ranks schools based on 21 factors in three key categories: educational quality, affordability, and the career success of graduates. You can use many of these same criteria to identify the schools that will provide the best value for your particular student and financial situation. Here's how and where to find the information you need.
QUALITY OF EDUCATION
1. Check on graduation rates. Research shows that graduation rates are the single best indicator of a college's quality; students who don't receive adequate support or don't think they're getting their money's worth are more likely to transfer or drop out. Colleges are required to report their six-year graduation rates. Look for a rate of no less than the median for similar schools: 48% at public colleges and 58% at private ones.
HOW TO FIND IT: Collegeresults.org allows you to compare 4-, 5-, and 6- year graduation rates for your target college and similar schools. If your target college isn't in the top half of the Collegeresults.org comparison, consider some schools that are above it.
2. Compare class sizes. Research shows that personal attention from professors pays off: Students who are mentored by a professor are 50% more likely to thrive in their careers, according to Gallup research. One good indicator is the percentage of each school's classes with 20 or fewer students.
HOW TO FIND IT: Look up your colleges on Collegedata.com. Click on the academics tab.
3. Look beyond test scores. The average ACT or SAT scores of incoming freshmen will help you see how you'd stack up academically compared with other students. But even more important than those numbers is how well the college helps its students exceed expectations, given their academic and economic backgrounds.
HOW TO FIND IT: The Money College Planner gives each school a "Value Added" grade. A's or B's generally indicate better graduation rates and alumni earnings than other schools with similar students.
AFFORDABILITY
4. Maximize your merit aid odds. More than 90% of colleges give some merit aid. Your chances of getting a substantial amount will be best at private colleges where your grades and test scores put you in the top 25% of applicants.
HOW TO FIND IT: Collegedata.com provides information on the number and size of different kinds of aid awards. The premium search filters on the Money College Planner allow you to build a list of schools that meet your criteria and are generous with need-based and/or merit-based aid.
5. Know your real cost. Don't pay too much attention to the college's official cost of attendance. Nearly 60% of students pay less than that. What you want to focus on is net price.
HOW TO FIND IT: Use the net price calculator on each college's web site for an estimate of what you'll have to pay based on your family's income and resources. If you want to compare several colleges' net prices at once try CollegeAbacus.org.
6. Calculate the full cost of a degree. Look beyond freshman year to calculate what each college would cost you for the four, or possibly more, years it could take to earn a degree. The best colleges graduate students in 4.5 years or less.
HOW TO FIND IT: The Money College Planner shows the average net price of a degree at 700+ colleges, based on factors including how long it takes students to graduate.
STUDENT OUTCOMES
7. Expect strong job help. An active, well-staffed career services office can help students write résumés, practice for job interviews, and connect with influential alumni. Colleges should have at least one career services staffer per 1,000 students, and follow industry standard best practices.
HOW TO FIND IT: Call or visit the career services office to ask.
8. Investigate internships. The best colleges help students get internships, which not only provide real-world experience but also increase the odds of landing a good job after graduation. Students who have had paid internships, research shows, are 70% more likely to get a job offer than those who had no internships or who had only unpaid internships.
HOW TO FIND IT: Call or visit the career services office to ask what it does to help place students. Also ask how many internships—especially in your major—are paid.
9. Check up on alumni earnings. The salaries of recent grads are a good indicator of how much employers value a degree from a particular school.
HOW TO FIND IT: Payscale.com lists average early and mid-career earnings for the graduates of most large colleges. Generally, your choice of college has greater impact on early career earnings than on mid-career salary, so that's the more important number.
READ NEXT: For more advice for college-bound students and their parents, and to create your own customized rankings of colleges based on the factors that are most important to you, check out the Find Your Fit tool on the Money College Planner.