3 Travel Insiders Share Their Secrets to Scoring First-Class Upgrades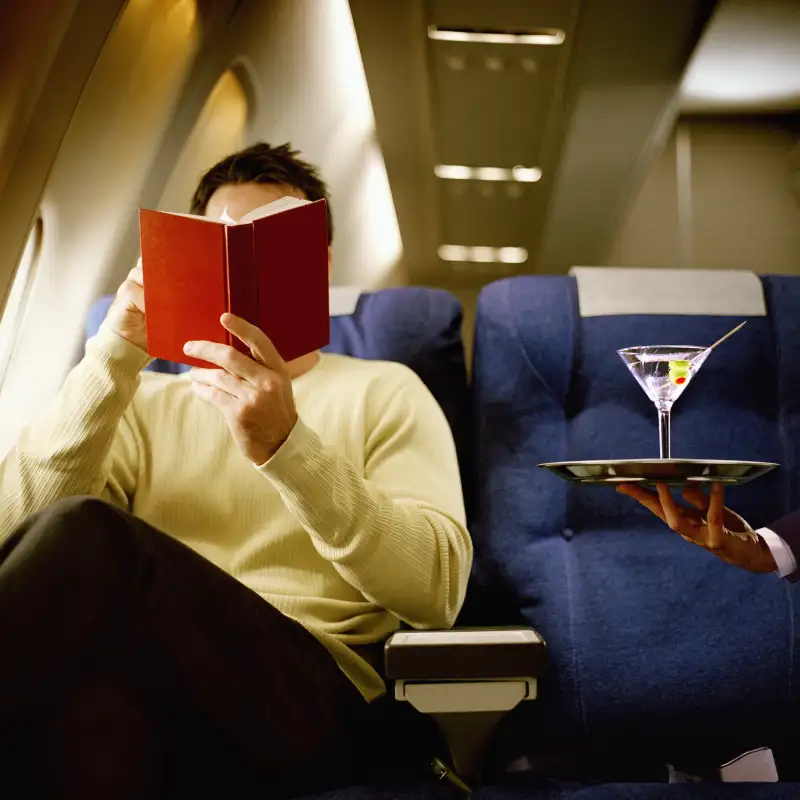 Air travel can be a nuisance. Whether it's standing in long security lines or dealing with little legroom on a flight, flying is not considered by most to be a luxurious affair.
But scoring a free upgrade to first class — while difficult — is possible and can greatly improve the travel experience, air travel experts told Money.
Three travel insiders shared several tips on how to increase your chances of scoring an upgrade. Here's their advice on how you can better your shot at flying in luxury:
Arrive early
Getting to the gate early may better your chances of scoring an upgrade, experts said. As one of the first passengers there, it gives ample time to schmooze flight staff and ask about potential options for upgrades.
"Early bird gets the worm works here," said Carolyn Paddock, a former flight attendant and founder of "Life in Flight," a travel coaching website.
Go out of your way to be kind to airline employees
All three experts agreed that gate agents and flight crews are often treated poorly. To stand out from the other passengers, go out of your way to be nice to the airline employees, experts said.
One expert, Edward Pizzarello, who writes for Inside Flyer, said he typically carries several $5 Starbucks gift cards when he travels. (His father, he said, would often carry chocolates to hand out to flight staff.)
"It's a great thing to hand to somebody when you're having a discussion and they're trying to help you," Pizzarello said. "More often than not, I'm going to get a desirable outcome."
Have a flexible travel schedule
Taking a seat on a different flight may be key to getting an upgrade, travel experts said. If you've arrived early, politely approach the flight attendants and volunteer to move to a different flight if there's a better seating option, experts said.
While companies often offer vouchers for volunteers to switch flights, they can also include a seat upgrade as well, experts said.
Be willing to spend some money
Just ahead of takeoff, upgrades may be available for an additional $75, Pizzarello said. Deals on upgrades can be available, depending on the company, as soon as one or two days ahead of the flight, he said.
Stick to one airline
Becoming an elite-status member of an airline opens many doors for upgrades, experts said. Of course the perks come more easily for business travelers who fly tens of thousands of miles a year, but staying loyal to one airline can ultimately help your chances of getting upgraded.
Dress well
Wearing appropriate attire for air travel isn't as difficult as it used to be, but dressing nicely still can up your chances of getting upgraded, experts said.
"If they have to upgrade someone, they're not going to put some slob up in first class," said Johnny DiScala, who runs travel website JohnnyJet.com.
Don't check a bag
Airlines will find it easier to switch your seat or upgrade you — whether it's on the same flight or a different one — if you're traveling without a checked bag, experts said.
"More flexibility will yield more benefits from the airline," Pizzarello said.
Travel alone
It's much more likely for one seat to be open instead of two, or more. "It's so much easier when you travel by yourself," DiScala said. "There are so few seats these days."