Only 2 Iconic Athletes Have Made More Money Than Floyd Mayweather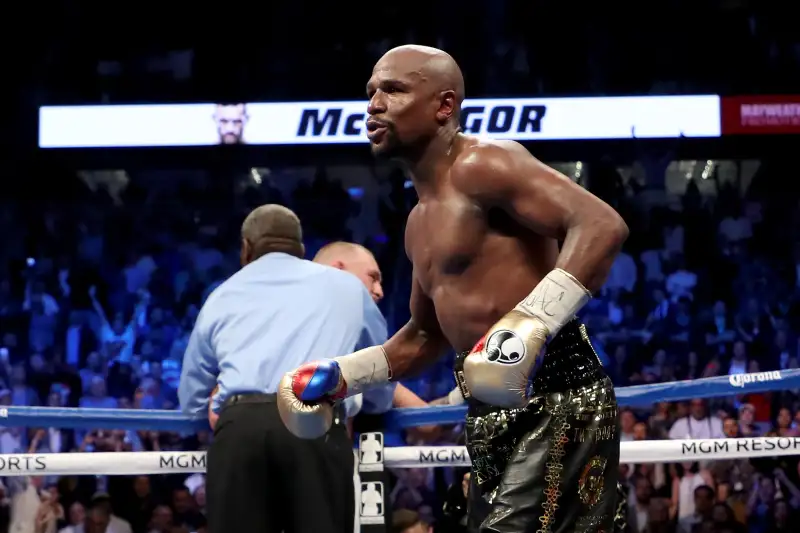 Christian Petersen—Getty Images
It looks like boxer Floyd Mayweather Jr. has just entered the ultra-exclusive $1 billion club for sports stars.
According to Forbes, Mayweather's career earnings before Saturday night's fight with UFC champ Conor McGregor totaled approximately $700 million. Some insiders are estimating that Mayweather will earn over $300 million for his 10-round TKO of McGregor.
That would launch Mayweather over $1 billion for career earnings, a mark reached only by two other elite, iconic athletes: Michael Jordan and Tiger Woods. Each has earned about $1.5 billion over the course of their careers from sponsorships, winnings, salaries, and the like.
Mayweather says he is now retiring as a professional boxer with a remarkable 50-0 record. The exact amount of his final paycheck will be determined largely based on his share of the pay-per-view revenues from Saturday's fight. We won't know the details of pay-per-view sales until later this week, but by most accounts demand for the event was through the roof. Apparently, organizers delayed the start of the fight because some pay-per-view servers crashed in the wake of so many fans trying to log in and watch. Some estimated that pay-per-view revenues for the fight would top $700 million, which would easily make it the highest-grossing PPV event in history.
And yes, a $300 million take for Mayweather is not out of the question. For context, Mayweather earned roughly $300 million in 2015, including $250 million from his fight against Manny Pacquiao. That event "broke every financial boxing record, including 4.6 million PPV buys and more than $600 million in gross revenue across all revenue streams," Forbes reported.
One early indicator that this past weekend's fight will push Mayweather through 10-figure barrier: The event beat out most movies at the box office this weekend. According to Variety, the fight earned $2.6 million at the 534 theaters that showed it live, with fans paying $40 apiece for admission. The fight's box office haul was more than what the new Bruce Lee biopic Birth of the Dragon took in all weekend long, and the movie was playing in more than three times the theaters as the fight.
Even if Mayweather has earned $1 billion over his 20+ year career, that does not mean he is worth $1 billion, or anything close to it, right now. In fact, records show Mayweather currently has a $22 million tax lien against him — one of several he's experienced in his career.
Mayweather has denied accusations of being in financial straits. In November he posted a photo of what he claimed was an un-cashed $100 million check on Instagram.
"Y'all still have to work however, I'm happily retired," he wrote on the Instagram post. "At the end of the day, it's them Benjamin Franklins that matter to me, so the jokes on you. I've made smart investments, sorry for those who thought that I couldn't read, write, or count. Y'all call them watches, I call them time pieces. Y'all call them boats, I call them yachts. Y'all call them houses, I call them mansions. Y'all charter jets and we own jets."