Meet the 47-Year-Old CEO Behind Fortnite, a 'Weird Computer Guy' Who Spends His Millions Saving Forests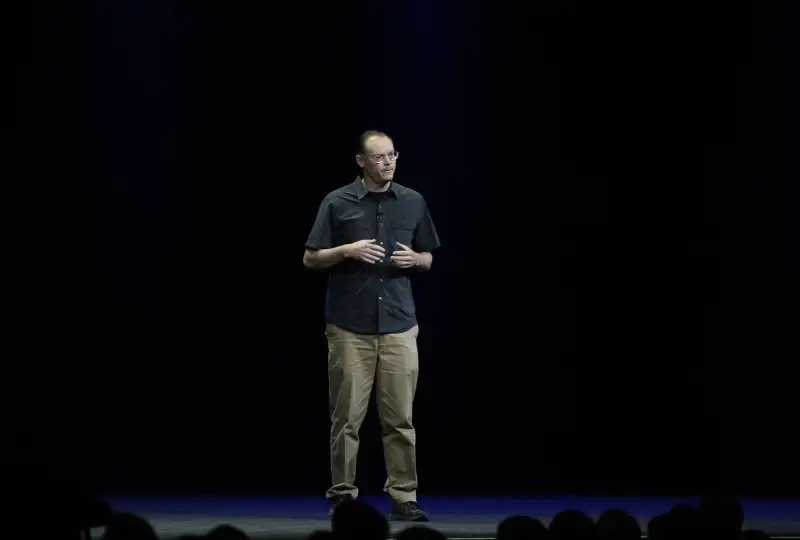 John G. Mabanglo—Epa/REX/Shutterstock
Ask any male with a pulse and and a Wi-Fi connection between the ages of 10 and 40 and they'll likely tell you that summer 2018 is all about Fortnite, the massively popular battle royale video game that has swept the nation over the past year. Teens, rappers and athletes alike are obsessed with the free multiplatform game, spending hours watching streams, outfitting their characters and teaming up with celebrities to rack up victories.
And behind it all, creator Tim Sweeney is quietly profiting.
The 47-year-old CEO of Epic Games is raking in cash from the Fortnite fever. According to Celebrity Net Worth, Sweeney is reportedly worth $75 million and counting, as the game just passed the billion-dollar mark.
Here's what we know about Sweeney's money and how he spends it.
Inside Tim Sweeney's Epic Start
A video game fan since the age of 10, Sweeney fell in love with programming as a kid. He told Kotaku in 2011 that he was a "weird computer guy," learning the language BASIC on an IBM as a tweenager. He would go on to enroll at the University of Maryland, where he studied mechanical engineering and mowed lawns for cash — but he had video games on the brain.
"I started thinking, 'If I made a game and it sold this many copies, I would make this many dollars,'" he told Kotaku.
At 21 years old, Sweeney started Epic Games and released his first product, called ZZT. Earning about $100 a day, he still lived in a dorm and traveled to his parents' house to use his computer.
"I basically studied and did school work all day, then programmed all night — working on ZZT. On the weekends, I'd come home, and I had this little shareware business I was growing after I released the game," he told Gamasutra. "I'd receive a bunch of orders through the mail (people would send their checks in), then I'd copy disks on the computer and send them out. At the same time, I was working on Jill of the Jungle, the next game."
Sweeney began to establish a reputation and in 1998, released the first-person shooter Unreal. He also launched Unreal Engine, a suite of professional tools for developers who agree to give Epic a 5% royalty once a game earns a certain amount of money.
Sweeney then moved his business to North Carolina. One reason for the relocation? The cost of living was low.
"We can hire people from all over the world, they can come here, and with a good game developer's salary, you can buy a nice house," he told Gamasutra. "Whereas in California, you'd be stuck with a one-bedroom apartment."
What Makes Fortnite So Profitable
When Fortnite Battle Royale dropped in September 2017, it caught on quickly. People flocked to play the free game and watch experts like Ninja livestream it on Twitch, along the way happily opening their wallets to purchase items, dance moves and custom outfits for their characters.
Some 125 million people have played Fortnite at one time or another — and that's a lot of bank accounts. LendEDU survey results released in June found that nearly 70% of players said they've spent real money on the game, dolling out an average of $85 despite the fact that the products are cosmetic (and don't actually help you win).
The company also offers a $10 Battle Pass that rewards people who complete certain challenges. Oh, and don't forget mobile: Recode reported that purchases in the iOS app alone generate about $1.8 million a day.
Seeing dollar signs yet? All of that activity adds up. Forbes reported that Fortnite brought in $126 million in February, $223 million in March and $296 million in April. The company has so much cash that it's forming a $100 million prize fund for upcoming Fortnite competitions. It's also begun taking a smaller cut of the profits Unreal Engine creators earn from selling products in its digital marketplace.
"We need to be constantly exploring business models that work. As the industry evolves, business models change. Epic's survived through a number of different ones over our history, from shareware to PC retail to big-budget triple-A console and back to indie, publishing our own games for ourselves," Sweeney told VentureBeat last year. "You have to constantly change the rules."
Sweeney's no stranger to strategic business moves. In 2012, Chinese conglomerate Tencent — the fifth most valuable brand in the world — bought 40 percent of Epic Games for $330 million.
Two years later, Epic games sold the rights to its third-person shooter game Gears of War to Microsoft. It's not clear how much the tech giant paid for the franchise, but it probably resulted in a big payday for Sweeney: When the news broke, Gears of War titles had sold 22 million copies and brought in $1 billion, according to a news release.
Sweeney's Spending: Forests and Ferraris
According to Kotaku, Sweeney used to own a fleet of luxury cars: a Ferrari, a Porsche, a Lamborghini and a Corvette. These days, he spends a lot of his money on land. Sweeney owns more than 35,000 acres in North Carolina, mostly with the intent of protecting it, according to WNC Magazine.
"The idea is to put my money to work for conservation," he told WNC.
In 2016, Sweeney gave $15 million to buy 7,000 acres of wilderness in the western part of the state, as the Asheville Citizen-Times reported. He then donated the easement to the U.S. Fish and Wildlife Service, ensuring the land's permanent protection.
The developer also lives in a mansion, as he pointed out in an old interview promoting Gears of War. In the video, he takes viewers on a tour of his garden, piano room, climbing tree, game room and loft.
"I don't know why I have a big house. I don't really need it; I don't use much of the space," he says. "But I figured, you know, I have the money. Why not?"