'Game of Thrones' Made Its Cast Tons of Money. Here's How Rich They Are Heading Into the Final Episodes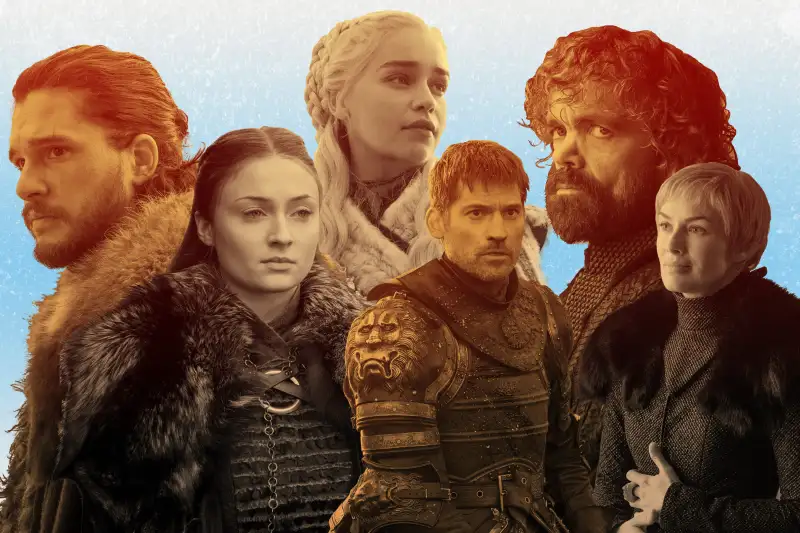 Photo illustration for Money by Sarina Finkelstein; Helen Sloan—HBO
After two long years of hiatus and suspense, the finale is coming.
Game of Thrones' last season kicks off Sunday, April 14, on HBO. Nobody knows what's going to happen, who will win or which characters will survive, but one thing is for sure: The show's actors are walking away a lot richer than when they started shooting in 2010.
We're not talking about Gold Dragons, Silver Stags or Copper Pennies. With episodes costing as much as $15 million each, Game of Thrones is one expensive show — and both the Lannisters and the Starks are enjoying a windfall.
As you brush up on your Dothraki and prepare for the final six episodes of the blockbuster series, take a look at how all of the major actors in Game of Thrones stack up when ranked by net worth.
Gwendoline Christie
Christie, who plays Brienne of Tarth, is worth about $3 million, according to Celebrity Net Worth. (Take that number with a grain of salt: Celebrity Net Worth generates its figures by looking at news reports and public records, so they are sometimes imprecise.)
With Game of Thrones ending, Christie has admitted she's looking warily at her bottom line.
"Now it's the last season, I don't need to worry about being employed for another year with a company. I am open to offers," she said on Good Morning America earlier this month. "I love cash! Cash is king."
Sophie Turner
GO Banking Rates puts Turner's net worth at about $3 million, though The Richest estimates that she's worth $5 million. Either way, her role as Sansa Stark pulled in $175,000 per episode in Game of Thrones' final seasons, according to Refinery29.
Turner recently told Harper's Bazaar that her coworker Kit Harington's salary is higher than hers, but she's fine with it due to the complexity of his scenes.
"Kit got more money than me, but he had a bigger storyline. And for the last series, he had something crazy like 70 night shoots, and I didn't have that many," she said. "I was like, 'You know what? You keep that money.'"
Turner has also shown up on the silver screen, starring in X-Men: Apocalypse and the upcoming movie Dark Phoenix. Her brand deals include partnerships with the fashion house Louis Vuitton. (The value of the Louis Vuitton deal is not public.) Turner has nearly 10 million Instagram followers, as well, and celebrities with similarly sized fanbases are able to pull in more than $15,000 per sponsored post.
Not too shabby.
Isaac Hempstead Wright
Wright was only 10 years old when he joined the Game of Thrones cast as Bran Stark. Now that it's wrapping up, he's 19 — and worth a cool $4 million.
"It is pretty incredible getting paid to have all this fun, but to be honest, my mum doesn't really like me spending my money, because she wants me to save it for university funds," he told ScienceFiction.com in 2012. "Luckily, though, she did let me buy a few things, the first of which was a Canon HV30 video camera and some editing software so I could start making my own films."
Natalie Dormer
Dormer's net worth is $6 million, according to Celebrity Net Worth. Along with playing Margaery Tyrell in Game of Thrones, she appeared in both parts of The Hunger Games: Mockingjay, The Tudors and Elementary.
Dormer is a big deal on the brand scene, as well, having signed deals with Crocs and Nespresso.
Maisie Williams
Williams, who plays Arya Stark, is also worth $6 million, according to Celebrity Net Worth. She made a rumored $175,000 per episode in the final seasons, but she never intended to earn millions.
"The thing I was really obsessed about was whether I would earn enough money to buy myself a laptop," she told The Guardian in 2016. "My stepdad, Gary, just looked at me and said: 'I think there'll be enough for a couple of laptops, Maisie.'"
He's right: Rolling Stone wrote recently that Williams has "essentially earned herself a trust fund." An actress who has appeared in Doctor Who, she likes to spend her salary donating to charity and purchasing "cute gym outfits." She also bought into the social media collaboration app Daisie because "I'm getting to the point where I wanted to invest my money, and why not go into tech?" as she told The Australian.
Lena Headey
We know a lot about Headey's finances because of legal documents filed in connection with her divorce from Peter Loughran. In 2013, Headey demanded part of the couple's tax refund because she was broke. In doing so, she disclosed a lot of details about her financial situation.
"At the present time, I have less than $5 in my bank account and have been using credit cards to pay for living expenses for myself and our son Wylie," she said. The Cersei Lannister actress added that she "incurred a substantial amount of consumer debt to pay for our living expense[s] during marriage."
She may have since recovered. Headey is worth $9 million, according to Celebrity Net Worth. In 2017, she sold her home in California for $2 million. And as far as Hollywood goes, her film credits include major roles in movies like The Jungle Book, 300 and The Purge.
Emilia Clarke
According to Celebrity Net Worth, Clarke is worth $13 million. She's profited heavily from her role as Daenerys Targaryen: Variety reported in 2017 that she earned $500,000 per episode. And according to The Hollywood Reporter, Clarke then signed a deal that nabbed her $1.1 million for each installment of seasons seven and eight.
On set, equal pay is not a problem for Khaleesi.
"I get f--king paid the same as my guy friends," Clarke told Vanity Fair last year. "We made sure of that."
In addition to Game of Thrones, Clarke has starred in movies like Me Before You, which generated $208 million worldwide, and Solo: A Star Wars Story, which grossed $393 million globally. She's also likely made a lot of money from endorsement deals with Dior and Dolce & Gabbana.
Kit Harington
Harington, who plays Jon Snow, has an estimated net worth of $13 million. He, like Clarke, gets paid a rumored $1.1 million per episode (up from $300,000 in 2014).
Harington is descended from British royalty and the inventor of the flush toilet, but his family was far from wealthy.
"My parents didn't have a lot of money when I was growing up. We were comfortable, but I didn't go to Oxbridge, and yet every American interviewer I get says to me, 'You're related to Charles II! Your grandfather was a baronet,'" he told the Evening Standard in 2014. "And it's infuriating, because that is a part of my history, but you're trying to turn me into a posh boy and I'm not."
Jason Momoa
Momoa's role as Khal Drogo helped him secure a $14 million fortune, according to Celebrity Net Worth, which is impressive because he was only on the show for one season. Outside of Game of Thrones, Momoa's IMDb page includes credits for movies like Aquaman, Justice League and Batman v Superman: Dawn of Justice as well as TV shows like Baywatch.
He did struggle, however, after his time ended on Game of Thrones. Momoa said he was "literally broke" before he was cast as Aquaman. Luckily, the movie went on to draw $1 billion, making it one lucrative thirst trap.
Peter Dinklage
Dinklage, who plays Tyrion Lannister, is one of the highest-paid actors in the show, with an estimated $15 million net worth. But that's mostly due to the length of his career: Dinklage is featured in Avengers: Infinity War, Elf, The Chronicles of Narnia: Prince Caspian, Three Billboards Outside Ebbing, Missouri, and more. He's appeared in ads for companies like Cisco and Doritos.
However, Dinklage wasn't always so successful. He told the New York Times in 2012 that he used to not be able to even afford his rat-infested apartment.
"I feel really lucky, although I hate that word," he said. "Living in Brooklyn in an apartment without any heat and paying for dinner at the bodega with dimes — I don't think I felt myself lucky back then. Doing plays for 50 bucks and trying to be true to myself as an artist and turning down commercials where they wanted a leprechaun. Saying I was lucky negates the hard work I put in and spits on that guy who's freezing his ass off back in Brooklyn."
Nicolaj Coster-Waldau
Like with Headey, we have insight into Coster-Waldau's money thanks to a recently filed lawsuit involving the actor and his ex-manager. For example, as one of the core five in Game of Thrones, we know that Coster-Waldau made about $1 million per episode in seasons seven and eight. He is reportedly worth $16 million.
On top of that, according to The Hollywood Reporter, Coster-Waldau pulled in bonuses, too. Just look at the $10,000 he earned for a set of trading cards and the $75,000 fee he got for going to Comic Con.
But even Jaime Lannister can't resist retail therapy. Coster-Waldau said in a Red Bull interview that he once had such a terrible audition that he went to a store afterward and spent $1,500 on clothes (something Money does not endorse).
"It just made me feel worse," he said. "I returned them the next morning, the second the shop opened. I said something like, 'Sorry, there's been a mistake' and got my money back. You should have seen the look the saleswoman gave me. Total disgust. It was a good lesson; I've never spent so much on clothes in one go since."
Sean Bean
HBO—Allstar Picture Library/Alamy
Finally, we have the late, great Ned Stark.
Bean's estimated $20 million net worth nabbed him the No. 1 spot on this list. With roles in Lord of the Rings, The Oath and Medici, Bean's impressive acting career has made him so wealthy he once paid six figures to help out a local soccer team. In 2015, he donated his vintage Land Rover to a cancer charity auction.
Bean, a former welder, used to spend a lot of money on cars — until he realized "if I drive something too expensive I'm only going to get spotted," as he told the Sunday Times in 2007.
We'd imagine that goes for dragons, too.