Where Gas Prices Shot Up Nearly $1 Per Gallon in One Month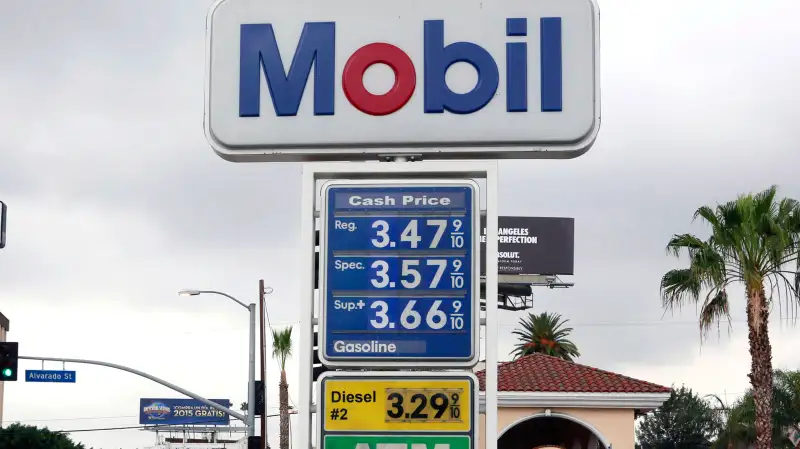 In mid-January 2015, the national average for regular gasoline was $2.03 per gallon, and there seemed to be a strong possibility that gas stations would average under $2 nationally within weeks, or even days. Instead, that period marked what appears to be the bottoming out of the cheap gas era. After four months of consistently plummeting fuel costs, drivers began seeing gas prices inch up steadily—and then spike very recently.
Over the past week, the national average has crept up 2¢ daily, from $2.33 to $2.47 as of Monday, according to the U.S. Energy Information Administration. AAA data indicates that gas prices have risen 35 days in a row, for a total rise of 39¢ nationally.
While all drivers are paying more for gas than they did in the very recent past—more than a dozen states were averaging under $2 per gallon a month ago, but none are today—California has experienced an extraordinarily fast hike in prices at the pump. Apparently, an explosion at one oil refinery in the state brought about enough of a decrease in supply to send gas prices skyrocketing.
As of Tuesday, the average in California for a gallon of regular was $3.41, a rise of 96¢ over the past month and 43¢ during the last week alone. Nationally, gas prices are averaging a full $1 less than they were one year ago, even after the recent pricing surge. But in California, prices are only 45¢ cheaper than they were exactly 12 months ago, when the average was $3.86.
All signs indicate that drivers in California and all over the country will continue to be hit with rising gas prices. GasBuddy analysts forecast that prices will increase steadily during the next six to eight weeks, and AAA is predicting, "the national average price of gas could rise by 20 cents per gallon or more in March" alone.
Still, to put things in perspective, let's not forget that gas prices averaged well over $3 nationally for entire years, and it seemed like a very big deal when the average dipped under $3 last fall.
"The good news is that most U.S. drivers should still pay less than $3 per gallon to fill up their cars this year," AAA spokesperson Avery Ash said this week.
Not if you're in California though.