Why 'Girl Math' Can Actually Make a Lot of Sense for Your Money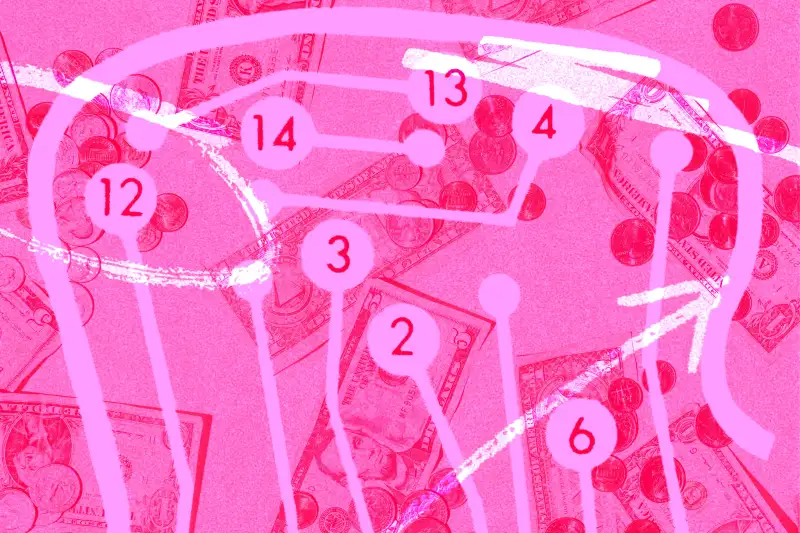 Olive Burd / Money; Getty Images
Step aside, "girl dinner" — it's time for "girl math."
Girl math revolves around justifying your spending habits in creative ways, like subscribing to the idea that if you buy clothes and later return them, you're actually making money. Or if you pay someone back for dinner out of your Venmo balance, it qualifies as a free meal.
Of course, that quote-unquote "math" doesn't add up. But experts say the attitude behind it is admirable — and can actually be a boon for your spending strategy.
Why 'girl math' is so popular
Priya Malani, founder and CEO of Stash Wealth, says girl math is resonating with so many people because we all do it, girl or not.
"It's kind of what social media was built for: It's entertaining and brings awareness to a topic that I don't think people would talk about otherwise," Malani says.
Victoria Sado, a certified financial planner at Ellevest, says the same thing: Girl math is universal because "everyone goes through their own process to justify splurges and spending — and it may defy someone else's logic of dollar-and-cents budgeting."
This is especially true during times of economic uncertainty, when the reigning financial advice is to cut back on frivolous things like shopping for clothes or, God forbid, ordering avocado toast. Sado says that's where a unique bias comes into play: These quote-unquote "frivolous" expenditures are often coded as feminine.
Even though there's research that shows men are statistically just as likely to splurge as women and spend more money on average when they treat themselves, it's women who get stigmatized for their spending. Sado says women are told constantly that they spend too much, can't invest well and are bad with money.
"Girl math is a defense against that," she adds. "It says, 'Hey, we know this math doesn't exactly add up, but it's not because we don't know how to do math.' And it says we deserve these splurges and small treats."
How to incorporate 'girl math' into your financial life
A lot of the time, there's shame attached to wanting (and acquiring) these treats, leaving women saddled with the burden of having to find ways to justify them. But in reality, fun purchases don't have to stand in the way of long-term financial success, particularly if they align with my values.
Malani points out that buying a costly ticket to see Taylor Swift, for instance, is more than just one-time admission to a random event. It's a cultural experience; it's a memory with friends; it's something you'll probably talk to my grandkids about someday.
And to you, that's likely worth the expense: "There's no need for manipulation of girl math," she says. "Spend it."
To be clear, Sado says, if you find yourself using girl math as an excuse to make spending decisions that will make your life harder, you should probably take a step back and re-evaluate.
Likewise, it's crucial for you to have a handful of financial basics nailed down before you go all-in on girl calculations.
You should have an emergency fund, a special account that contains three to six months of expenses that you can tap if you unexpectedly lose your job or need to pay for car repairs. Malani says you should also have some short-term savings that can help you cover the cost of Christmas gifts for your family or a trip you're planning to Europe next year. Finally, you should be putting away funds for retirement — at the very least, taking advantage of the full 401(k) match offered by my employer.
"There's very little wrong with girl math, and it promotes guilt-free spending if you have your ducks in a row," Malani says.
The bottom line
The main perk of girl math? It empowers you to make decisions about your money. And those decisions are totally fine as long as you have a larger plan in place.
Girl math has gotten us thinking and talking about money, which is always a good thing. And while some of the girl math tenets may not be 100% legit, the overall message is an encouraging one. Assuming we've got financial building blocks like our emergency fund squared away, it's OK to spend our money however we want.
We earned it, after all.
"Girl math relieves some of the pressure we feel to make the 'smart' financial decision, even if we know we can afford to make the 'impractical' one," Sado says.
CORRECTION: This story has been updated to correct the misspelling of Priya Malani's last name.
More from Money:
Is It Safe to Buy Stuff From TikTok Shop?
Will I Spend Less if I Force Myself to Use Cash?
Gen Z Is Rewriting the Rules for Personal Finance in Real Time. That's Good, Right?
Rates are subject to change. All information provided here is accurate as of the publish date.