Thousands of Veterans and Their Families Would Lose Insurance Under the AHCA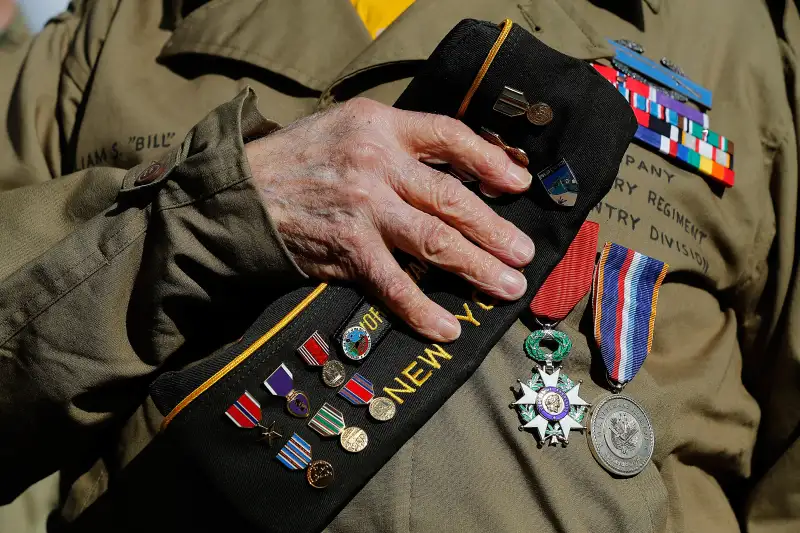 Will Fischer, an Iraq war veteran, isn't too fond of the current House Republican plan to repeal and replace the Affordable Care Act.
"When we see rollbacks like this, I don't see how anyone can think that's a positive thing," says Fischer, the head of government relations at VoteVets, a progressive veterans organization. "We want to ensure that people don't have to make a choice between buying their child lunch and buying their child medicine."
The rollback Fischer is referring to is the possible repeal of the Affordable Care Act, and a nod to President Donald Trump's promise to "get our veterans the care they need wherever and whenever they need it." Trump has vowed to cut wait times at the Department of Veteran Affairs (VA) and increase the number of mental health professionals available.
But the GOP's recently released American Health Care Act—which the president supports—would put many vets at risk of losing access to the care they need.
Hundreds of thousands of veterans and their family members have gained coverage under Obamacare, or the ACA, according to research from the Urban Institute, a socioeconomic think tank. In fact, a study published by the Urban Institute last fall reported that the rate of uninsured veterans dropped by 42% between 2013 and 2015. That increased coverage has translated into fewer vets reporting that they can't afford their hospital bills or have an unmet medical need, says Jennifer Haley, a research associate at the Urban Institute and one of the authors of the report.
All of those coverage gains are now on the chopping block under the AHCA.
"A lot of people were surprised that any veterans were uninsured," says Haley. "But if the ACA's coverage options are no longer available to veterans, I would think we would go back to increases in [those uninsured]."
Millions of veterans can access health care services via the VA, but not every former military member qualifies for care there or chooses to use the organization's services—long wait times and backlogs have plagued the agency for years.
In the newly released report from the Congressional Budget Office, an estimated 24 million fewer Americans overall would be insured by 2026 under the AHCA, compared to the ACA, mostly because of the rollback of the Medicaid expansion and the individual mandate that requires everyone to purchase health care or pay a tax penalty.
The veteran population would not be exempt from these changes. And that would send many vets back to the overburdened VA—which cannot hire additional workers to help process or care for potential new patients because of a federal hiring freeze implemented by the Trump administration. This would likely leave the thousands who do not qualify for VA care without coverage at all, as insurance becomes unaffordable without the ACA's subsidies. Hundreds of thousands of spouses and children could also lose coverage. (The VA did not return requests for comment.)
But it's not just insurance coverage that's at risk—it's the type of care that's covered by that insurance. The House plan removes the requirement that Medicaid plans cover essential services, including mental health, substance use, and behavioral health services.
A 2015 survey from the nonprofit Iraq & Afghanistan Veterans of America found that 58% of respondents reported having a mental health injury due to their service. Decreasing mental health coverage for Medicaid enrollees could be detrimental for vets, who suffer from mental health issues like PTSD and are at higher risks of suicide than the general population.
For some, the AHCA's changes are a reflection of a bigger, cultural shift, where veterans and their needs have become less visible.
"I've been in this field for about 40 years and this is the worst it's ever been in terms of the lack of human and moral support for people who are disabled," says Ron Manderscheid, executive director of the National Association of County Behavioral Health and Developmental Disability Directors, a mental health advocacy group. "Something has changed in our culture where there's a lot less sympathy than in any time I've been in the field."
Finally, the AHCA's combination of lower subsidies, no individual mandate, and continuous coverage provision—which allows insurers to charge people 30% higher premiums if they go without coverage for 63 days or more—creates the conditions for higher insurance prices for low-income or working-class vets down the road, much as it does for the general population.
All of these factors have led veterans, medical groups, and mental health organizations to come out against the AHCA.
"If the ACA is repealed and replaced with Trumpcare, we are going to see thousands of veterans lose their health care," Fischer of VoteVets says. "We need politicians to stand with them and their families."