Can You Still Haggle for a New Car? How the Auto Market Is Changing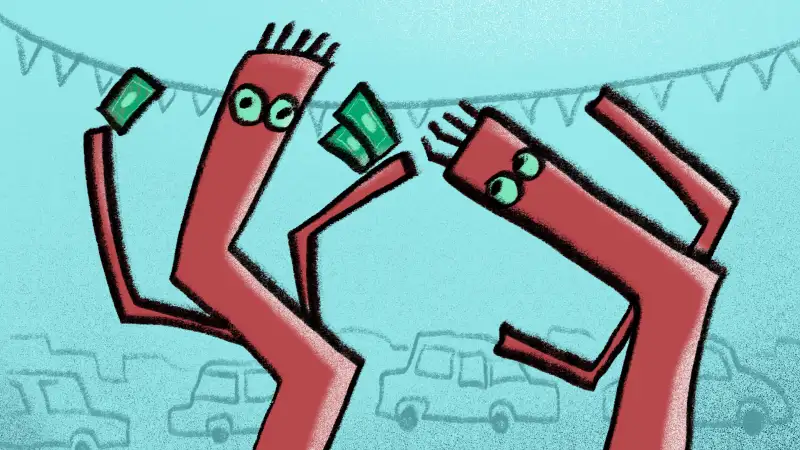 Buying a new car has often been a time-consuming affair that involves visiting multiple local dealerships and negotiating over prices to try to get a reasonable deal.
But several trends are now pointing toward more shoppers buying cars without the hassles — or the potential payoff — of haggling.
A growing number of large franchise dealership groups are advertising "no-haggle" pricing, which generally means the price you see is their best and only offer, says Trent Broberg, CEO of Acertus, a logistics platform for the automotive industry.
At the same time, electric vehicles are gaining market share, and buyers often purchase EVs online at set prices. With EV-only automakers like Tesla, that's often the only way to buy.
Overall, haggling at the car dealership has simply faded ever since supply shortages emerged in the auto industry in 2021. Car dealerships generally aren't under much pressure to move vehicles by offering discounts or engaging in negotiations with customers because their cars are still selling fast for around the full price or more.
Despite high prices, new car sales have been remarkably strong so far this year and are up 12% compared to the first half of 2022, according to Cox Automotive.
No-haggle car dealerships
It shouldn't be hard to tell if you're looking at a car from a dealership that has no-haggle pricing, according to Tim Mullins, vice president of national sales strategy and analytics at Capital One Auto Finance. "It'll be plastered all over their website," he says.
No-haggle dealerships argue it's a more efficient and less confusing process for the consumer, and Mullins says Capital One's surveying shows that some car buyers are actually willing to pay a little bit more for that type of price transparency. Broberg adds that this model is appealing to customers who "want to purchase with no friction."
Other buyers now prefer ordering their cars, which comes with the ability to customize their vehicles. In the past, car ordering was limited mainly to luxury cars, but in recent years it has become common practice to order standard mainstream vehicles too. You can order a car online or with a salesperson at a dealership, so whether there's any room to negotiate price will depend on your situation.
Additionally, warehouse clubs like Costco that play in the auto space are pushing for no-haggle buying experiences for their members by pre-arranging prices with the participating dealers.
Going forward, experts expect no-haggle options to exist alongside traditional car buying processes, which won't go away completely any time soon. While spending four hours at a dealership isn't fun, shopping in-person with a salesperson does appeal to a large number of buyers, experts say.
"Most of the consumers, they want to go into the dealership, they want to stare someone in the eye and they want to touch and feel a car," Mullins says.
Buyers going this route can save time and money by searching model availability and comparing prices online, then bringing their research to the dealership when they're ready to pull the trigger. You can negotiate a fair price more quickly if you know what the car you're looking at typically sells for.
Car buyers have lost leverage
Three years ago, the average discount on a new vehicle was about $2,500, and for years it had been normal to pay thousands of dollars below the manufacturer suggested retail price (MSRP). In May, the average discount was only $616, according to data from Edmunds, an automotive research firm, as inventory remains limited for many brands of cars.
A year ago, buyers were actually paying $722 above MSRP, on average, so the landscape has improved for consumers. Cox Automotive reports that vehicle inventory is up 74% in the past year and 1.8 million new vehicles are available in the U.S., but that's still very low compared to inventories of around 3.5 million before the pandemic.
For brands in the shortest supply like Toyota, some dealerships are pre-selling the vast majority of their new cars, and online listings of certain models show price markups of 10% or more on top of the sticker price.
While you can still negotiate and score discounts for cars from automakers like Buick and Dodge that are in greater supply, buyers don't have that same leverage with cars like Hondas, Kias and Subarus, according to Cox data.
Online shopping for EVs
Electric vehicle companies including Tesla, Rivian and Lucid sell their vehicles with a direct-to-consumer model, in which you can buy a car online and have it delivered to your home. This often means haggling isn't an option at all.
EV makers have pushed for state courts to allow them to sell their cars without involving dealerships, though results have been mixed. In some instances, to get through state laws, a dealership still serves as a middleman in direct-to-consumer vehicle transactions.
Beyond EV-only automakers, industry giants like Ford are also committing to no-haggle pricing and focusing on online ordering for their electric vehicles. Ford CEO Jim Farley said in May that the company is rolling out "non-negotiable" pricing for its EVs to create a "modern and simple customer experience."
According to Ford, customers have a more enjoyable car-buying experience when they can skip negotiations, and the company plans to have no-haggle pricing in place by January for all in-store and online EV buying.
Experts say younger buyers are more likely to favor online, no-haggle ordering. It can also be appealing to buyers who have specific preferences for the trim and color of their vehicle.
In general, online vehicle ordering has become more customer-friendly in the past year as the industry has figured out how to get vehicles to customers with less of a time delay, Broberg says. That points toward less haggling in the future because you usually can't negotiate with digital purchases, he adds.
Online car buyers may need to be be patient. Delivery times can be six weeks on the short end, but it could also take up to several months, especially if there's a queue of orders ahead of you.
More from Money:
Why $1,000 Car Payments Are Becoming the New Normal
Money's Best Autos of 2023, From Sports Cars to SUVs