The Best Halloween Free Food Deals & Restaurant Discounts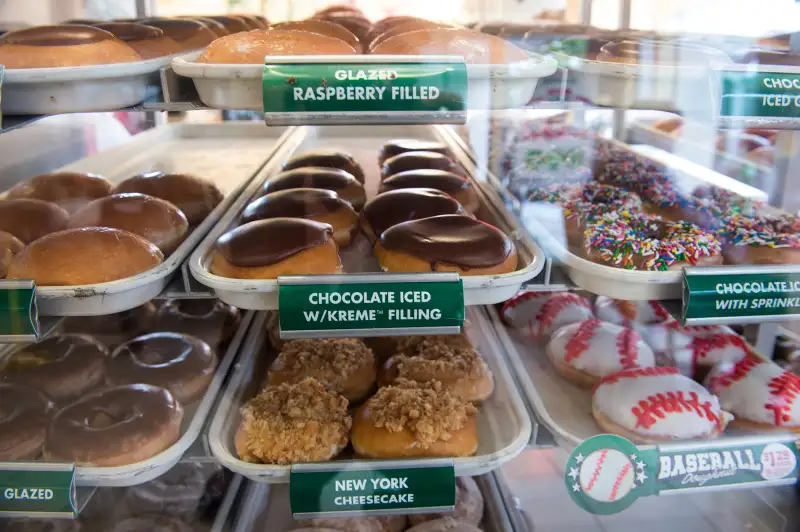 Nicholas Kamm—AFP/Getty Images
Halloween is beloved by children for the amazing annual prospect of free candy handouts. But the holiday of ghouls, vampires, and trick-or-treating has also become quite a big day for food giveaways and discounts at restaurant chains all over the country.
Check out all of the special offers for Halloween 2016 below. In many cases, the freebies aren't limited strictly to October 31, and sometimes kids and adults alike are welcome to dress in costume and take advantage of the special deals.
FREE STUFF
Krispy Kreme: Wear a costume to a participating Krispy Kreme location on October 31 and you'll be rewarded with a free doughnut of your choice—including special Halloween doughnuts featuring zombies, spider webs, and pumpkins decorated in icing. This offer isn't just for kids—adults in costumes get free doughnuts too. No purchase required.
McAlister's Deli: Throughout the Halloween weekend—from Saturday, Oct. 29 to Monday, Oct. 31—kids ages 12 and under get free food with two stipulations. One is that they're dressed in Halloween costumes, and the other is that an adult entrée must be purchased at the same time as the kids' orders. Up to two meals from the kids menu are free with each adult entrée.
Bertucci's: From Saturday through Monday, each child 12 and under in costume gets a free kids meal with the purchase of an adult entrée priced at $10.99 or more.
Read Next: All the Days During the Year When You Can Get Free Stuff
IHOP: From 7 a.m. to 10 a.m. on Halloween, all kids 12 and under get a free Scary Face Pancake that might resemble an edible vampire or zombie, with Oreos for eyes.
Sbarro: Dress in costume and you'll get a free slice of pizza with any purchase of $5 or more on Halloween.
Baja Fresh: Kids in costumes eat free anytime now through Halloween, with the purchase of an adult entrée.
Sizzler: Kids 10 and under who are in costume eat free with the purchase of an adult entrée and beverage, anytime now through Halloween.
Tijuana Flats: Show this offer for a free kids meal on Halloween with the purchase of an adult entrée.
99 Restaurants: Children 10 and under get free kids meals with the purchase of an adult entrée on Halloween, or 99 Restaurants is offering a special family meal to-go that serves four for $19.99.
Bubba Gump: Present this offer on Halloween and you'll get one free kids meal per table, with the purchase of an adult entrée.
Applebee's: Select locations in places like New Jersey and Florida will give away up to three kids' meals free of charge for youngsters 12 and under in costume on Halloween, with the purchase of at least one adult entrée. This is not a national promotion, so check your location Applebee's location to see if it's participating.
Read Next: Meet the Guy Who Totally Makes Up the Fake Holidays We Celebrate
Beef O'Brady's: Children in costumes get a free meal off the kids' menu on Halloween, with the purchase of an adult entrée.
Spaghetti Warehouse: Clink on the link for a coupon valid for a free kids menu meal for children 10 and under, with the purchase of an adult entrée, from Saturday through Monday.
BurgerFi: Each customer in a Halloween costumes can get a free small custard on Monday.
Mimi's Café: From Friday through Monday, the purchase of a kids meal (for those 12 and under) comes with free ice cream at this chain with 97 locations in 18 states.
Bass Pro Shops: Stores offer arts and crafts, face painting, a free 4x6 photo of your child with the Peanuts gang, plush toy and trick-or-treat bag giveaways, and trick-or-treating during select hours now through Halloween. And it's all free.
Chuck E. Cheese: Kids dressed in Halloween costumes get 50 free tickets any time in October.
MORE GREAT DISCOUNTS
Baskin-Robbins: Any flavor regular and kid-size cones are priced at $1.31 on Halloween.
Read Next: 60+ Restaurants and Stores That Give You Free Stuff on Your Birthday
Chipotle: Any customer in costume can get a burrito, bowl, salad, or tacos order for just $3, from 3 p.m. until closing on Halloween.
Taco Bell: Two days after Halloween, all Taco Bell customers can get one free Doritos Locos Taco apiece. The giveaway, which kicked into effect thanks to a player stealing a base in the World Series, takes place from 2 p.m. to 6 p.m. on Wednesday, Nov. 2.