Here's How a HELOC Can Help You Stay at Home for as Long as Possible in Retirement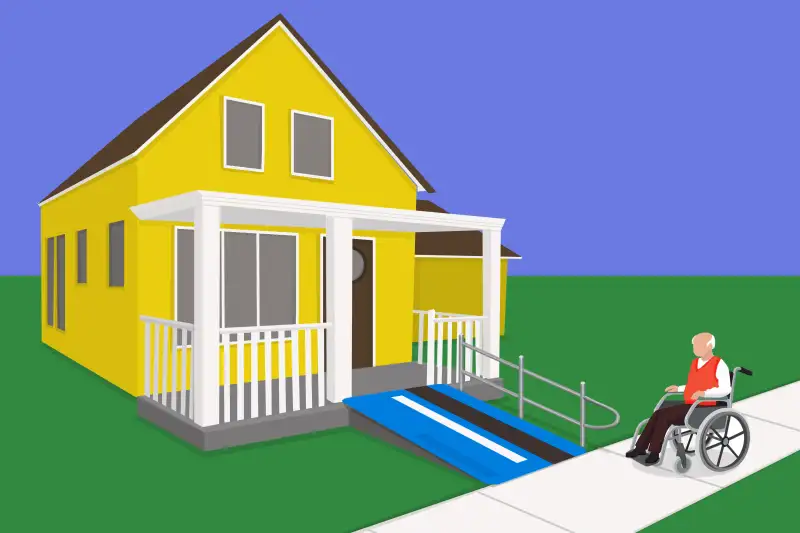 Illustration by Kiersten Essenpreis
For older Americans, there's no place like home. Surveys consistently find that most adults want to stay put in retirement, and tapping their home equity can help them do just that, experts say.
Homeowners age 62 and older hold a record $7.1 trillion in home equity, according to the National Reverse Mortgage Lenders Association. Yet their houses might not be well suited to aging in place. Just 3.5% of the country's housing stock incorporates three vital safety features for the elderly: single-floor living, no-step entries, and extra-wide halls and doors, according to a report by the Joint Center for Housing Studies of Harvard University.
Those without cash on hand to make these home modifications could consider tapping their equity to finance them. A home equity line of credit (HELOC) offers the most flexibility of the options to do so, says Bill Van Sant, a certified financial planner and a senior vice president at Girard, a Univest Wealth Division in Souderton, Pa.
But like any financial product, HELOCs have pros and cons, and it pays to do your homework before you take one out.
Unlike a home equity loan, which is disbursed as a lump sum, a home equity line of credit (HELOC) is a loan that you can tap as needed until you reach the full approved amount. But there's no requirement to max it out — you only withdraw, and repay, whatever you need.
This could work out well if you have a series of home improvements. You could take out a HELOC and then nibble at it over a number of years as you add a walk-in shower, for example, or a wheelchair ramp. You stop withdrawing money when your renovations are complete, and it's no problem if there's money left over.
Homeowners interested in a HELOC should consider applying for one before they leave the workforce, since it might be harder to qualify for a loan without a regular paycheck, experts say. However, some lenders have more streamlined processes that don't require income verification. For example, San Francisco-based Figure Technologies does not require that borrowers provide years of back paystubs that state their income for the company's Figure Home Equity Line. And other income sources, like gig-economy income or Social Security payments, would also count towards securing a loan.
Understanding Repayment Terms
Borrowers must start paying interest on their HELOCs right away. You pay only monthly interest during the first years of the loan, then once this so-called draw period ends your monthly payments increase to include the principal.
HELOCs generally have variable interest rates, which means that they can reset as the benchmark rate changes. While interest rates remain low, they could certainly rise at some point during the term of your loan, which could be as long as 25 years.
Ask your lender to explain how quickly rates could increase, and have them walk you through a worst-case scenario, so you'll know that you can meet your obligations even under these circumstances. For those looking for more certainty, some banks do offer fixed-rate HELOCS; consumers should check with their lender about these options and ask whether they're offered. In the case of Figure, it's easy to apply, and you can get approval on the same day — with their fixed-rate loans, you can also make additional draws after you've repaid a portion of your principal.
But take some time to evaluate your options, since every person's situation will be different, in terms of their needs and what their APR will be, and it pays to research your own situation.
No matter which type of loan you choose, if you can't make your payments, the lender could take your house. If you need to leave your home before your HELOC is due, you can repay the amount at closing. You may not be able to control the timing of your move — for example, a change in health status could necessitate a move to a care facility — and you don't want to wind up in a position where you owe more than your house is worth.
Editorial Disclaimer: Figure is a Fall 2019 advertising partner with Money.