These Apps Are Fantastic at Saving You Money — and Have Thousands of Positive Reviews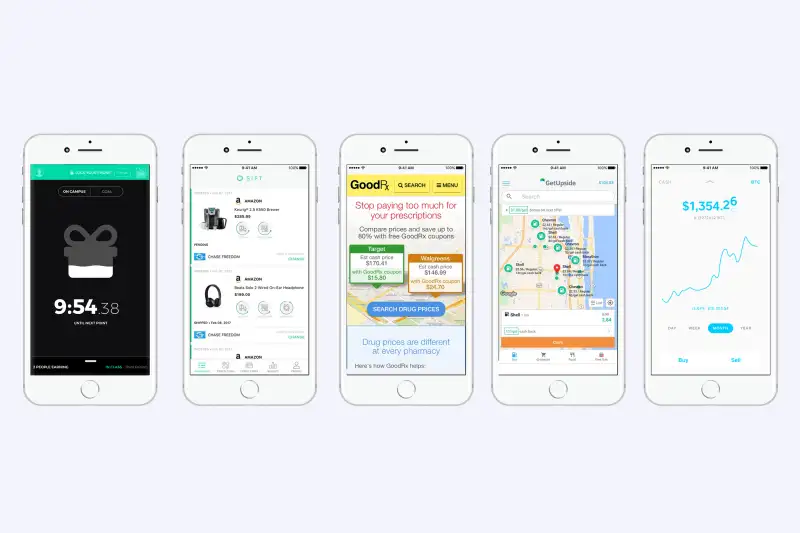 Courtesy of Pocket Points, Sift, GoodRX, GetUpSide, Cash
Real talk: You've probably spent enough time taking Snapchat photos of what you would look like as another gender. Now, it's time to use your smartphone to your financial benefit.
There are dozens of iPhone and Android apps out there that help you save. You may be familiar with most of them — usual suspects include Digit, Qapital and Mint, all of which Money has recommended before for various purposes. But why not try downloading something different?
These five highly-rated apps are sure to make cents for your wallet. Branch out and check them out:
Sift
Sift keeps track of various credit cards' benefits and helps you file claims to get money back. After you connect your inbox, it works in the background, scanning your digital receipts, checking various warranties and collecting return policies.
Sift says it's already processed more than $200,000 worth of refunds for users.
Sift has a 4.5 (out of 5) score on the App Store with 1,300 ratings overall, including one that gushes "this is like a guardian angel watching over all your spending." Better yet, last year, Google Play named Sift one of its top apps for 2018.
Available on: website, iOS, Android
Pocket Points
Courtesy of Pocket Points
This app is dual purpose: It'll help curb your phone addiction and save money. Designed for college students, Pocket Points keeps tabs on how long you've let your phone go untouched, whether it be in class or in the car. The longer you last, the more points you rack up. (There's also a leaderboard, should you want to get competitive about your undistracted minutes.)
Those points can then be redeemed for discounts, which come in the form of coupons to places like Chick-fil-A, Chili's and GrubHub.
Pocket Points has a 3.7 rating from about 4,000 reviews in the Google Play store, but its score in the App Store is much higher. There, Pocket Points comes in at 4.7 with 12,000 ratings, including one that praises its convenience and another that says, "you would think it's fake or something, but I didn't spend a single penny."
GoodRx
GoodRx calls itself the "#1 free medical app." Once you enter your prescriptions, it compiles various pharmacies and discounts to find the lowest prices possible. Select the best options for you, and GoodRx will load a coupon for the discount drugs. You then take that coupon to your pharmacy of choice and get your pills for less.
If the GoodRx app isn't your style, you can also use the desktop site.
GoodRx has a 4.8 on the App Store with about 370,000 ratings, including one that boasts "this app literally saved me over $100 this first time I used it!" It's in the Google Play store, as well, with a score of 4.8 from roughly 92,000 ratings.
Available on: website, iOS, Android
Cash App
If you thought Cash app was nothing more than a Venmo knockoff, think again. The app offers a Cash Card, which is a free Visa debit card that isn't connected to your bank. With a Cash Card, you can take advantage of Cash Boosts, which are instant discounts at places like Chipotle, Shake Shack and Panera Bread. All you do is click your available balance, hit "Boost," add a Boost and go. (Warning: You'll need to use your physical card or Apple Pay to use some Boosts, so read up on the details of your discount before you're standing in the checkout line.)
You can only use one Boost at time, but you can switch them out whenever you want. If you're smart about it, you can save a significant amount of money — for example, Cult of Mac found a way to get $10 in discounts in five days.
Cash App has a 4.6 score with more than 190,000 ratings on the App Store and a 4.0 score with 78,000 ratings on Google Play, including one that says "I only wish I had understood how to use the Boosts sooner." Save on.
GetUpside
By partnering with local businesses, GetUpside says it helps you get "the best gas prices, grocery prices and restaurant offers." All you have to do is claim an offer on your phone, shop like normal and take a picture of your receipt. Then you get up to 15% cash back on groceries, 35% cash back on restaurant orders and up to $0.25 a gallon on gas via PayPal, digital gift card or check.
There is, however, one catch: GetUpside is not yet available nationwide. The app currently works in more than 30 states and Washington, D.C. (See a full list of locations here.)
GetUpside has a 4.8 score on the App Store with roughly 20,000 ratings, including one ringing endorsement that said "this made my savings experience kind of fun!" It's also available on Google Play, where it has a 4.6 with about 13,000 ratings.