What's a Home Worth? 5 Tips for Finding the Right Price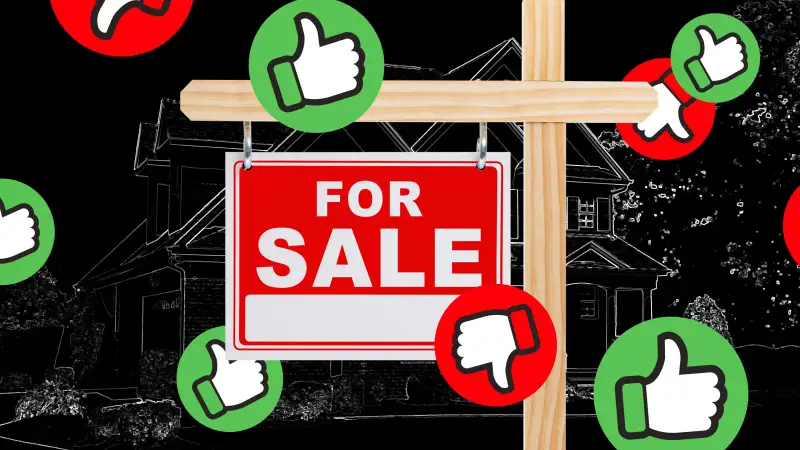 What's a home worth? The answer may depend on whether you're the buyer or the seller, but finding the right price can make both happy.
Today's housing market is anything but straightforward. On one hand, home prices are starting to ease. After peaking in June, the median home price declined by 2% across July and August, according to mortgage data firm Black Knight. Despite the recent declines, however, home prices are still 12% higher than they were a year ago.
It's a sign of the shift away from the incredibly strong seller's market of the past two years and toward a more balanced buyer/seller relationship. Rising interest rates have slowed demand, leading to less competition and convincing more home sellers to adjust their home prices.
The slowdown isn't happening across all markets, however. Some neighborhoods are still very competitive, with desirable homes in desirable areas still seeing double-digit price growth. All this can lead to clashing expectations.
"Buyers are thinking there is a huge price drop coming and there are sellers that are still expecting to sell over list price," says Shelley Phillips, owner of RE/MAX Classic in Lavonia, Georgia.
These tips can help buyers and sellers get on the same page.
1. Review listing sites
If you bought a home in the last decade or so, you probably used listing sites such as Zillow, Redfin or Realtor.com to find homes you might want to buy. You might not realize that these sites can be just as useful in the selling process — if you know where to look.
When you search for a location on a listing site, the initial page will show homes that are currently for sale. If you're buying, list prices are starting points to work from. If you're selling, this is your competition — and also worth studying.
Pay special attention to how long for sale properties have been on the market. In August, 81% of sold homes were on the market for less than a month, according to the National Association of Realtors. Also, look at whether they have recently had price reductions. This can give you an idea of the amount of buyer interest in the area.
Sellers will also want to look for what the industry calls "comps." These are homes that recently sold nearby that closely match your home in terms of condition, size and features. Most sites will allow you to change your search criteria from "for sale" to "sold" and will tell you when the deal closed. You may have to scroll down to "price history" or "sale history" to see how much a home actually sold for.
But, cautions Keisha Johnson, mortgage broker at RTS Mortgage Financial, in Toronto, Canada, be sure you're comparing apples to apples. Also, keep in mind that it can take a few months to get from an accepted offer to closing. In a changing market, that could mean recent sale prices actually reflect very different conditions.
2. Use an online home value estimator
There are plenty of free tools that can provide an estimate on a home's value such as Zillow's Zestimate or eppraisal.com, which offers free value estimates based on public records, listing sites and other market data. Use as many as you can find — either for your own home or a home you want to buy — then compare the results to get a potential price range.
Home value estimators can take care of some of the leg work for you, but it's just an estimate and should be viewed as a starting point. Some Zestimates, for example, have been shown to be very accurate while others have been off by thousands of dollars.
You can also request a comparative market analysis from a real estate agent. They will look at a home's details and compare it to several other similar homes in the area in terms of age, size, updates and proximity to schools.
3. Get an appraisal
If you're in the process of buying a home and are financing the purchase, your mortgage lender will require an appraisal in order to proceed. But you can also request an appraisal on a property before putting your home up for sale or making an offer.
Lenders will only make loans up to the appraisal value of a home, not more. If the purchase price is higher than the appraisal buyers will either have to come up with the difference in cash or try to renegotiate the price with the seller.
An appraisal can run between $400 and $500 on average. The information, however, is worth the expense if you can avoid unwittingly overpaying or a home.
Bonus tip for sellers: Avoid overpricing
Finding the right price for your property is both an art and a science. You want to strike the right balance for the market you're in.
"Most buyers are getting savvy enough to compete for the homes that are worth it to them, but to pass on anything overpriced just because a seller thinks they can get top dollar in this market," says Christy Walker, broker/owner of RE/MAX Signature in Phoenix, Arizona.
Pricing in the mid-range or slightly lower than local comps could pay off in today's market. Agents say this strategy can generate more buyer interest and may even result in a bidding war that helps push the price higher. While the number of homes getting multiple offers has decreased compared to a year ago, bidding wars are still common, with nearly 45% of purchase offers facing a bidding war in August, according to Redfin.
Overpricing can lead to your home sitting on the market. Buyers might view the lack of interest as a sign that something is 'wrong' with the home delaying things further.
Bonus tip for buyers: Think hard about your budget and needs
Ideally, you don't want to spend more than 36% of your gross monthly income paying off debts, including your mortgage payment. An easy way to determine your maximum price is to use a home affordability calculator.
However, at the end of the day, the value of a home is in the eyes of the beholder. You should consider what matters most to you. Do you need to move closer to a job or a better school district? Are you working remotely and looking for a home with room for an office? Knowing what you need in a home will narrow down the options and what you'll look at when it comes time to research prices.
In the end, says Todd Luong, a RE/MAX associate in Frisco, Texas, the right price is just "what the buyer and seller are willing to agree on."
More from Money:
Home Prices Are Falling at the Fastest Pace Since the Great Recession
Why the Fall Housing Market Won't Be Great for Buyers — or Sellers
5 Reasons Home Sales Keep Falling Through — and How Sellers Can Prevent It