Buyers Are Backing out of Home Purchases at an Incredibly High Rate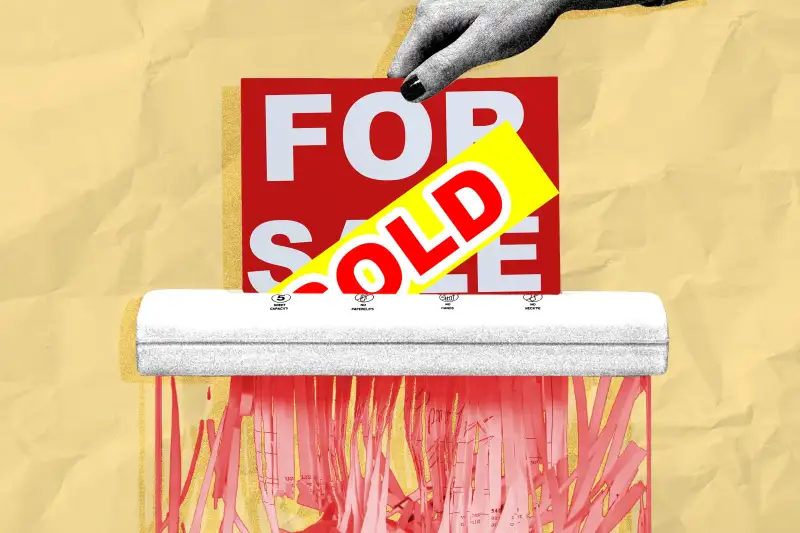 Homebuyers are backing out of purchase agreements at nearly the highest rate in recent history as housing costs continue to soar.
The percentage of home purchase cancellations hit 16.3% in September, which is the highest level since October 2022, according to a new Redfin report. About 53,000 agreements were canceled last month, which partly explains why closed home sales decreased 1.5% compared to the previous month despite pending home sales rising slightly.
Home purchase cancellations can occur for various reasons, like issues uncovered in an inspection, changes in the buyer's financial situation or sticker shock at the true cost of ownership including property taxes and homeowners insurance.
Historically, home purchase cancellations are more common when mortgage rates are high. With the average mortgage rate at 7.63%, buyers are less likely to overlook issues that arise while under contract.
Before the pandemic, when mortgage rates were much lower, home sale cancellation rates were around 12% to 13%.
"Buyers are extra cautious right now," Heather Kruayai, a Redfin agent in Jacksonville, Florida, said in the report. "They want to make sure they're getting a good deal given how much mortgage payments have gone up, and when they don't feel like they're getting a good deal, they're backing out."
Where home purchase cancellations are most common
Among the largest 50 metro areas, 5 of the 10 cities with the most deals that fell out of contract in September are in Florida. Here is the list:
Atlanta, Georgia (24.4%)
Jacksonville, Florida (24%)
Orlando, Florida (23.6%)
Tampa, Florida (22.7%)
Fort Lauderdale, Florida (22%)
San Antonio, Texas (21.2%)
Las Vegas, Nevada (21.1%)
Forth Worth, Texas (21.0%)
Miami, Florida (20.5%)
Riverside, California (20.3%)
A buyer's ability to back out of a purchase agreement (and the costs associated with canceling) depends on contract terms and state laws. In Florida, buyers may be able to cancel in several situations — for example, if a mortgage lender withdraws a loan commitment.
One factor likely contributing to the high rates of cancellations in the state is the tough homeowners insurance market, given the hurricane risk and the rise in home repair costs. Major insurers are charging high premiums or restricting new policies, and some companies have even exited the market altogether.
Some buyers do not realize just how much insurance will cost them until they're under contract. Kruayai thinks transactions are "falling apart due to skyrocketing insurance premiums and disagreements between buyers and sellers over necessary repairs" in addition to high borrowing costs and home prices.
Despite mortgage rates limiting demand, the median home price is up 1.9% nationally in the past year — it's up to $412,081 — and monthly mortgage payments are at an all-time high, according to Redfin. Until affordability improves, home purchase cancellations could remain high.
More from Money:
Home Sales Slump to Slowest Pace Since the Great Recession as Costs Spike
Here's What 8% Mortgage Rates Could Mean for the Housing Market'