The Fed Says the Housing Market Needs a 'Correction.' What Does That Mean?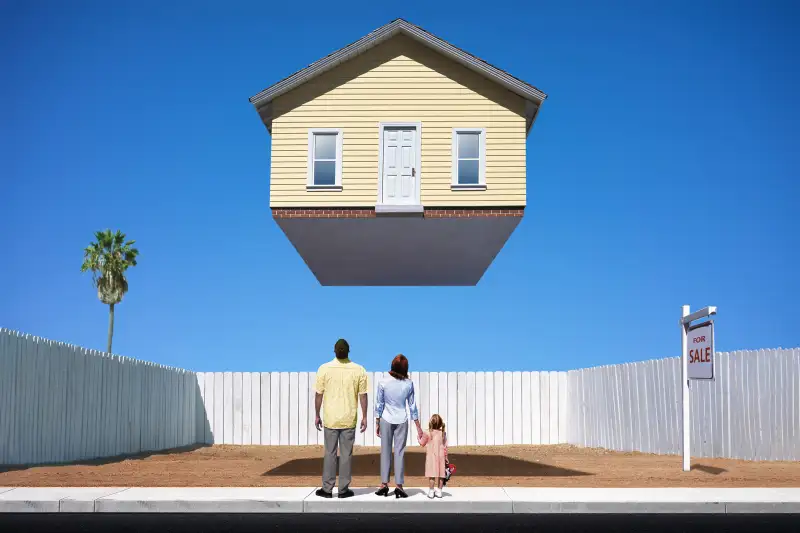 When the Federal Reserve announced it was raising interest rates last week, Chairman Jerome Powell said the housing market needs to go through a "correction."
Powell said home prices rose at an "unsustainably fast level" during the pandemic, as he expressed hope that a housing market correction will make prices affordable again.
The Fed is hiking interest rates in order to (hopefully) rein in high inflation. When interest rates rise, it becomes more expensive to borrow money. Among other things, this means that mortgage rates are rising, and buyers are finding that purchasing a home is the opposite of affordable.
The real estate market in general has been cooling down for months, and experts say bigger changes could be coming, in the form of a correction period that would eventually result in lower prices and more homes for sale.
What is a housing market correction?
Danielle Hale, chief economist for Realtor.com, said the word "correction" doesn't have a numerical meaning in the context of real estate.
"In stock market terms, a correction is generally referred to as a 10 to 20% drop in prices, and then anything above a 20% drop in prices is considered a bear market. We don't have the same established definitions in the housing market," Hale said.
She said Powell is referring to "some price pullback" for homes, but that it's unclear how much of a drop in prices he's telling us could be on the horizon. It is, however, important to distinguish between a "correction" and a "crash."
When officials and experts talk about a housing correction in the near future, they're describing a much smaller decline than what we saw in the Great Recession, when home prices fell by more than 30%.
Some housing economists are talking about the possibility of a single-digit percentage decline in home prices in the next year, while the more bearish forecasts are in the ballpark of a 10% to 20% decline.
Where are home prices heading?
In a typical housing down cycle marked by rising mortgage rates, the pace of home sales falls first, followed by a drop in prices, said housing economist Issi Romem, founder of research company MetroSight.
That pattern is already playing out. Home sales have declined for seven consecutive months, and home values have fallen for two consecutive months now. U.S. consumers expect home prices to decline by 0.4% over the coming year, according to a Freddie Mac survey released earlier this month.
"Demand has fallen because a large subset of buyers, most buyers, need financing to buy their house and now have less of a budget because they have to allocate more of it toward paying interest over the years," Romem said.
With the recent jump in rates, the monthly mortgage payment on a typical new home has risen 45% since this time last year, Redfin said Monday.
With fewer prospective buyers, homes sit on the market longer. Meanwhile, the pace of new listings slows because homeowners who have locked in favorable mortgage rates become reluctant to sell. They don't want to deal with worse borrowing conditions if they have to look for a new home. This trend is also slowing the pace of sales, Romem said.
Prices typically don't fall immediately when mortgage rates rise and buyers are pushed out of the market. There's often a lag, Romem said.
When the market cools down, sellers don't realize it in real time because they're pricing their listings based on similar transactions in their area that are often several months old.
"Sellers are still interested in getting the prices that they think are normal," Romem said. "It's hard psychologically to accept that prices have dropped."
Some sellers who are in a rush will drop their prices, but many others will let their listings sit on the market, or even eventually pull listings off the market.
Last month, the average U.S. home sold for below its list price, according to Redfin. Prior to August, that had not been the case since March 2021.
Over time, Romem said he expects home prices to fall and inventory to improve. That's what usually happens when rising mortgage rates cause a slowdown in the market, he said.
How to navigate the changing real estate market
As housing market conditions shift, it's a highly confusing time for buyers and sellers.
If you're thinking about buying a house, you might be wondering if you should wait for prices to fall. Or maybe you have the instinct to buy now in case mortgage rates rise even higher.
Experts say if you need to move or if you fall in love with a dream home, you should go for it — as long as you stay within your budget. Historically, it doesn't benefit buyers to wait, Hale said.
"You just don't know what the future holds. Mortgage rates could go higher, they could go lower. Home prices could go lower, they could also go higher, and that's what they have done over the last 10 years pretty consistently," she said.
It's always a good idea to shop around to try to find the lowest mortgage rate possible. There's also the possibility of being able to refinance down the road if mortgage rates fall. That's not a guarantee, however, so you should make sure you have a long-term plan to pay your monthly payments.
For homeowners who don't have an urgent need to sell, Romem said it could be wise to wait. If you have locked in a good mortgage rate, it would cost a lot more to buy a home that's comparable to the one you would sell.
"The folks who really are less lucky are anyone who's trying to sell now and has to sell urgently. For them, I would say try and get a step ahead and lower your price sooner rather than later because chasing the market down is not a good place to be," he said.
More from Money:
Best Mortgage Lenders of September 2022
How the Fed's Latest Interest Rate Hike Will Affect Your Wallet