How I Became an 'It Girl' on Instagram at 61 — and Doubled My Online Sales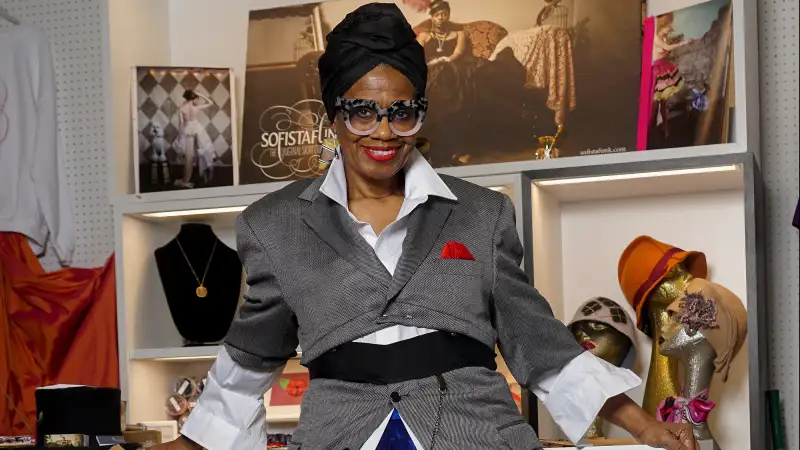 Courtesy of Arlinda McIntosh
Arlinda McIntosh has nearly doubled the sales of her clothing line in the last few years, and she's done it in a surprising fashion.
"In this world, every model is tall and thin and often blonde, and you don't see older people modeling clothing," McIntosh, 61, tells Money of how she decided to start modeling her own clothing line, Sofistafunk, on Instagram. "But we buy [clothing]."
Sofistafunk is made up of brightly colored, unique pieces that McIntosh designs and makes herself. Her most popular item, The Gathering Skirt, was inspired by the clothing her mother and her friends wore to work in the cotton fields of North Carolina. The brand is a zero-waste fashion line, which aims to create little to no waste when making clothing, while reusing scraps of fabric whenever possible.
Her designs have a wide platform on social media. Once thought of as place for millennials to snap photos of their lives to share with other young people, Instagram has seen a growing cohort of older women like McIntosh smashing style stereotypes and carving out space for themselves as fashion influencers, consistently gaining followers by posting pictures of their outfits and stylish lifestyles after 50. Their accounts — and businesses — just keep growing.
Instagram launched in 2010 and McIntosh joined the platform early on, leveraging the power of personal branding to reach a larger audience and raising her customer count in the process. When she decided to start modeling her clothes herself, her sales grew even further. Her inspiration for becoming her own model was seeing how many inquiries young people receive about where they buy their clothes when they post mirror selfies of their outfits using hashtags like #OOTD (outfit of the day).
With 14,500 followers on her business account, @SofistafunkTheSkirtCo, and 5,900 followers on her personal account @funkingafter50, McIntosh has joined the ranks of other older influential women like Lyn Slater, who has upwards of 596,000 followers of her @iconaccidental account, where she calls herself a "cultural influencer."
The confidence and style of these older women have caught the attention of millennials, too. The popular Instagram account called @AdvancedStyle, which boasts 294,000 followers and is dedicated exclusively to older women's street style, is run by 35-year-old Ari Seth Cohen, who's made a career out of "capturing the sartorial savvy of the senior set" with his social media account. McIntosh met Cohen herself on the street in Manhattan when he asked to photograph her. Although she never specifically sought out other older influencers, meeting Cohen came with the benefit of connecting with other senior influencers he knew, and her follower count would grow any time another influencer wore one of her designs.
"Maybe I don't want to look young. Maybe I want to look like I look."
McIntosh supports herself completely off of Sofistafunk sales and runs her clothing business full-time out of her studio (she calls it her "skirt parlor") in Verona, N.J. She sells her designs on her website and a Montclair, N.J. pop-up store that showcases local designers.
After her husband left the family in the late 80s, she needed to support herself and her three children, the youngest of whom was nine-years-old at the time. She knew her salary as a receptionist at a cable company wouldn't pay the bills alone, so she quit to focus full-time on trying to sell her clothes, which had been more of a hobby until that point.
"I have a phrase I used at the time my husband walked away, I said well, I could sit here and cry or I could try something," McIntosh tells Money. "You can cry, but then you just have a wet face." Friends began buying her clothing and spreading the word to help her reach potential customers.
Sofistafunk started to take off after she was hired as a freelance costume designer by Bad Boy Records in 1994, styling singers like Faith Evans. That exposure helped her start picking up clients by word of mouth. Instagram is like word of mouth on steroids, which allowed McIntosh to expand her customer base to people of all ages around the world who most likely wouldn't have found her without it.
Getting comfortable with Instagram came naturally to McIntosh, who has always been ready to try the next big thing. She was one of Mark Zuckerberg's first "friends" on Facebook and recognized early on that Instagram would take off. She gathered the courage to use herself as her own model instead of hiring other people by focusing on her clothes and what she was selling.
"Heavier or thinner, I never thought about it that way," she says. "I just knew my skirts were cute. And that was all that mattered." She also discovered the importance of authenticity: the more she was herself, instead of trying to be some version of an idealized woman, the more her sales increased.
"Society tells us when something is a beautiful outfit, 'Oh I love that on you, it makes you look so young,'" McIntosh says. "Why? Maybe I don't want to look young. Maybe I want to look like I look."
"You'd be surprised at how much fun you can have and how freeing it is."
McIntosh's advice to older women who are curious about social media is just to take a chance. She's always been someone willing to try new things, and she knows the importance of taking risks.
McIntosh wants other older women to join Instagram for fun and to gain confidence in themselves.
"It's easier than you think," she encourages. "You'd be surprised at how much fun you can have and how freeing it is. It's freeing because people tell you, 'Don't do this when you get to a certain age.' Why? Says who?"
Right now, she's teaching the basics of social media to a circle of local women who run businesses as their second jobs. McIntosh suggests signing up for Instagram with a handle (your account name) that no one else knows if you feel uncomfortable at first.
"If you want to know what's going on in the social media world, go on Instagram, get a name that nobody knows, only follow us [the women in our circle] and see what we're doing," she says. "If you're on social media you can look at anyone's profile and no one knows you're looking as long as you don't like anything. Take a chance, open up and try little by little. Maybe just follow one other person."
Other advice? Always use hashtags, tag other businesses and consider using paid Instagram ads to develop more of a following, she says.
Fun and hashtagging aside, one of the greatest rewards of putting herself out there on social media is meeting women who say her clothing has helped them through tough times.
"I have three customers dealing with chemotherapy for cancer, and they told me they bought my skirts and that's what carried them through when they got their chemo treatments," she says. "That's what keeps me moving on Instagram, the stories other women share with me."
Correction: an earlier version of this story misspelled the name of the fashion influencer Lyn Slater.