How Much Is an Oscar Statue Worth? Here Are 3 Estimates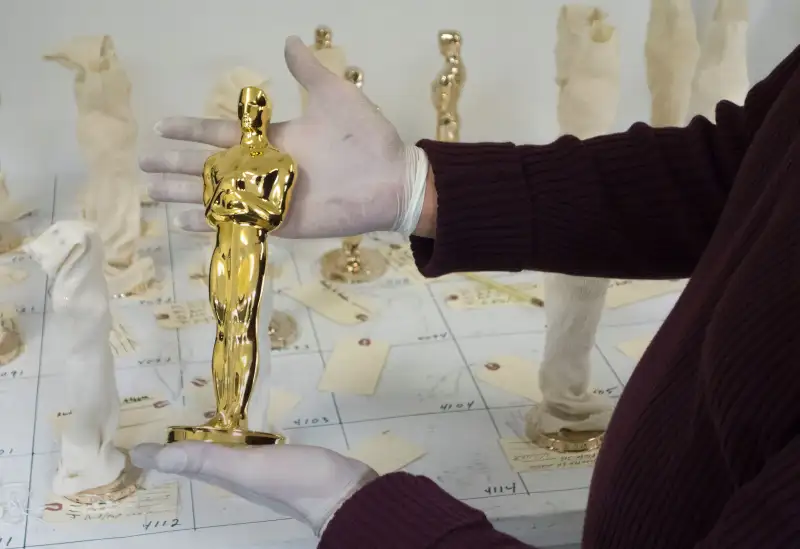 Don Emmert—AFP/Getty Images
The Oscar statue is possibly the most recognizable award in the world. And during the 90th annual Academy Awards on Sunday, March 4, 2018, the lucky winners in over 20 categories will get to take one home.
But just because they're coveted, and plated with gold, doesn't mean they are valuable. In fact, these Oscar statues are surprisingly difficult to offload for cash.
That's because Oscar winners don't really own their statues—they're basically on loan from the Academy of Motion Picture Arts and Sciences. Yes, you read that right: Thanks to a change in the 1950s, Oscar winners "have no rights whatsoever," according to the organization's rules.
An Oscar winner can't sell or otherwise dispose of a statuette without "first offering to sell it to the Academy for the sum of $1.00." And the rules don't just apply to the winner, but also to their heirs and anyone who is given one.
If you do try to sell the Oscar statue off, be prepared for a battle. The Academy has rigorously defended its ownership rights through a number of lawsuits. The group actually won a major victory in 2015 when a California judge upheld the rules forbidding the sale of Oscar statues.
Oscar Statue Value at Auction
If you do get your hands on an Oscar statuette minted before 1950, you're in luck. Although the Academy changed the rules in 1950 to restrict the sale of Oscars, there were no rules against it prior to that. And over 150 of these early awards have gone to auction.
ourtesy Everett Collection
One of the biggest paydays was the sale of the 1940 Best Picture Oscar for Gone with the Wind. Pop singer Michael Jackson snagged it at auction in 1999 for a cool $1.54 million—although reports surfaced after his death that his estate could not locate the famous statuette.
It's not just the big categories that can earn a pretty penny. The 1942 Oscar for Best Screenplay for Citizen Kane sold at a California auction in 2011 for a staggering $861,542, according to Reuters. Even an Oscar for Best Sound Recording—handed out in 1942 for Yankee Doodle Dandy—sold at auction in 2011 for $89,625.
Robert Caplin/Bloomberg—Getty Images
Oscar Statue Value as Scrap Metal
If you do decide to break the rules, selling an Oscar statuette for scrap is probably the easiest route. Although don't expect much.
The award stands about 13.5 inches high and weighs in at 8.5 pounds. Yet most of that weight comes from a pewter-type metal called Britannia that forms the core. Each Oscar statue is plated with 24-karat gold in a process that takes about $400 to produce, according to EW.
Shannon Stapleton—Reuters
Because the price of gold fluctuates, the scrap value of an Oscar also varies from year to year. MyMoneyCounselor actually broke down the scrap value of an Oscar in 2012, finding at that point, it was worth a little less than $1,000.
Using the same composition breakdown, Money calculated an Oscar is worth a little over $650 in today's scrap metal values for gold, tin and copper.
Oscar Statue Value in Career Earnings
For men, winning an Academy Award can provide a big boost for their future earning potential, according to a 2010 study by Colgate University researchers. Male actors typically see an 81% salary hike after winning an Oscar, the research showed—about $3.9 million, the research showed.
But the payoff wasn't as clear-cut for women. At best, winning an Oscar for Best Actress was worth up to $500,000, the study found.
Similar research conducted by IBIS World in 2014, and looking only at Best Picture winners, also found a bump in earnings, with films that won Best Picture bringing in about $13.8 million more than those who were simply nominated.