How to Pay Off Debt With Low Income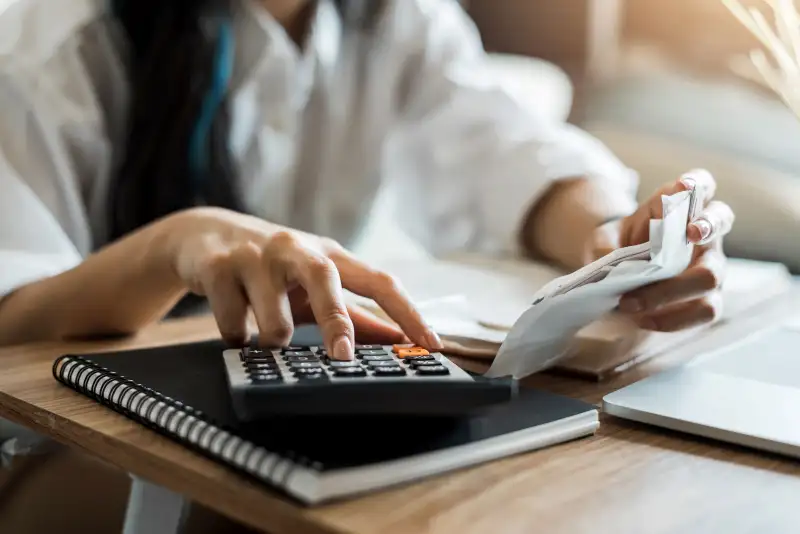 Being in debt can feel overwhelming. Credit cards, medical debt or student loans can all add up quickly, and your income might not cover the debt you've accrued. Fortunately, there are options to relieve your debt, regardless of the size of your monthly paycheck.
Once you've learned some tips for how to pay off debt with low income, you can build a strategy to minimize your commitments to creditors.
How to pay off debt fast with low income
Paying off debt can seem nearly impossible if you have a low income. You might be wondering what debt relief is and how to pay off your debt while paying for your day-to-day expenses. It can feel challenging, but there are tips and strategies to help you pay off your debt while earning a low income.
Verify your total debt amount
Before you can form a plan to pay off your debt, you'll first need to understand the full scope of what you owe. You'll need complete, accurate and up-to-date information to build a full picture of your debt, including:
How much total debt you owe: Calculate both the principal amount and any associated interest or late fees you might have accrued.
Who your creditors are: Create a list of the creditors you owe money to.
Payment plans: Research if any payment plans could be available to you and make a list of the plans you already have in place.
Deadlines and timelines: Determine when your next payments are due and how much your creditors expect you to pay.
Gather all of this information so that you can verify your total debt amount. This essential first step can help you set up a plan for paying off what you owe in a reasonable time period.
Don't acquire new debts
When you've already accrued debt, it can be hard to adjust your spending habits. When you take the first steps to pay off your debt fast, you should first focus on the debt you have and ways to improve your credit score.
As you focus on paying off what you owe, try not to take on new debts. Don't open new credit cards, seek additional loans or default on payments you can make. While it can seem tempting to pay off your current debt by opening new lines of credit, it's best to reduce the number of debts you have, not grow them.
Evaluate and change your spending habits
As you plan for future financial success, you should evaluate why you fell into debt in the first place and what spending habits contributed to your debt accumulation. You might think about:
How much of your income are you spending on necessities, including food, utilities and housing?
How much of your income are you spending on non-necessities, including entertainment and non-necessary items?
Did a life event, like a divorce, an accident or an illness contribute to your debt?
How much money are you able to save from your monthly income?
Answering these questions will help you determine where your income is being spent and can help you change your spending habits. For example, if most of your paycheck is going to pay for an expensive car lease or home rental, you might consider moving to more affordable housing or leasing a less expensive vehicle.
If you have found that you're spending too much money on non-essentials, like entertainment, expensive clothing or electronics, you'll want to consider what you can cut to allocate more of the funds you have towards paying off your debt.
Create a budget plan
Once you understand what you owe and how you're spending the money you have, the next step in learning how to get out of debt on a limited or low income is to create a budget plan. You will need to plan for:
Necessary expenses: This can include your mortgage or rent, your car payment and funds for necessities like food, childcare, utilities, insurance and gas.
Optional expenses: This can include entertainment, non-essential purchases, meals out and things like gym memberships or digital subscriptions. Make sure your necessary expenses and debt payoff amounts are settled before you allocate funds towards optional expenses.
Debt payoff: Determine how much money you can allocate towards paying down your debt and put that amount into your overall monthly budget.
Savings: Even though you have active monthly expenses, including debt payoff, saving for future and unexpected costs is still important. Your budget should include an allocation for savings, even if it's a small amount.
By creating a reasonable and feasible budget plan that aligns with your needs and income level, you'll be well-equipped to pay off your debt.
Choose a debt payoff strategy
Once you've created a budget plan for your day-to-day expenses, you can focus on how to pay off credit card debt and improve your credit score. There are a few ways to do this successfully. You can start by comparing the debt snowball and debt avalanche methods to decide what works best for you.
Debt snowball method
Some people choose to address their debt and pay off their credit card by starting with small repayments and growing, or "snowballing," the payments to be larger over time.
When you use the debt snowball method, you'll first identify the lowest minimum required payments for the debt that you owe. Focus on completely paying off these small amounts first instead of trying to partially contribute towards all of your debts. Once you pay off your lowest balance, you'll move on to paying off the card or account with the next-lowest balance and work your way up until you've settled all of the debts you owe.
The snowball method works because it helps you achieve complete debt forgiveness one small step at a time and get quick wins if some of your debts can be easily paid off. Debt might feel manageable if you focus on the smaller repayments first, especially if your income level is low and the amount of money you have to repay your debts is limited.
Debt avalanche method
The debt avalanche method is the opposite of the snowball method. Using the debt avalanche method, you'll start your debt repayment strategy by first focusing on the largest debts and working down to the bills with lower amounts.
Using the avalanche method, you'll pay off the outstanding bill with the highest interest rate first. Like the snowball method, the debt avalanche method is built on the concept of breaking down debt into manageable portions and shifting your focus to settling debts one at a time.
Unlike the snowball method, the avalanche method works from the top down. Since you're focusing on the largest debts first, it might take some time to completely pay off your largest debt, but you'll alleviate the stress and added eventual cost of accruing continued high interest.
Find ways to boost your monthly income
If your current income isn't enough for day-to-day expenses, savings and debt repayment, you may want to explore ways to earn extra money.
Take on extra gig economy work
There are plenty of opportunities to earn extra money through accepting gig work with various schedules and time commitments. Think about what works for you, the time you have and the needs in your community. For example, you could deliver food, shop for and deliver groceries, join a ride-share business, babysit, walk dogs, work in a restaurant, do yard work or clean homes.
Build a freelance business
There are many opportunities for you to build an additional income stream from your home. Consider freelance writing, copy editing, translation, graphic design or social media management. You will need a stable internet connection and a computer for this kind of freelance work.
Like gig economy work, you can freelance on your own time and choose how much work you want to take on. Building a freelance business can also add valuable experience to your resume. For example, if you'd like to make writing your full-time career, working as a freelancer is a great way to get started.
Search for a full-time role with a higher salary
Evaluate the skills you have and take a look at the job market. Consider applying for more lucrative jobs in your area of expertise. Build an informative resume and write a cover letter explaining why you want a new role and the skills and experience you'll bring to a future employer. It may take some time, but by searching for and earning a new role, you could get a significant income boost.
Explore other debt-relief options
If taking on extra work or building a debt payoff strategy aren't options for your situation, consider other available debt relief options.
Debt consolidation loans
A debt consolidation loan is a loan specifically meant to pay off your other outstanding debts. Banks and other creditors offer debt consolidation loans and give you money earmarked to pay off your loans. Sometimes, the debt consolidation company will even arrange the payment for you, so you don't have to make the payments yourself. The best debt consolidation loans might have a lower interest rate and reasonable repayment terms.
Debt management plan
Like a debt consolidation loan, a debt management plan streamlines your debt into one monthly payment. However, a debt management plan is not a loan. A credit counseling company builds a debt management plan to work with you and your creditors to streamline your debt into one monthly lump sum. This can simplify the debt you owe and make it easier to understand and process. In some cases, the credit counseling company might even be able to negotiate lower interest rates and more favorable payment terms on your behalf.
Balance transfer credit cards
If your debt is mostly from credit cards, a balance transfer credit card might be a good solution. There are options available to transfer all of your debt onto one card, allowing you to make one monthly payment with one interest rate. Some balance transfer credit card offers may even include a delayed or lower interest rate, potentially saving you money that you would otherwise be paying towards multiple interest rates from several creditors at once.
Debt settlement companies
A debt settlement company will work with you and your creditors to identify potential areas of debt forgiveness and build a plan for debt settlement. They will teach you how to negotiate credit card debt and the options available to request debt forgiveness where appropriate.
These debt counselors will help you organize your debt, identify how much you can pay towards your debt each month and liaise with your creditors. If you feel confused by your debt and need assistance with organizing and building a strategy for your debt forgiveness, a debt settlement company might be able to help.
Bankruptcy
Bankruptcy might be a good choice if you have exhausted other debt-relief options. When you file for bankruptcy, you'll work with the court and your creditors to create a mutually agreed upon debt repayment and forgiveness plan. Your current assets might be liquidated to contribute towards your debt, and the bankruptcy filing will appear on your credit report for several years. However, bankruptcy is a viable option if you need protection from further legal action by creditors or if your debt is insurmountable without assistance.
Is it better to pay off debt or save?
When considering your financial health and strategy, you might be unsure whether it's better to use the extra money you have to pay off debt or save for future costs. If you're able, you might consider doing both. By saving money, you have a nest egg for unplanned expenses or future financial emergencies. By paying off your debt, you prevent yourself from accruing future interest payments and negatively impacting your credit score.
As you plan your debt relief strategy, try to save at least a small amount each month while working to pay off your debts. This multi-pronged approach will help you in the long run.
What is a good debt-to-income ratio?
A debt-to-income ratio compares the debt you carry to the income you bring in. In general, you want this ratio to be lower, as this means that your debt is smaller, and it's more likely that you will be able to pay it off. As you work with your creditors to relieve your debt, they will want to see that the income you're bringing in can reasonably cover your debt.
Summary of Money's how to pay off debt on a low income
Paying off debt on a low income can feel daunting, but there are options available to you. The first step is understanding precisely what you owe and to whom you owe it. That information will help you build a realistic repayment strategy.
As you create your repayment plan, you can look at a few ways to adjust your monthly budget, boost your incoming income stream or work with a third party on loan consolidation, debt forgiveness or even bankruptcy filing. By addressing what you owe and building a budget plan, you'll be on your way to paying off your debt, even with a low income.