How To Remove Debt Recovery Solutions from Your Credit Report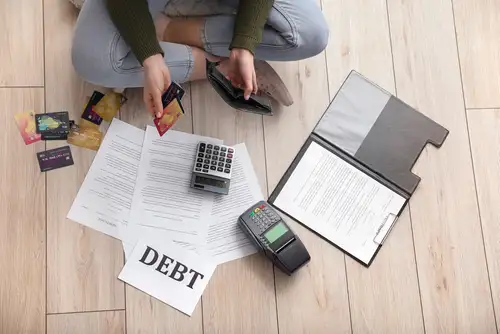 If Debt Recovery Solutions calls you, it probably means you have one or more unpaid bills to take care of. Debt Recovery Solutions is a third-party collector that companies hire to pursue customers for overdue bills on their behalf, such as credit card debt, hospital bills or utility fees. Calls from Debt Recovery Solutions, or any other debt collection agency, can mean trouble for your credit score.
When a creditor hires Debt Recovery Solutions to recover a debt, it must contact the major credit agencies and report the debt. It then appears as a collection account on your credit report and can damage your score for up to seven years.
Regardless of whether the debt is for $50 or $50,000, Debt Recovery Solutions will keep pursuing you, and the best way to get rid of it is to delete its collection account from your credit report ASAP.
What is Debt Recovery Solutions?
Debt Recovery Solutions is a medium-sized debt collection company with headquarters in Syosset, New York. It originated in 2002 but didn't receive accreditation until 2014.
No one enjoys dealing with a debt collector, and customers of Debt Recovery Solutions have plenty to say about their experiences with the company. It currently has over 340 complaints on file in the last three years with the Better Business Bureau (BBB) and over 840 complaints with the Consumer Financial Protection Bureau (CFPB). There are also reports of at least eight civil litigation cases involving Debt Recovery Solutions. The most common complaint is its disregard for the Fair Debt Collection Practices Act (FDCPA), which protects consumers against undue harassment or intimidation by debt collectors.
If you believe Debt Recovery Solutions violates your consumer rights, consider filing a complaint.
How to get Debt Recovery Solutions off your credit report
The following steps will help you deal with Debt Recovery Solutions and get its collection account off your credit report:
Send a goodwill deletion request

Validate the debt

Negotiate a settlement
Send a goodwill deletion request
If your debt was due to reasons beyond your control, you can ask Debt Recovery Solutions for a goodwill deletion. This's when a collection agency agrees to delete their collection account from your credit report as a gesture of goodwill.
However, it's not that easy. Before you ask for a goodwill deletion, you need to pay the debt in full. Even if you can afford to do this, there's no guarantee the agency will agree to your request, so it may not help your credit in the long run.
You'll also need to provide a reason for your late payments. For example, if you lost your job, you'll need documentation of this. Remember, you're asking Debt Recovery Solutions for a favor, so make sure your letter is polite. As the saying goes, you'll catch more flies with honey than vinegar.
Validate the debt
The debt collection industry is full of bad apples. Many collectors try to scam consumers and get them to pay debts that aren't theirs. To prevent this, federal law gives you the right to invoke your Section 609 rights and request debt validation within 30 days of hearing from a debt collector.
Section 609 of the Fair Credit Reporting Act (FCRA) prohibits debt collectors from reporting false, inaccurate or untimely information about a consumer's debt. If Debt Recovery Solutions reports any information that's erroneous, it must remove its account from your report and cease collection efforts immediately. This is a way that you can get out of paying the debt on a technicality.
You can use a Section 609 letter template and simply fill in your personal details. This letter is a formal request for Debt Recovery Solutions to validate your information and send you proof of the debt. It must respond to your request within 30 days of receiving your letter and provide the necessary documentation.
Make sure you read it carefully, and if you find anything that doesn't match up or is out of date, you can file a dispute with the credit bureaus, who'll investigate the claim. If they agree that the account is inaccurate, they'll delete the Debt Recovery Solutions collection account from your report.
You can find Debt Recovery Solutions' mailing address here:
6800 Jericho Turnpike

Suite 113E

Syosset, NY 11791
Negotiate a settlement
If Debt Recovery Solutions can validate your debt, you must repay it. This's the time to negotiate a settlement deal. In a pay-for-delete agreement, you'll agree to pay Debt Recovery Solutions in exchange for the deletion of the account. It's notoriously difficult to strike a pay-for-delete deal with a debt collector.
Debt Recovery Solutions will probably resist and not want to make a concession in case it sets a precedent, but it's worth a try. Start by offering to pay 30% to 50% of the debt amount in exchange for a deletion. The aim isn't necessarily to get them to agree to this amount, but it'll give you room to negotiate.
Once you reach an agreement, ask Debt Recovery Solutions to send the full terms and conditions on an official company letterhead. This gives you physical proof of the agreement that you can use to back up your claims in the future. After receiving the written agreement, make your first payment and check your report 30 days later. If the account still appears, contact the agency and remind it of the written agreement.
Final thoughts
Dealing with Debt Recovery Solutions is probably not something you want to do. However, it's better to handle the situation now than feel the effects on your credit score later. If cleaning up your credit report is your priority, there're plenty of articles available that can help you tackle your credit woes and boost your score.
To improve your credit, check out other popular articles, and make this the year that you reach your financial goals.
Update: This article has been updated to remove unverifiable information and the current number of CFPB and BBB complaints against Debt Recovery Solutions.
Disclaimer: This story was originally published on January 27, 2021, on BetterCreditBlog.org. To find the most relevant information concerning collections or credit card inquiries, please visit: https://money.com/how-to-remove-collections-from-credit-report/ or https://money.com/get-items-removed-from-credit-report/