How to Remove General Service Bureau (GSB) from Your Credit Report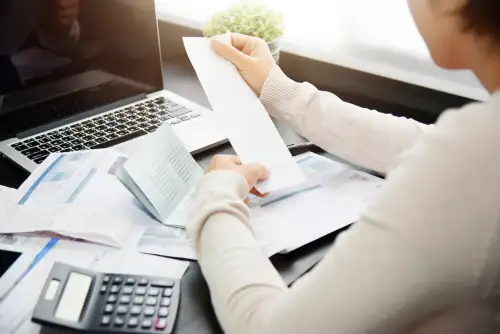 Debt collectors are a real nuisance; they can call, send letters and leave messages persistently. A collection entry on your report can also severely impact your credit score and limit your financial opportunities for years to come.
If GSB reaches out to you about a debt, you may have questions, and this article will provide you with the information and resources you need to deal with a collection agency, such as GSB, and delete it from your credit report ASAP.
What is GSB?
GSB is a legitimate debt collection agency. It originated in 1946 under the name General Service Bureau, Inc., and the company's headquarters are in Omaha, Nebraska. GSB is now part of Revco Solutions. You can address any correspondence to GSB at Revco:
2700 Meridian Parkway
Suite 200
Durham, NC 27713
GSB and Revco Solutions collect for healthcare providers.
How to remove GSB from your credit report
Getting rid of a negative entry can put a stop to the annoying phone calls and boost your credit score. You can use the following strategies to remove a GSB collection entry from your credit report:
Request debt validation

Negotiate a partial payment

Seek help from a professional
1. Request debt validation
The Fair Debt Collection Practices Act (FDCPA) requires debt collectors to prove that you owe a debt before it can collect it. You can request this by sending GSB a debt validation letter. Often a collection agency won't have the documentation it needs to validate a debt, which means it must delete the collection entry from your report immediately.
If you believe GSB is mistaken and that you don't owe it money, you should definitely send a request, but this approach is worth trying even if you did miss payments on a medical bill, for example. The key to this strategy is working quickly because you only have 30 days from when GSB first contacts you to dispute the debt.
2. Negotiate a partial payment
If a debt collector validates a debt or it's too late to submit a validation letter, you still have options. The next strategy is to negotiate a pay-for-delete agreement, which involves paying the agency in exchange for the deletion of its collection account entry from your report.
However, if you simply pay GSB online or over the phone, it won't do your credit score much good. You need to negotiate an agreement to ensure the removal of the entry from your report. Make sure you get the agreement in writing so you can guarantee GSB keeps its promise once you make your payment.
Debt collectors often agree to delete an entry without making you pay the full balance. Once you agree on an amount and make a payment to GSB, you should see the effect on your credit score within a few weeks. If a month goes by and there's still no change, send GSB a follow-up letter reminding it of your agreement.
3. Seek help from a professional
Dealing with debt collectors is a hassle and can be very time consuming. If you want to save yourself the stress of dealing with GSB directly, consider hiring a credit repair company. These companies are experts at disputing debts and negotiating pay-for-delete-agreements. Most importantly, they'll put in the necessary time and effort to remove a negative entry from your credit report quickly.
If you're busy, anxious about talking to debt collectors or a messy credit situation is overwhelming you, credit repair services can help. Companies such as Credit Saint and Lexington Law can get your credit score back on track for an affordable fee. However, if you want to save money and deal with GSB yourself, this article should give you all the tools you need to start improving your credit today.
How does GSB work?
When a business is unsuccessful in its attempt to collect a debt from a customer, it can employ the services of a debt collection agency or sell the debt for pennies on the dollar. Once it places your debt in collection, a collection account entry will appear on your credit report. Your payment history constitutes 35% of your credit score, so this type of entry can do major damage, and having multiple debts in collection will drop your score even further.
Collection entries can stay on your credit report for up to seven years, regardless of whether you pay the debt. The collection agency, in this case GSB, can call you, send letters and use automated calling services in an attempt to collect the debt, but there are ways to stop it.
Dealing with GSB
GSB claims that it dedicates itself to dealing with debtors in a respectful and friendly manner. And although there are complaints against the agency on file, which you can review on the websites of the Better Business Bureau and Consumer Financial Protection Bureau, it accumulates far fewer complaints than other debt collection agencies. The most common complaints against GSB and other debt collectors include:
Failing to validate debts

Reporting information incorrectly

Engaging in harassing collection practices
Many consumers are unaware of their rights under the FDCPA. This act keeps debt collectors in check, restricts how and when they can contact you and stops them from threatening to take illegal actions against you if you don't pay. It also allows you to stop agencies from calling you on the phone.
It's advisable to communicate with GSB, and any other debt collection agency, by mail only. If anything goes amiss in your interactions, you'll have a well-documented case that you can use to hold the agency accountable to your agreement and ensure its removal from your credit report.
Update: This article has been updated to reflect current contact information for GSB and the fact that GSB is now part of Revco Solutions.
Disclaimer: This story was originally published on September 11, 2020, on BetterCreditBlog.org. To find the most relevant information concerning collections or credit card inquiries, please visit: https://money.com/how-to-remove-collections-from-credit-report/ or https://money.com/get-items-removed-from-credit-report/