How to Remove MRS BPO, LLC from Your Credit Report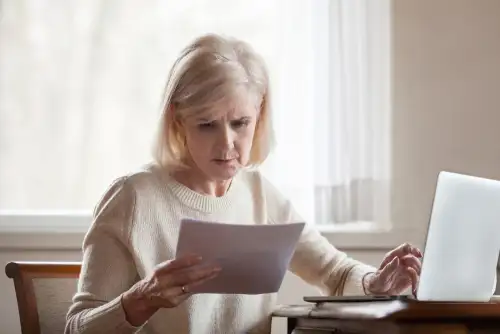 If MRS BPO, LLC is contacting you, it's because it's responsible for collecting a debt on behalf of the original creditor. Creditors can hire it to pursue payments or MRS BPO, LLC can purchase debts for pennies on the dollar. Either way, it'll do everything possible to make you pay, including annoying you with relentless phone calls and emails. But don't stress; you can get it off your back and remove its entry from your credit report.
What is MRS BPO, LLC?
MRS BPO, LLC is a medium-sized debt collection agency with headquarters in Cherry Hill, New Jersey. It originated in 1991, which makes it a relatively new debt collection company, but it's not a scam. It uses a smart call center through the IBM Watson AI, Adam.
MRS BPO, LLC collects debts on behalf of a range of companies and industries, including
Health care facilities

Credit card providers

Financial services companies

Auto loan providers

Student loan companies

Telecommunication providers

Utility companies
Is MRS BPO, LLC legitimate?
It's reasonable to question the authenticity of a company that shows up out of the blue demanding money on a debt, but MRS BPO, LLC is a legitimate debt collection agency. It has about 261 complaints in 2021 against it on file with the Consumer Financial Protection Bureau and 253 complaints in the last three years with the Better Business Bureau. Most of these complaints relate to aggressive collection tactics, such as inaccurate reporting and failing to respond to debt validation requests.
Steps to remove MRS BPO, LLC from your credit report
The following steps will help you remove the collection entry from your credit report and get your score back on track:
Know your rights

Request debt validation

Negotiate a settlement

Seek professional help
Know your rights
If you're dealing with a debt collector, it's important to familiarize yourself with your rights. Unfortunately, debt collectors sometimes use obscene language and bully, harass or threaten consumers into making payments. Its profits rely on your payment, and it'll do anything to get it.
Many consumers aren't aware that federal legislation protects them from this kind of abuse. The Fair Debt Collection Practices Act (FDCPA) is a federal law that the Federal Trade Commission regulates, which ensures that companies like MRS BPO, LLC treat consumers fairly and respectfully.
It prohibits a debt collector from such practices as:
Using abusive or profane language during a telephone call

Threatening legal action that it can't or won't take

Misrepresenting itself or information about your debt

Calling you at odd hours or at times you advise are inconvenient

Contacting your family, coworkers or friends regarding your debt
The FDCPA also gives you the right to choose how a debt collection company communicates with you. It's advisable to request all communications via U.S. Mail, which will allow you to keep a copy of your communications and prevent MRS BPO, LLC from contacting you relentlessly or harassing you verbally. You can educate yourself about your rights to face MRS BPO, LLC with confidence.
Request debt validation
Before you make any payments, ask MRS BPO, LLC to verify the debt. Under the FDCPA, you can ask it to prove that the debt belongs to you and that it has the authorization to collect on the debt. It's common for information to get lost in the transfer from the original creditor to the debt collector, and verifying the debt ensures that you aren't making payments on someone else's debt.
You should send a debt validation letter within 30 days of MRS BPO, LLC first contacting you, or it is not required to respond to your request. Make sure you include your name, telephone number, address, account number and any other pertinent information regarding the debt. You can use a template or review online samples if you need help crafting a letter.
MRS BPO, LLC should provide documentation proving that the debt belongs to you. Look through these documents carefully for suspicious or inaccurate information. If you find any inconsistent details, you can file a dispute with the three major credit reporting bureaus: Equifax, Experian and Transunion. If they agree with your dispute, they'll remove the entry, and you may not have to pay the debt at all.
Negotiate a settlement
If the debt belongs to you, your next step is to negotiate a settlement. The most common type of settlement is a pay-for-delete agreement. In this agreement, the debt collector agrees to remove the collection entry from your credit report in exchange for payment on the debt. This is mutually beneficial because your credit report improves and MRS BPO, LLC makes profit from your debt.
To begin negotiations, offer to pay half of the total balance. You'll likely need to bargain, but once you reach an agreement, ask MRS BPO, LLC to send the terms in writing. Don't pay any money before you receive this document and review the wording.
Once you are satisfied, you can make your first payment. Check your credit report 30 days after submitting the payment to ensure that MRS BPO, LLC upheld its end of the bargain. If the entry is still there, contact the company and remind it of the deal.
Seek professional help
If you're not getting anywhere with MRS BPO LLC, working with a credit repair company can help your cause. Credit repair companies are industry professionals that analyze your credit report and negotiate with collection agencies to remove any negative entries. They can identify the reasons for your low score and work with you to improve it. They are extremely helpful to consumers looking to clean up their credit reports.
MRS BPO, LLC contact information
Address:
1930 Olney Avenue
Cherry Hill, NJ 08003-2016
Phone number: 888-334-5677
Website: www.mrsbpo.com
Dealing with MRS BPO LLC
Removing a collection account from your credit report is a hassle, but it will prevent further damage to your credit score. There are other articles available if you want to find out more about cleaning up your credit report and improving your score.
Update: This article has been updated to reflect the current number of BBB and CFPB complaints against MRS BPO. Contact information for MRS BPO has been updated.
Disclaimer: This story was originally published on August 21, 2020, on BetterCreditBlog.org. To find the most relevant information concerning collections or credit card inquiries, please visit: https://money.com/how-to-remove-collections-from-credit-report/ or https://money.com/get-items-removed-from-credit-report/